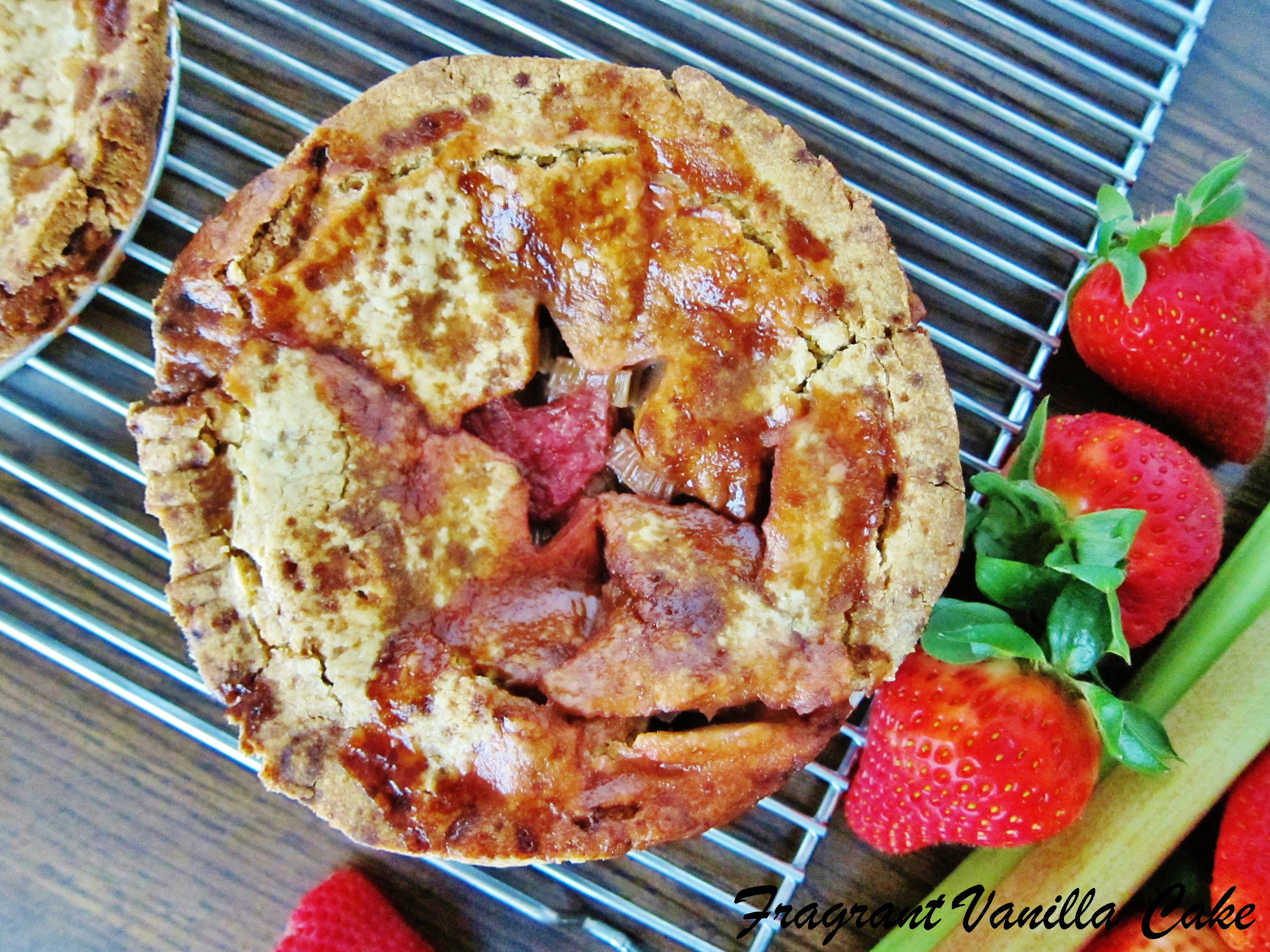 Vegan Strawberry Rhubarb Mini Pies with Lemon Crust
I had tons of strawberries and tons of rhubarb on hand last weekend, and I had a serious craving for strawberry rhubarb pie.  So I had to make some.  Strawberry rhubarb pie has been a favorite of mine ever since I had it in a diner with my Mom when I was about 5.  That sweet tart flavor is not like any other pie, and I was in love after my first piece.  I always ordered that same pie every time I went back there.  Now as an adult I am usually lazy and I just make a strawberry rhubarb crumble if I am going to bake.  But I wanted a pie last weekend.  A double crusted pie. One that I had to roll out the dough.  So I went for it.  I had never used gluten free flour for pie dough before since it has actually been about 3 years since I actually baked a pie (sad I know), but I gave it a go this time.  I made the crust lemon scented since lemon loves strawberries and rhubarb. 
It was actually pretty simple to make and it came together quick.  It looked perfect when it went into the oven but was cracked and had lots of character when it came out.  Just as a pie should be.  Bubbling filling oozing from it just begging to be eaten once cool enough to handle.  And it was delicious!  Even without any ice cream (which is what I usually have to top it off with but I didn't have time to make any last week) it was wonderful.  Enjoy this still a little warm from the oven and you will be set! 
Vegan Strawberry Rhubarb Mini Pies with Lemon Crust
2 1/2 cups all purpose gluten free flour
3 Tbsp coconut sugar
1 tsp sea salt
14 Tbsp coconut oil, in its solid form
1 Tbsp pure vanilla extract
about 7-8 Tbsp cold lemon juice
2 cups quartered strawberries
1 Tbsp pure vanilla extract
the seeds of one vanilla bean
juice of one small lemon
a pinch of sea salt
3 Tbsp arrowroot starch
coconut milk, for brushing
 coconut sugar, for topping
To make the crust, in a large bowl, mix together flour, sugar, sea salt, and lemon zest.  Cut in coconut oil with a pastry blender or 2 knives until it is in pea sized pieces.  Mix in vanilla and just enough lemon juice to create a smooth dough that holds together but isn't too sticky.  Add a touch of water if needed, and knead slightly until a smooth dough is created.  Divide into 8 pieces and shape into rounds. 
Roll each out into a 5-6 inch round using parchment underneath and floured rolling pin.  Place bottom crust into four 4 inch pie pans and fit to edges (being careful since gluten free dough is more fragile). If it tears, no worries, just press it back together anc patch it up.
Preheat oven to 400 degrees.  To make filling, mix together all ingredients in a large bowl.  Pour filling into bottom crust, then carefully place top crust over and press together.  Cut vents into the top crust with a knife. Brush top crust with a little coconut milk, and sprinkle with sugar.  Place in the oven.  Bake for 45 minutes (checking after 20 and if they are very brown, if they are tent with foil) until bubbling and fruit is tender.  Remove from oven and let cool on a wire rack for at least and hour.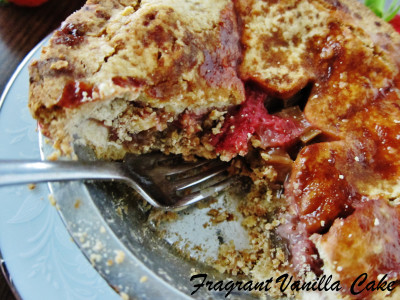 (Visited 32 times, 1 visits today)