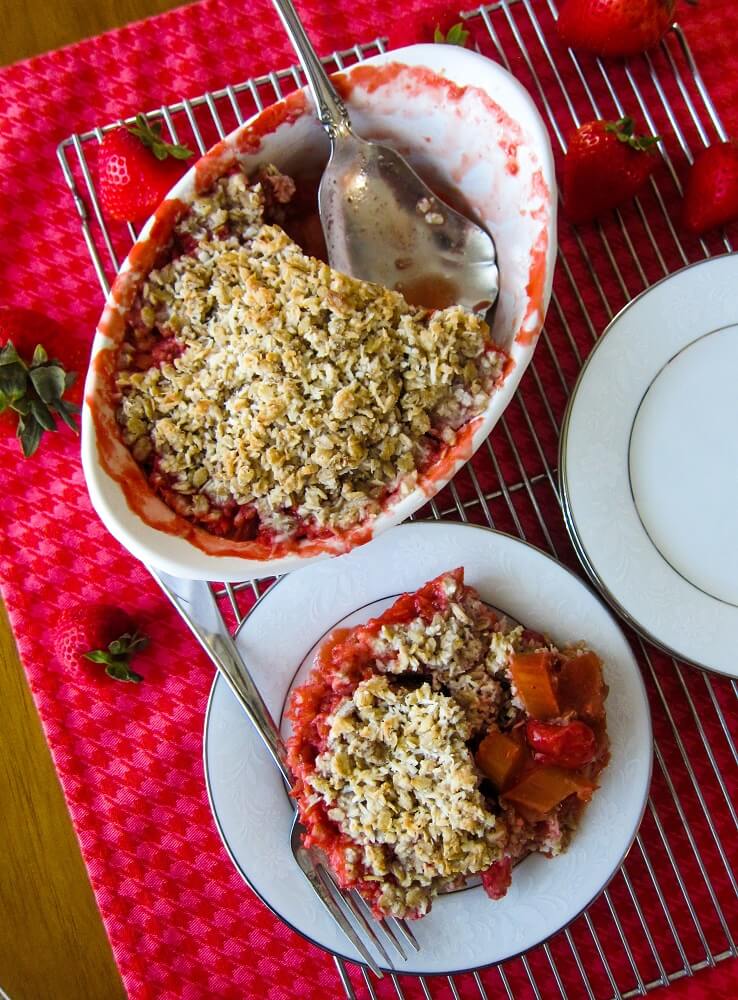 Vegan Strawberry Rhubarb Crisp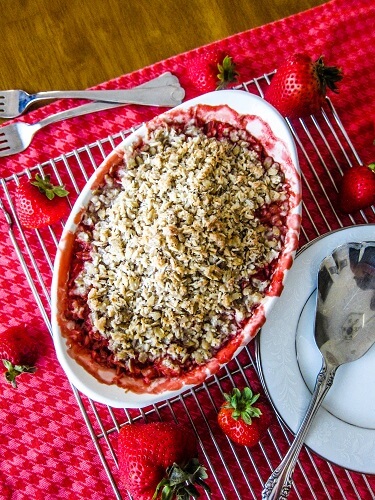 Every year I look forward to strawberry rhubarb season. Ever since I was a little kid and I would eat my Grandma's home made strawberry rhubarb sauce by the bowlful and finish off the 2 lb jars she would make in no time. She always had a bunch of rhubarb growing behind her garage so she made loads of sauce every year. She is no longer around, so I usually get my rhubarb from my Dad's house, and I still make strawberry rhubarb goodies because they are always so good. There is just something about that perfect balance of tart and sweet.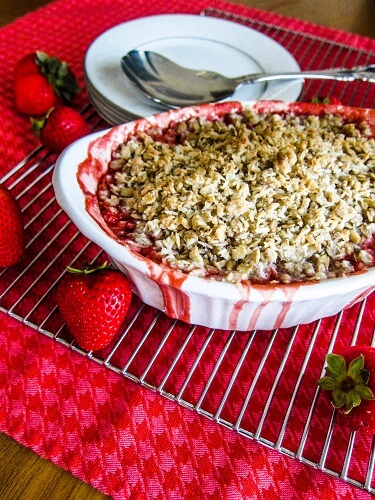 Last week, I decided that I needed to make something strawberry rhubarb ASAP because I hadn't made anything yet this year. We have been a little behind here in Minnesota when it comes to weather and growing things. Since we had loads of snow that stuck around until far into April. It's ok though, it is something to look forward to!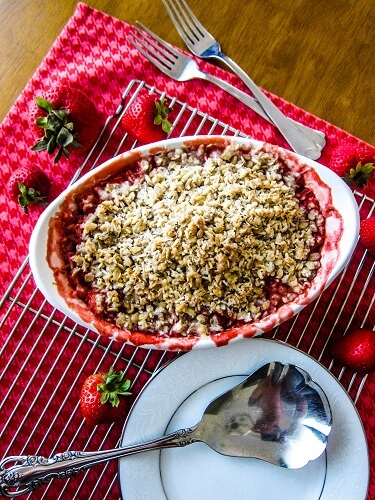 So I got some rhubarb, and made a strawberry rhubarb crisp! I am honestly surprised that I haven't put a recipe on my blog for this before, because I have made it many times over the years, but it is so good, and definitely something you need to try if you have rhubarb where you live. The thing I love most about it besides it just being good is the fact that it is so easy to make. I love crisp just as much as pie, but there is no rolling out a bottom crust to deal with.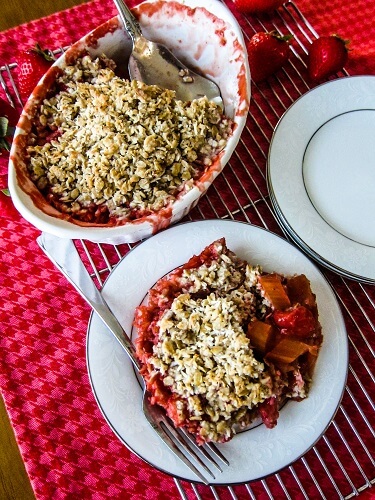 For the filling, I keep it simple just strawberries, rhubarb, maple syrup, vanilla and flour and it bakes up to bubbly perfection! For the topping I like to add oats and coconut along with my flour to give it even more crunch and it is sooo good! This crisp is fabulous when served warm with coconut milk ice cream! Get the recipe on my website: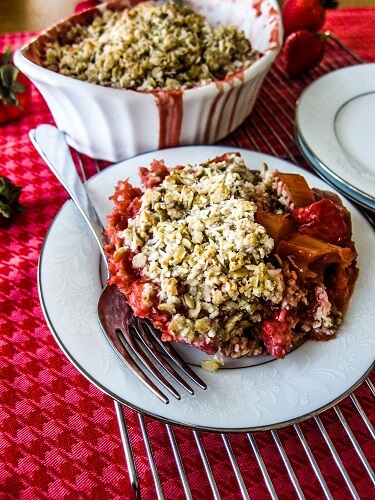 Vegan Strawberry Rhubarb Crisp
Serves 2
6 inch wide ovenproof bowl or pie plate
Fruit:
1 1/2 cups organic rhubarb, sliced
1 1/2 cups organic strawberries, quartered
2 Tbsp maple syrup
1 tsp pure vanilla extract
pinch sea salt
2 Tbsp organic whole wheat pastry flour
Topping:
3 Tbsp organic whole wheat pastry flour
3 Tbsp large flake dried unsweetened coconut
1/2 cup organic rolled oats
3 Tbsp coconut sugar
1/8 tsp sea salt
3 Tbsp coconut oil
Instructions:
Preheat oven to 400F degrees with the rack at the center position. Place a baking sheet lined with parchment paper on the rack. Oil a 6 inch wide pie plate or bowl with coconut oil. In a large bowl, toss together the fruit, maple syrup, vanilla, sea salt, and flour. Spoon into prepared bowl or pie plate, and cover with foil. Place plate on baking sheet and bake for 30-45 minutes until fruit is cooked through and bubbling.
Meanwhile, when the fruit in the oven is almost at 45 min, to make the topping, combine all ingredients in a bowl and mix together with your hands scrunching together to form small clumps until there are no floury spots left.
Remove baking fruit from oven. Top with the crumble topping, spreading it out evenly over the fruit. Bake for about 15 minutes until lightly brown and toasted on top (keep a close eye on it could burn very quickly). Remove from oven and let cool until warm, and top with some ice cream or coconut vanilla whipped cream and...enjoy!
(Visited 185 times, 1 visits today)