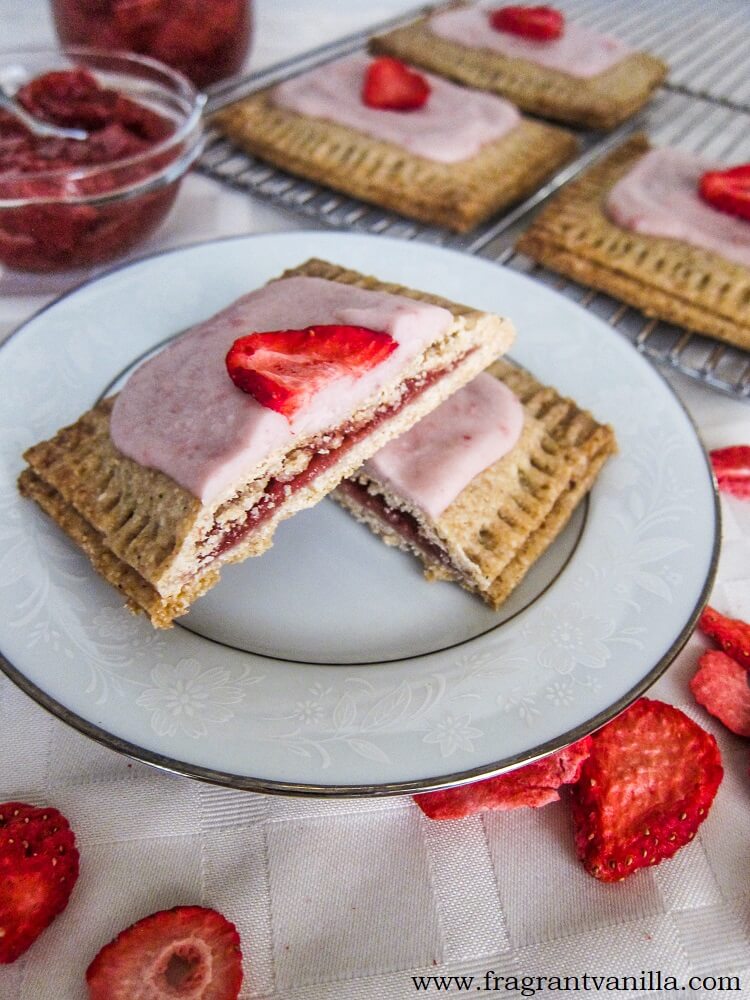 Vegan Strawberry Pop-Tarts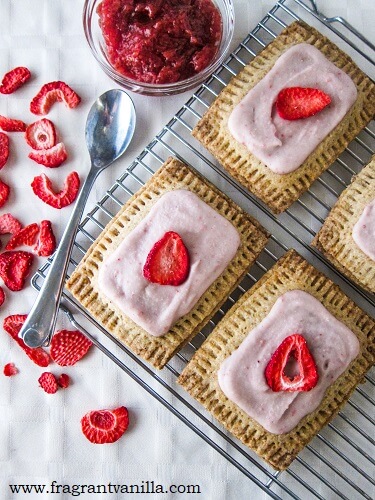 I was kind of a picky eater when I was little when it came to normal quick breakfast foods.  I didn't like cereal or milk, I didn't like oatmeal (which is funny because now, that is what I eat, and I have done so for the last 15 years), and I wasn't much for regular toast. But what I really liked were toaster pastries.  Strawberry Pop Tarts or Strawberry Toaster Streudels were my favorite.  Now of course they weren't the healthiest, and they probably had artificial stuff and loads of sugar in them, but I loved those things. Now I would think of them as dessert not breakfast, because of how sweet they were.  But that doesn't mean I don't think about them and how good they were sometimes.  But you know what?  I can make home made ones now and they are 10 times better.  I have made other types before, but never strawberry pop tarts, so that is what I decided to make last weekend.  I had some lovely strawberry jam I had recently made so it was perfect!  They actually don't take as much time to make as you think that they will.  It is far less time than say making an actual pie with loads of filling that has to cook or something.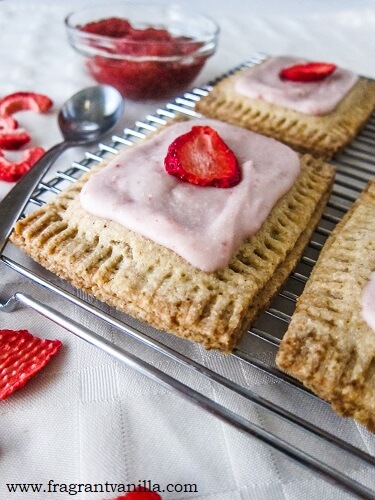 They actually only took me about 15 minutes to make the dough, roll it out and fill it, and about 30 minutes to bake, so under an hour!  Not including the glaze of course, but that takes no time at all to make.  I made a simple pie crust dough, and it was fun to roll it out, and cut it into the rectangles. I am someone who gets satisfaction from cutting straight even perfect lines in things like this or cutting a cake evenly.  Weird I know.  If you wanted to get more fancy, I suppose you could cut these into hearts or something but I went with the classic shape.  Having the jam on hand already was much easier than making a filling, and it behaved better because there was less moisture in it as well.  Sometimes hand pies like this ooze but it stayed in place which I was happy about! They smelled amazing while baking, and I couldn't wait to try them!
Of course I gave them a pink strawberry glaze first like traditional pop tarts have.  No refined powdered sugar in it though!  Only coconut butter, strawberries, maple syrup and a little water. It kind of tasted like strawberry ice cream!  The pop tarts turned out so good!  The sweet jammy strawberry filling, flaky rich crust, and smooth glaze were heavenly together!  I consider these more of a dessert than breakfast, but I won't judge you if you eat them in the morning like other toaster pastries.  The next time you are craving pop tarts, give these a try!  You could freeze some for when your mood to eat them strikes and have them on hand like regular toaster pastries (just don't actually put them in the toaster or you will get sticky glaze in your toaster, just thaw them out and enjoy them instead) only if they last that long though, they are pretty delicious and they might just get eaten first!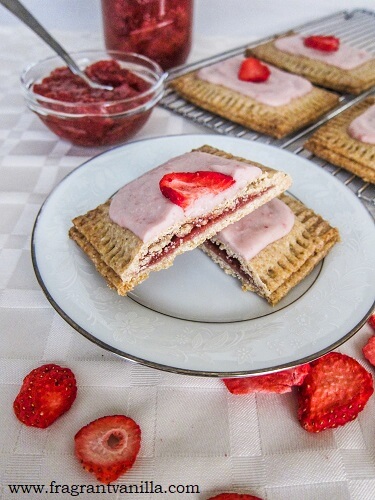 Vegan Strawberry Pop-Tarts
Makes 8
Crust:
1/4 cup coconut sugar or maple sugar
1/2 tsp sea salt
3/4 cup coconut oil in its solid state
about 6-7 Tbsp cold water (or as needed)
Filling:
about 1/2 cup strawberry jam (I used THIS RECIPE minus the jalapeno, but you can use your favorite jam)
Glaze:
3 Tbsp coconut butter, warmed to liquid
1 Tbsp strawberry powder (I ground up freeze dried strawberries with a mortar and pestle)
1 Tbsp maple syrup
pinch sea salt
3-4 Tbsp filtered water or as needed
Instructions:
To make the crust, in a large bowl, mix together flour, sugar, sea salt, and spices. Cut in coconut oil with a pastry blender or 2 knives until it is in pea sized pieces. Mix in just enough water to create a smooth dough that holds together but isn't too sticky. Add more water if needed, and knead slightly until a smooth dough is created.
Roll out into a large rectangle and cut into 16 identical rectangles.  Chill if too soft before assembling.  You want the dough a little pliable, but not so warm that it will break. Preheat oven to 375F degrees.
To assemble, spread about 2 Tbsp jam over half of the dough rectangles (leaving a boarder so you can attach the dough at the sides). Cover with the remaining pieces of dough (I used a small spatula to carefully move them), pressing the edges and crimping with a fork or the edge of something with a flat edge, like a spatula. Bake for about 30 minutes until the crusts are starting to brown lightly. Remove from oven and let cool on a wire rack until warm.
Whisk glaze ingredients together until smooth (adding more water if too thick, you want it to be pour-able). Spoon some of the glaze over each pop tart, and smooth it out to cover the top. Let set before serving.
(Visited 1,349 times, 1 visits today)