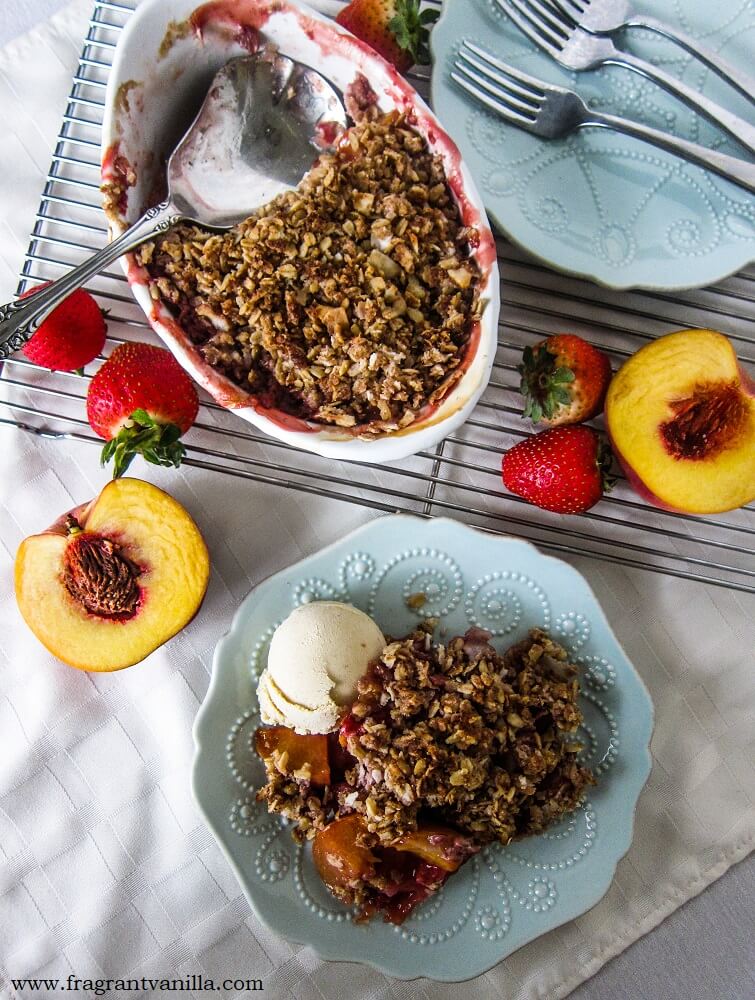 Vegan Strawberry Peach Crisp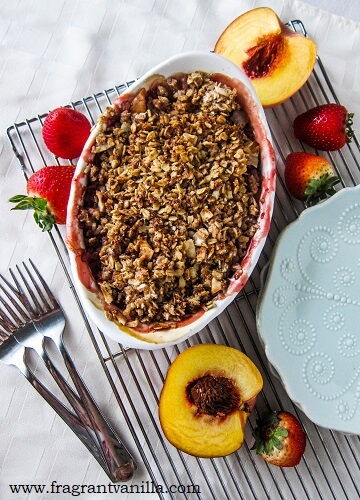 There was a time a few years back (well more like 10 years back) that I made fruit crisps every weekend.  I mean, they are healthy, delicious and really easy to make.  Yes, I love things like cheesecake and pie but they are a little more work to make, and crisp is a little lighter with its higher fruit content.  So it was my weekend treat for a while.   It was always satisfying and I made sure that I was able to enjoy it soon after it was made while it was still warm.  Also, it had to have cool coconut milk ice cream too.   I love that contrast of warm and cool, the jammy fruit and the creamy rich ice cream.  Maybe I get my love of fruit crisps from my Mom.  I can remember back when I was in high school, when I would get home from my cross country or ski practice and she would have made some apple crisp that had scented the house with the most delicious aroma.  She always used oats in the topping for extra crunch (and fiber, but I didn't care about fiber at that point in my life) instead of just the flour and butter most people used.   It was always so good!  I love a good apple crisp in the Fall, but nothing compares to sweet berry crisps in the Summer.  Not that I would ever turn down any fruit crisp.
I realized this week when I was talking to my Mom and she mentioned how much she loves crisp, that I haven't made one at all this Summer!  Now, that is just absurd, because it is not like I haven't had fruit on hand.  I also realized how much I missed it suddenly and wanted to make some!  So on Friday, I picked up some organic peaches and strawberries and thought that they would make an amazing crisp flavor combination.  The peaches were just perfectly ripe and juicy, none of that woody dry stuff going on (like when they pick them too early sometimes), and the strawberries were sweet and flavorful.  That is why it is important to buy fruit when it is in season, so that you get the most delicious end result with your recipes.  Plus, if they are sweet, you don't need to add as much sweetener to your recipe.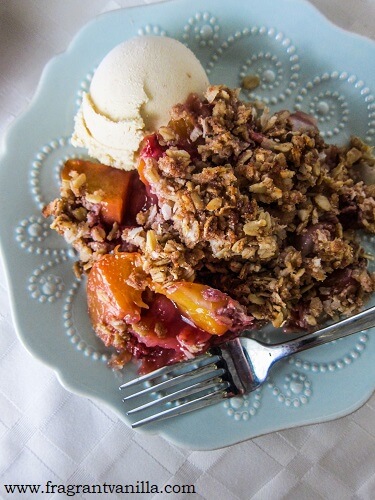 These didn't need much.  This recipe is very easy to make, you just mix the fruit together, bake it covered for a while, sprinkle it with the topping, bake it a little longer and it is done!  That is what I love about crisp, it is like pie just no bottom crust and a lot less work to make.  My kitchen smelled amazing while it was baking! I add a little coconut to the topping and it gives it a little something extra and just adds to the heavenly aroma!  I could not wait to dive in!  It had to be served with ice cream of course. I had some Bourbon Peach Ice Cream on hand, which was perfect with it!  The crisp was sweet, the fruit baked to jammy perfection, and the crisp topping the perfect contrast with it.  It is kind of like really good oatmeal cookies but more crunchy.  If you are looking for an easy but delicious dessert, give this a try!  Summer is almost over so get on it!
Vegan Strawberry Peach Crisp
Serves 2
6 inch wide ovenproof bowl or pie plate
Fruit:
1 1/2 cups organic peaches, sliced
1 1/2 cups organic strawberries, quartered
2 Tbsp maple syrup
1 tsp pure vanilla extract
pinch sea salt
2 Tbsp gluten free all purpose flour
Topping:
3 Tbsp gluten free all purpose flour
3 Tbsp large flake dried unsweetened coconut
1/2 cup gluten free rolled oats
3 Tbsp coconut sugar
1/8 tsp sea salt
3 Tbsp coconut oil
Preheat oven to 400F degrees with the rack at the center position. Place a baking sheet lined with parchment paper on the rack. Oil a 6 inch wide pie plate or bowl with coconut oil. In a large bowl, toss together the fruit, maple syrup, vanilla, sea salt, and flour. Spoon into prepared bowl or pie plate, and cover with foil. Place plate on baking sheet and bake for 30-45 minutes until fruit is cooked through and bubbling.
Meanwhile, when the fruit in the oven is almost at 45 min, to make the topping, combine all ingredients in a bowl and mix together with your hands scrunching together to form small clumps until there are no floury spots left.
Remove baking fruit from oven. Top with the crumble topping, spreading it out evenly over the fruit. Bake for about 15 minutes until lightly brown and toasted on top (keep a close eye on it could burn very quickly). Remove from oven and let cool until warm, and top with some ice cream or coconut vanilla whipped cream and...enjoy!
(Visited 284 times, 1 visits today)