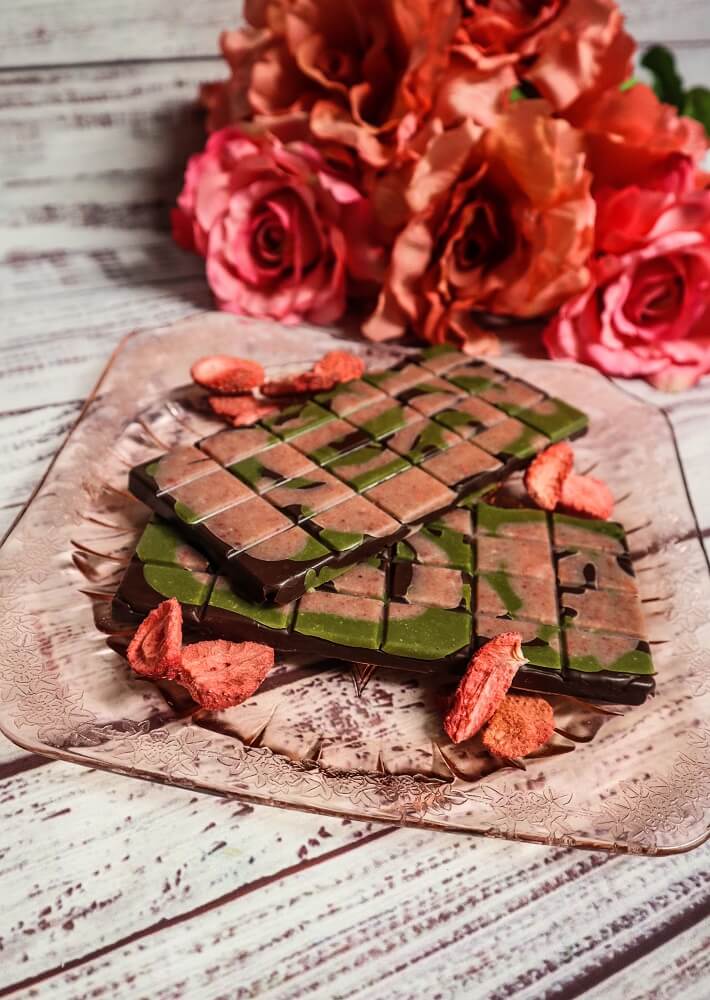 Vegan Strawberry Matcha Chocolate Bars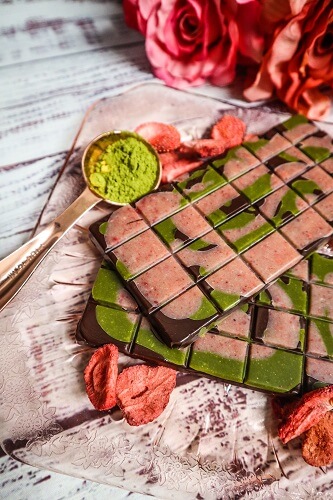 It has been feeling like spring here in Minnesota, so I am in the mood for spring colors and flavors.  I am so ready to put away the heavy winter clothes and bring out the fun spring wardrobe! But I know the weather can turn on a dime so it will still be a few weeks I am sure before I can store away the coats for good for the season.  I am going to soak up as much sunshine as I can, and savor the fact that the snow is melting and make spring themed food.  Like these strawberry matcha chocolate bars that I made last week.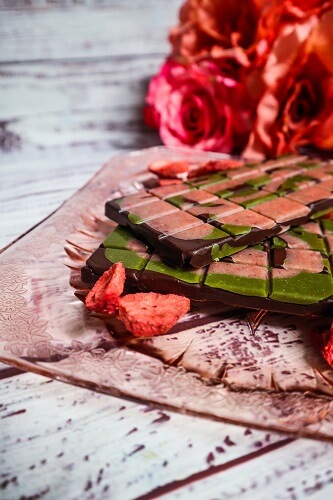 For some reason, I love the flavor matcha for spring.  Mainly because of the green color, which is perfect for growth to symbolize spring, but also it is so light and fresh!  Strawberries are a late spring crop here, coming in about May or June, but I like to start enjoying them as soon as I can get them for a good price in stores.  For these bars though, I actually used freeze dried ones (so they didn't add moisture to my chocolate) so it didn't matter.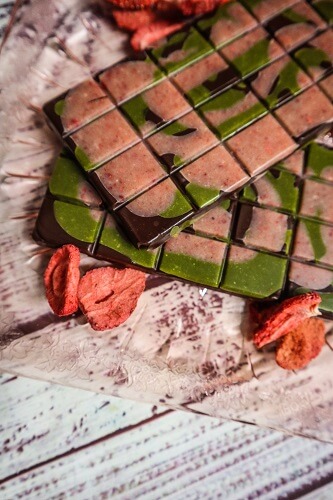 I had the idea to make a chocolate bars with spring colors in a white chocolate and swirl that into a dark chocolate bar, and strawberry powder and matcha powder were the perfect way to accomplish this!  They would have been good on their own as flavored white chocolates, but I just love the combination of white and dark chocolate so much when they are combined. One is dark and intense and one is mellow and sweet so they balance each other out.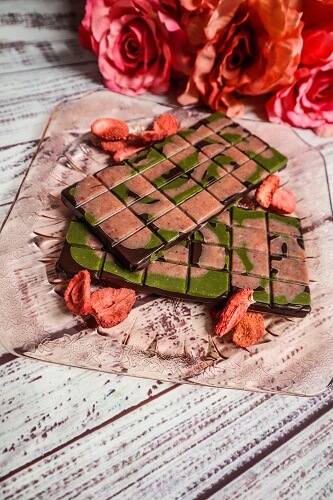 These turned out just as I had imagined them!  Super delicious with the rich dark chocolate, the light smooth sweet strawberry chocolate and the earthy matcha!  They were perfectly balanced, and so heavenly!  I have to admit, I made these just for myself and I did not share.  But they would make a lovely gift, and they would be perfect for Easter as an alternative to store bought candy.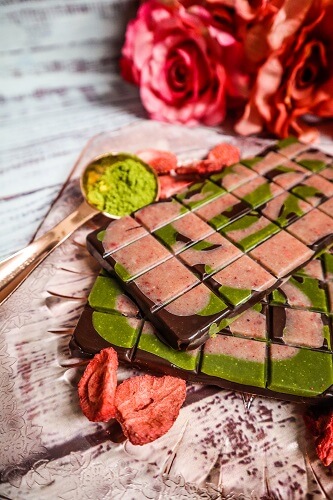 Vegan Strawberry Matcha Chocolate Bars
Makes 4
Matcha and Strawberry White Chocolate:
1/4 cup cacao butter
2 Tbsp coconut butter (warmed to liquid)
2 Tbsp raw cashew butter
1 tsp pure vanilla extract
2 Tbsp maple syrup (or to taste)
pinch sea salt
1/4 tsp matcha powder
2 Tbsp strawberry power (I took freeze dried strawberries and ground them up with a mortar and pestle)
  Dark Chocolate:
1 1/2 cups chopped good quality vegan dark chocolate
    Instructions:
Combine the cacao butter, cashew butter, and coconut butter, and  in the top of a double boiler, and melt until smooth.
Add the maple syrup, vanilla, and sea salt and whisk together until well blended.
Divide between 2 bowls.  Whisk the matcha into one, and the strawberry powder into the other.
drizzle half of the matcha white chocolate and strawberry white chocolate in random designs into the bottoms of 4 standard sized chocolate bar molds set on a tray.
Place the tray with the molds in the freezer until the white chocolate has set.
Meanwhile, clean out the double boiler, and add the dark chocolate to it, melting it until smooth.
When the white chocolate has hardened, pour the dark chocolate over it to fill the molds, and smooth to the sides (working quickly because if you go too slow the white chocolate will start to melt and not look neat).  Then drizzle the remaining strawberry and matcha white chocolate over that.
Set the tray with the molds back into the freezer until set, about 20 minutes.
Unmold and enjoy!
Chocolate bars keep in a container in the refrigerator for up to a month.
(Visited 778 times, 1 visits today)