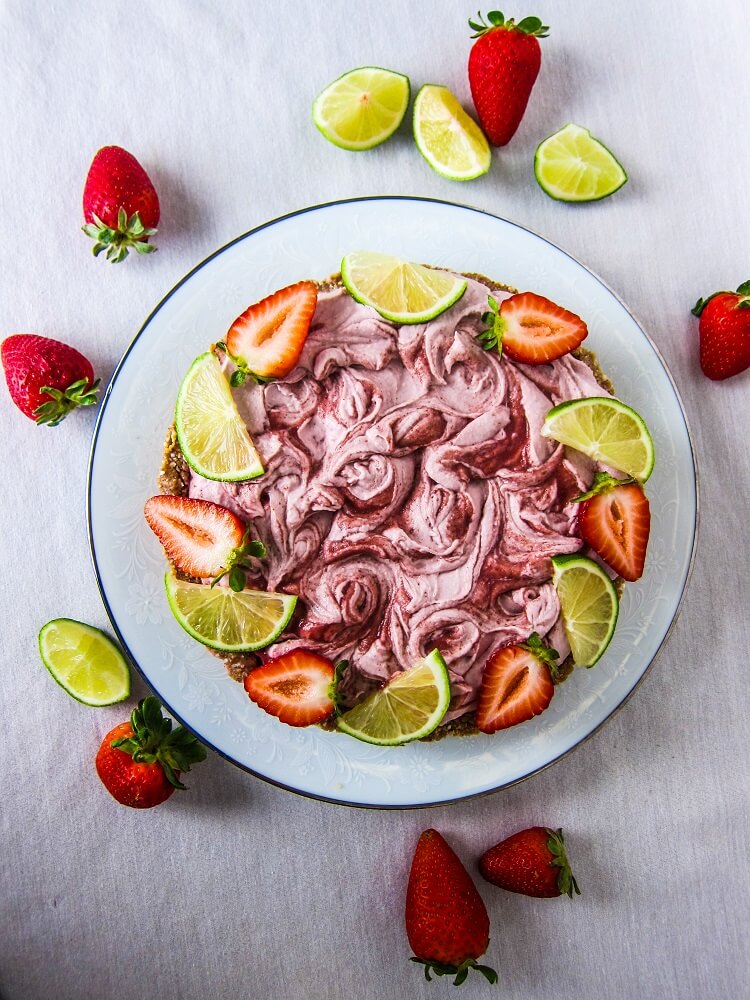 Vegan Strawberry Margarita Pie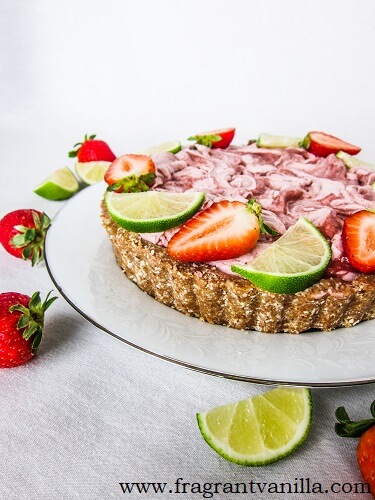 I am not used to the humidity here yet.  We basically went from Winter (18 inches of snow) to Spring for a few weeks right into hot Summer weather.   I really prefer moderate weather like 45 degrees in the morning and a high of 70 degrees or lower in the afternoon which is why I love early Fall so much.  I still go out and run though, and I ask myself why I am doing it half way through.  It is character building for sure, and I never quit.  Last Friday I was 6 miles into my 7 mile run and feeling way too hot and sweaty when I thought to myself, a cool strawberry margarita pie sounds amazing!  So I made up my mind that I had to finish the run, and make one later that day after work.  I ended up finishing my run a minute faster than I had been so that made up for being uncomfortable.  It ended up being kind of a butt kicking stressful day, work was really busy, and I found out my website was not working so I had to make phone calls to get help fixing it when I got home instead of relaxing.  So, I really needed to make that pie to unwind and calm myself afterwards.  I find making desserts relaxing.  And, why not a dreamy strawberry pie with lime and tequila?!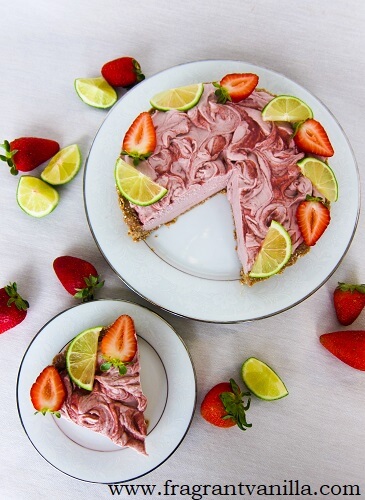 I had envisioned a creamy strawberry lime filling laced with tequila and swirled with a strawberry puree.  Served nice and cold of course.  The perfect thing to make when it was 90 degrees and I didn't want to heat up the oven.  I used a mixture of coconut milk, coconut butter, cashew butter to create a creamy base, and added plenty of strawberries, lime and tequila to make it a margarita pie.  The filling was luscious and sooo good even before it was ready to be spooned into the pie.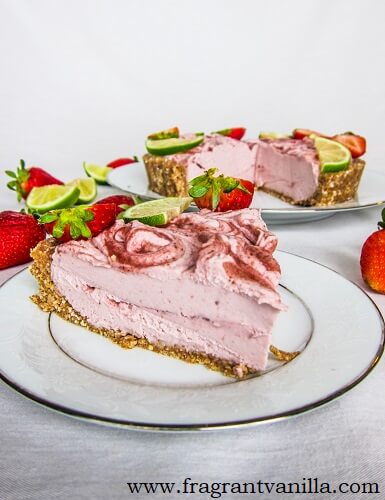 Kind of like ice cream, only not as cold. For the crust, I made a simple no bake crust with quinoa flakes, coconut, almond meal, and dates and it was perfect!  Simple, so that the filling could shine. Once the filling was all chilled, I swirled a sweet raspberry puree into it and it was so good!   The pie turned out fabulous!  It tastes like Summer, and it is perfect for when you want to indulge but not heat up the house.   Also, it is perfect for unwinding after a stressful week.  I hope you all had a wonderful Holiday weekend!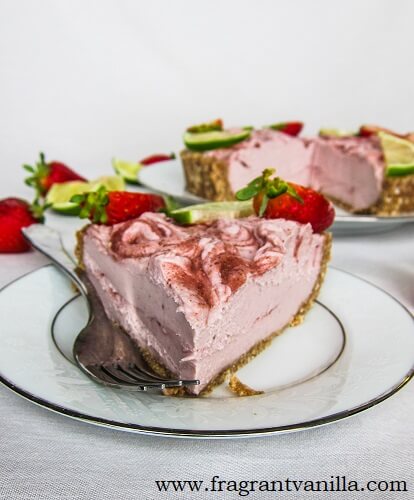 Vegan Strawberry Margarita Pie
Make 1 8 inch pie
Crust:
1 cup quinoa flakes, or rolled oats if you don't mind it not being gluten free
½ cup finely shredded, dried coconut
½ cup almond meal
½ cup pitted medjool dates, soaked in filtered water and drained well if they are not soft
¼ tsp sea salt
Filling:
1 15 oz can full fat coconut milk (you want the kind that has mostly cream, at least ¾ of the can)
½ cup raw cashew butter
1 cup fresh organic strawberries
1/3 cup maple syrup
¼ cup lime juice
1 Tbsp organic lime zest
3 Tbsp tequila (make sure it is vegan on Barnivore)
¼ tsp sea salt
1 cup coconut butter, warmed to liquid
Swirl:
¾ cup fresh organic strawberries
2 tsp maple syrup
1 tsp chia seeds
Pinch sea salt
Instructions:
To make the crust, combine all ingredients in a food processor and process until fine crumbs that hold together when squeezed.  Press into the bottom of an 8 inch removable bottom tart pan or oiled pie plate.  Set aside in the freezer.
To make the filling, combine all ingredients but the coconut butter in a high speed blender and blend until smooth.  Add the coconut butter and blend until combined.  Pour into a bowl, and chill in the freezer until it thickens to the consistency of whipped cream (you want to whisk it occasionally so it chills evenly).
Meanwhile, for the swirl, blend the ¾ cup strawberries, maple syrup, chia seeds, and sea salt in a blender until smooth and set aside.
Once the filling has thickened, spread half into the pie crust (it will be mounded) then drop half of the strawberry puree over that and swirl it with a knife.  Spoon the remaining filling over that, then drop more of the swirl over it by the tsp, and swirl with a knife.
Place back in the freezer to chill until firm enough to cut, a few hours.
Remove from the freezer, garnish with berries and lime, and serve!
(Visited 824 times, 1 visits today)