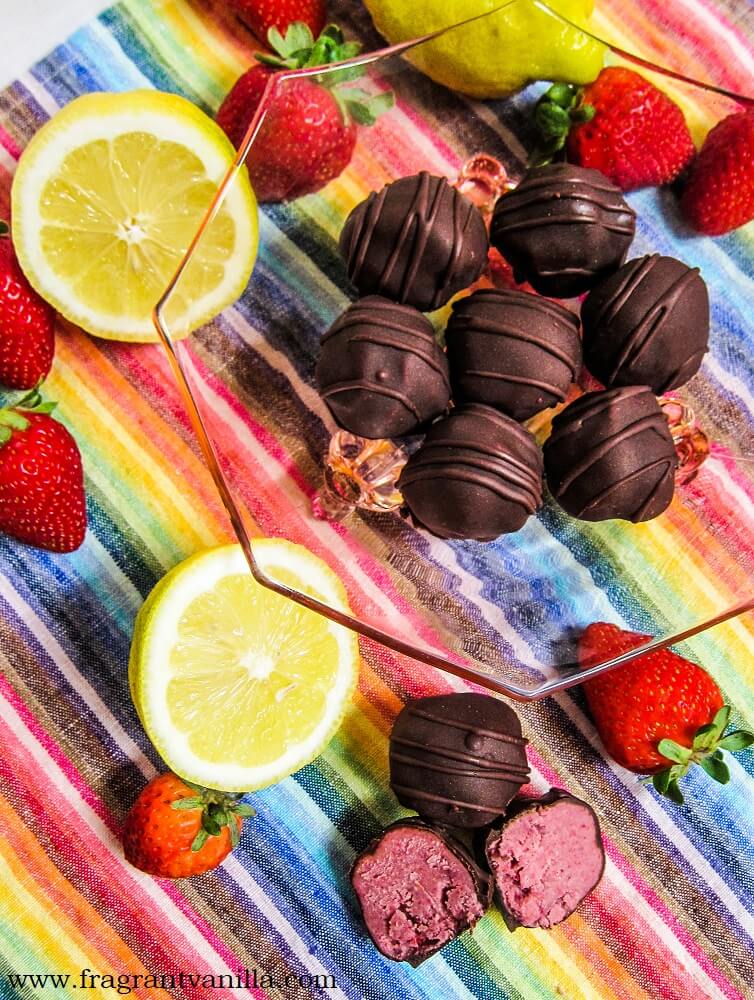 Vegan Strawberry Lemonade Truffles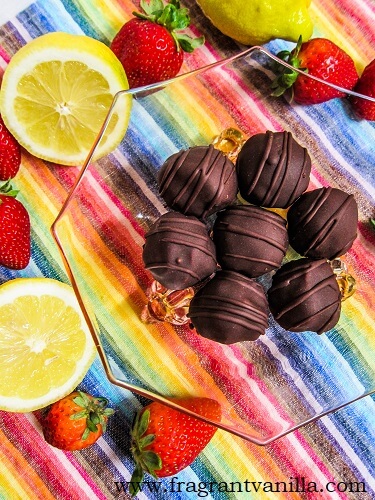 It was 90F+ degrees last weekend here in Minnesota. Which is pretty odd for this time of the year.  You usually don't get a bunch of days like that until June or July.  But it feels like July!  It was character building for my Sunday morning run.  I really appreciated any trees to provide shade, or sprinklers in people's yards near the street I could run through to cool off.  Because being in direct Sun was brutal.  If I stood in one place afterwards I would create a small puddle I was sweating so bad.  After I had taken a cooling shower, and hydrated I decided that I wanted to stay cool and not go back outside because I had sweated enough already.  It was a good day for an indoor activity and I felt like making something delicious in the kitchen.  But not something that would heat up the kitchen.  I decided on truffles.  Why not?  They are easy to make, and I had all of the ingredients.  I do a little happy dance when I have all of the ingredients for the recipe I am visualizing. These weren't just going to be plain chocolate truffles, they were going to be strawberry lemonade truffles.  Because I am on a Strawberry kick.  I hope you all don't mind, but I am loving anything strawberry lately.  Maybe because I was deprived all Winter long and they are plentiful finally.
The truffles were fairly easy to make.  To make the filling creamy and rich, I used a combination that I normally use for my white chocolate base, cacao butter, cashew butter, and coconut butter.  Add a dash of vanilla and it is luscious.  But of course these were strawberry lemonade so I added plenty of lemon juice and zest, as well as freeze dried strawberries.  Why freeze dried?  Well, they add loads of flavor in things like this without a lot of moisture so you can get the correct texture.  The filling tasted kind of like strawberry lemon cheesecake!  I could not wait to combine them with the chocolate shell!  I thought about making them white chocolate, but decided on dark instead for more of a contrast.  And, because I love chocolate with both berries and lemon.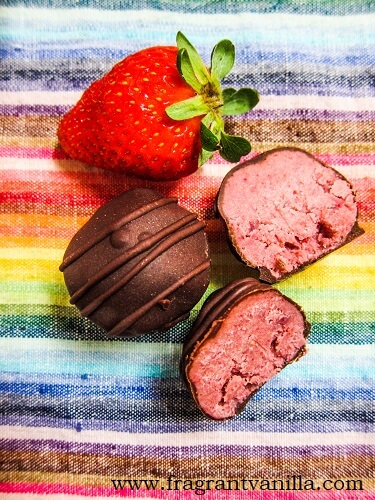 Once the filling was all shaped and set, I dipped them in dark chocolate and could not wait to try them.  They were sooo good!  The filling was sweet, and a tad tart with the flavor of jammy berries and aromatic lemon.  It was perfect with the rich dark chocolate to accompany it!  They tasted like Summer and were actually kind of refreshing!  If you are a strawberry fan definitely give these a try.  They are the perfect thing to make when you are escaping the heat, because they won't heat up your kitchen.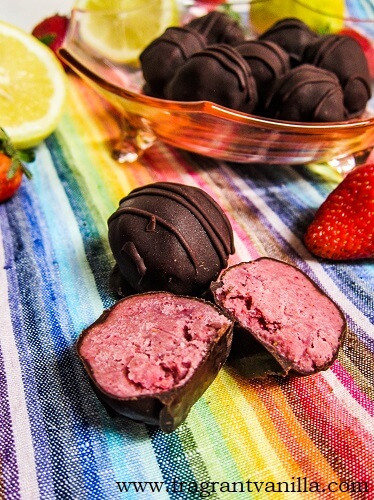 Vegan Strawberry Lemonade Truffles 
Makes 12
Ingredients:
Filling:
1/4 cup cacao butter (2 oz) or coconut oil if unavailable
1/4 cup raw cashew butter
1/4 cup coconut butter
1 tsp pure vanilla extract
2 Tbsp maple syrup
1 cup freeze dried strawberries
1/4 cup lemon juice
1 Tbsp organic lemon zest
Dark Chocolate:
2 cups vegan dark chocolate chips
Directions:
Combine all of the white chocolate ingredients but the berries and lemon juice and zest over a double boiler, and whisk until smooth.
Pulverize the berries in a blender until fine, then whisk into the white chocolate along with the lemon juice and zest. Place in the freezer for about 15-20 minutes until it is firm enough to scoop. Scoop into 12 balls, rolling them with your hands.   Place on a parchment lined tray, and place back into the freezer until firm, about 30 minutes.
Meanwhile, melt the chocolate chips in a double boiler, and whisk until combined and melted.
Once the filling has firmed up, dip each chocolate into the dark chocolate, being sure to let the excess drain off, and place back onto the tray (I like to set mine on a fork to allow it to drain better). Once they are all dipped, set them in the freezer until hardened.
Store any leftover truffles in the refrigerator.
(Visited 354 times, 1 visits today)