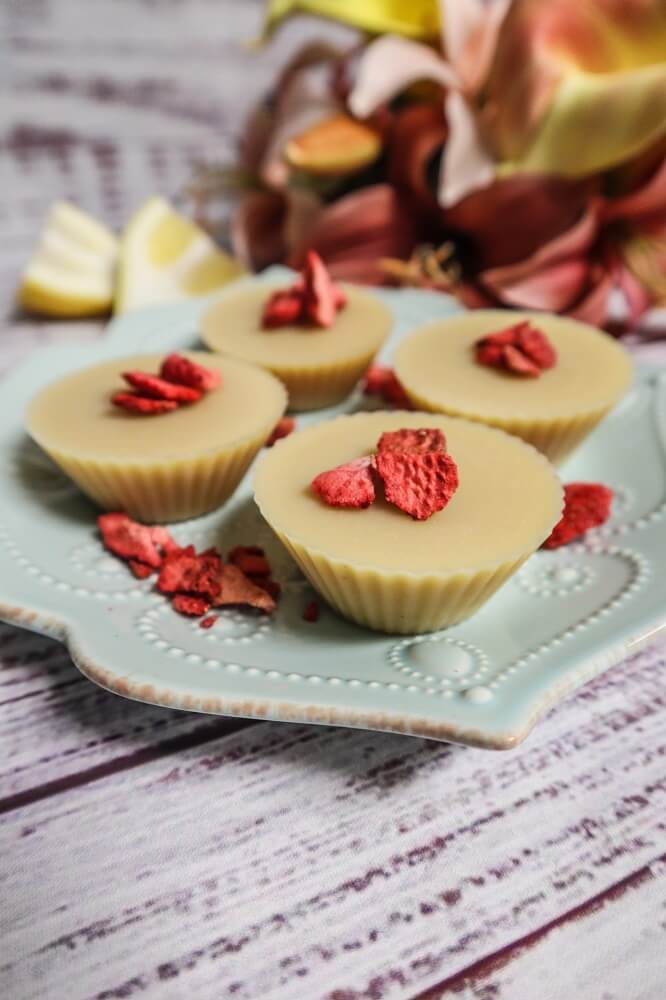 Vegan Strawberry Lemon White Chocolate Cups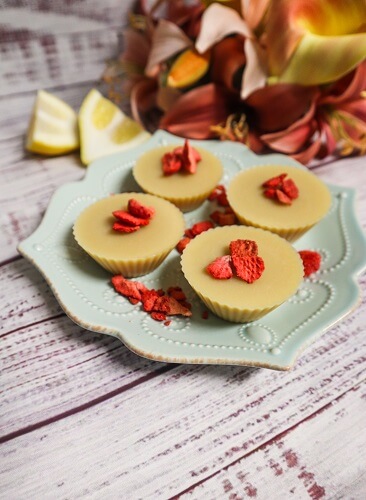 Meteorological spring is here, and even thought it is not technical spring on the calendar, I am treating it like it is.  I am so ready to wear cute spring clothes, watch everything start to green up outside and to eat delicious spring produce!  One of my favorite of which is strawberries.  They won't be in season here yet for a while, but Eric's Dad sent us some of his home made strawberry jam so that is just as good!  It is seriously the best jam I have ever had, he grows the berries in his back yard and they are amazing!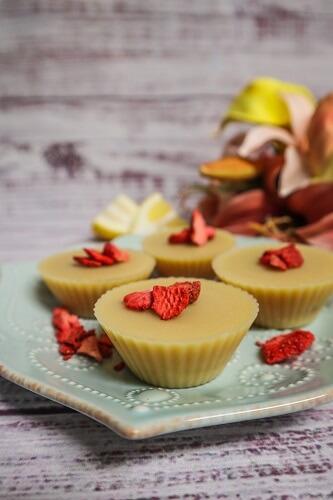 So I decided to make a treat with some of it, some strawberry lemon white chocolate cups! It is spring candy and Easter candy time so why not?!  I always love some good white chocolate. I make my own, since most of the stuff at the store is not made with actual cacao butter, and some of the vegan ones I have tried were either super expensive or just meh. Plus it is fun to make your own if you happen to have the ingredients on hand, which I always do because they are part of my dessert making pantry.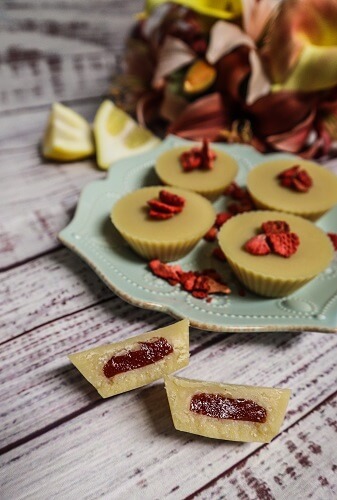 For the white chocolate I use a mixture of cacao butter, coconut butter and cashew butter to give it a smooth rich melt in your mouth texture.  A little maple syrup and vanilla to sweeten it and it is so good!  This time I added a little bit of lemon juice and zest to make it lemon flavored. I love lemon desserts in the spring!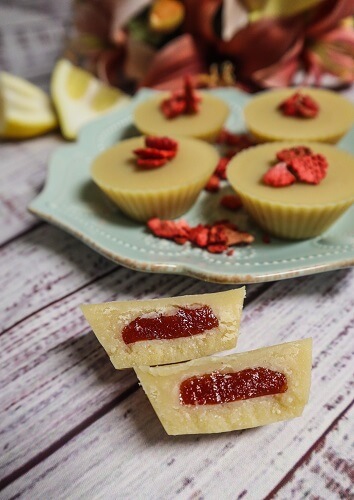 I could not wait to try these once they were ready!  They were just as heavenly as I imagined!  Smooth, rich melt in your mouth vanilla and lemon scented white chocolate with sweet gooey strawberry jam on the inside!  So much better than most things you can buy at the store!  If you are a fan of white chocolate, give these a try!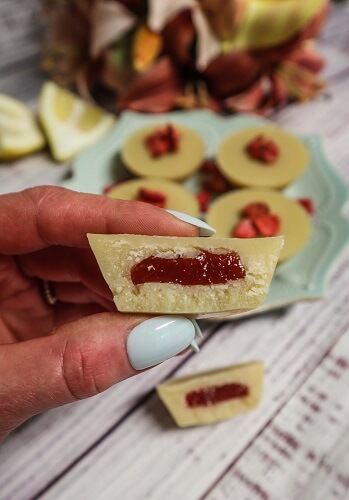 Vegan Strawberry Lemon White Chocolate Cups 
Makes 6
Ingredients:
1/2 cup cacao butter (2 oz)
1/4 cup raw cashew butter
1/4 cup coconut butter
1 tsp pure vanilla extract
3 Tbsp maple syrup (or to taste)
1/8 tsp sea salt
2 Tbsp lemon juice
about 1/2 cup strawberry jam
Instructions:
Combine cacao butter, cashew butter, vanilla, maple syrup,  and sea salt over a double boiler, and whisk until smooth.
Whisk the lemon juice and zest into the white chocolate.
Pour about 1/4 inch into the bottom of 6 silicone muffin tins or large peanut butter cup molds, and place in the freezer until hard, which usually takes about 10 minutes or so depending on how warm it is.
When that chocolate has hardened, spoon about 1 tsp of strawberry jam into the center of each (being careful not to let it spread too much to the edges) and then top with enough white chocolate to cover it.
Place back into the freezer until set, about 30 minutes.
Pop chocolate out of molds and enjoy!
Store in the refrigerator for a month or an airtight container in the freezer for up to three months.
(Visited 483 times, 1 visits today)