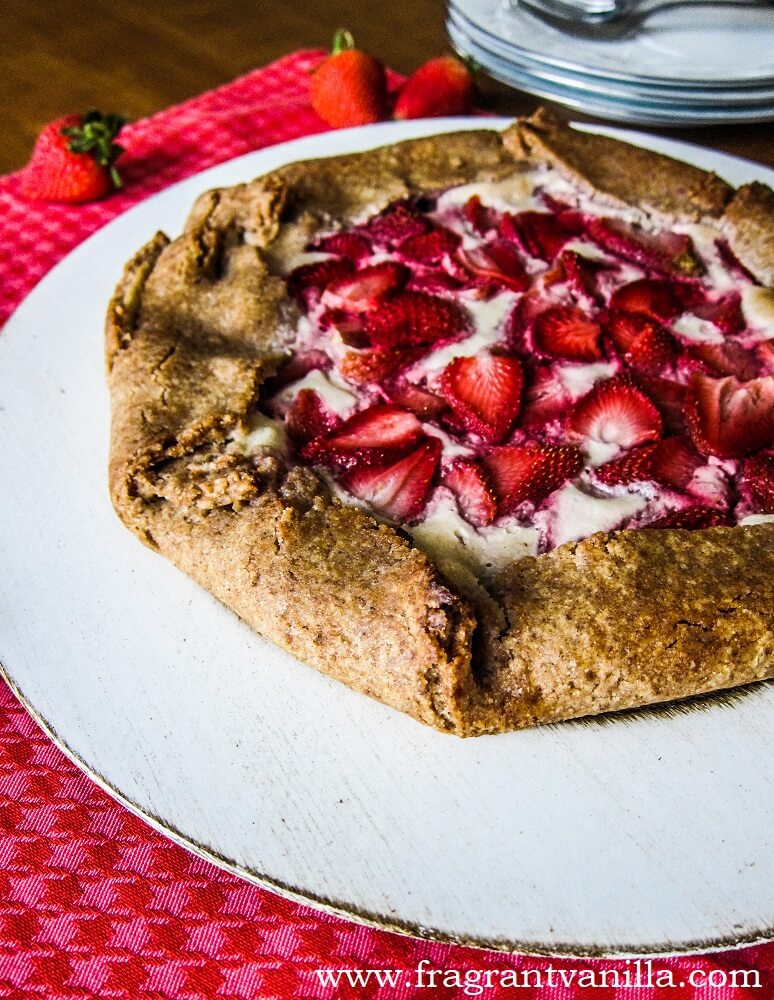 Vegan Strawberry Lemon Cream Cheese Galette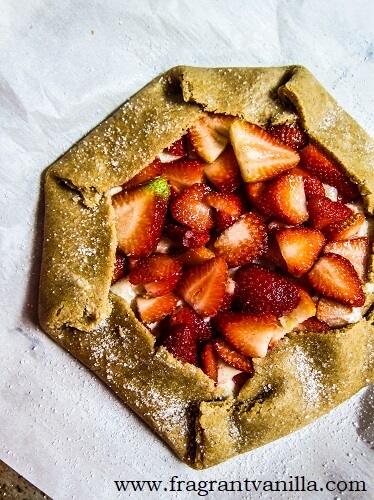 It is the little things in life that make me happy.  For instance, when I went out for a run on Friday I was a bit tired and sluggish, but my spirits were quickly lifted.  The lilacs were starting to bloom.  Let me tell you, that is one of my favorite times of the year. They smell amazing and running past a row of them is like being in a garden.  I am so envious of anyone who has them in their yards.  Not only that, they were finally sweeping the streets in my city (sand is really hard to get traction on when you are running on asphalt), and they put the porta potties back out in the parks and along the trails.  Trust me, to a runner these things are big.  And it all made me so happy!  So I went into my day in a super good mood.  I decided after work that some baking was in order.  I like to bake when I am happy, or at least I have more motivation to!  One of my coworkers had made hand pies in the deli I work in and it made me want to make some when I got home.  Except, I am a little lazier so I went for making a galette with the same ingredients instead.  Trust me, it is a lot less work.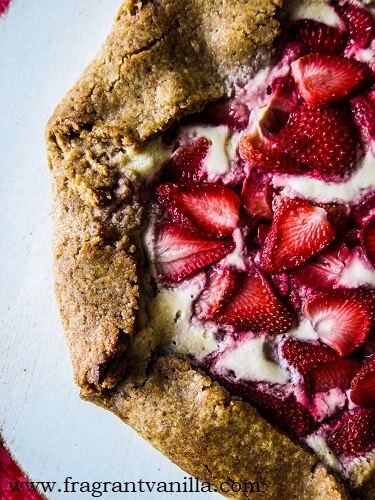 A galette is like a way easier version of pie.  You only need one crust, and you don't have to do anything fancy with it, since it is rustic.  I decided to give it an almond crust.  I had just gotten a box of goodies from
Raw Guru
, including some
raw almond butter
and
raw almond meal
, so I thought they would be amazing in a crust!  As a side note, if you visit the
Raw Guru Website
and you see something there you want to buy, you can use my coupon code FRAGRANTVANILLA to get 10% off your order!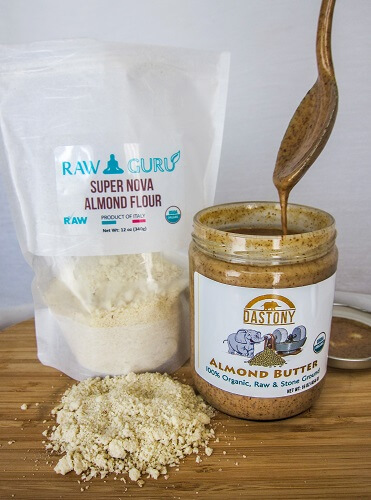 Back to the galettes, the almond products in the crust were amazing!  I like nut crusts for pastries, because it gives them a more rich flavor without adding too much other oil.  To be honest, I kept eating chunks of it before I rolled it out, since it tasted kind of like cookie dough.  Next, I made some vegan "cream cheese" filling from thick coconut milk and cashew butter with a touch of vanilla and lemon and it was sooo good! I knew it would be amazing with the strawberries!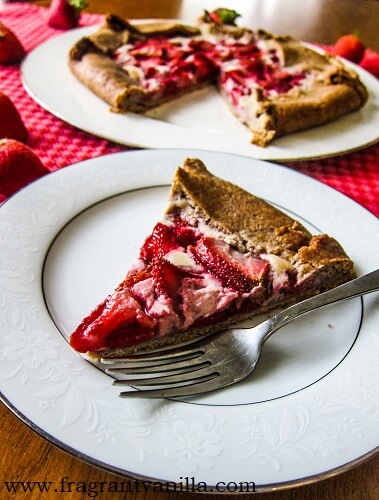 For the fruit filling I used some fresh organic strawberries I had bought at work since they were on sale, and they were so flavorful and delicious!  They barely needed any sweetening, and a touch of lemon juice made them shine!  It all baked up beautifully and my kitchen smelled amazing!  I could not wait to try it, but unfortunately I had to wait because it needed to cool off before diving in.  It was well worth the wait though!  Jammy flavorful strawberries, a lemon scented luscious cream cheese layer, and a flaky crust.  It was heavenly!  If you have strawberries on hand, and are craving pie but you are a bit intimidated by it, give this a try! It is much easier to make!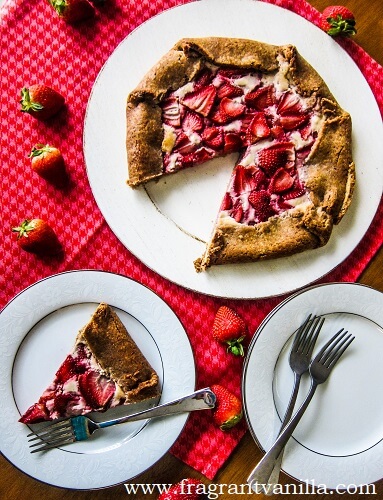 Vegan Strawberry Lemon Cream Cheese Galette
Makes 1 10 inch galette
Ingredients:
Crust:
Cream Cheese:
1/2 cup full fat coconut milk
1/2 cup raw cashew butter
2 Tbsp maple syrup
1/4 tsp sea salt
1 tsp lemon juice
1 Tbsp organic lemon zest
Filling:
2 cups fresh organic strawberries, sliced
3 Tbsp maple sugar or granulated xylitol
juice of one small lemon
a pinch of sea salt
coconut sugar, for topping
Directions:
To make the crust, in a large bowl, mix together flour, meal, sugar, and sea salt.  Cut in coconut oil and pecan butter with a pastry blender or 2 knives until it is in pea sized pieces.  Mix in just enough water to create a smooth dough that holds together but isn't too sticky.  Add a touch more water if needed, and knead slightly until a smooth dough is created.
Roll it out into a 14 inch round using parchment underneath and floured rolling pin.  If it tears, no worries, just press it back together and patch it up. Using the parchment to move it, place on a sheet pan.
To make the cream cheese, whisk together all ingredients until smooth.  Set aside.
Preheat oven to 400F degrees.  To make filling, mix together all ingredients in a large bowl.
Spread the cream cheese over the crust leaving a 1 1/2 inch boarder.  Spread the berries over the cream cheese, then carefully fold up edges to cover the edge of the fruit. Sprinkle with a little sugar.  Place in the oven.  Bake for 45 minutes (checking after 20 and if it is very brown, if they are tent with foil) until bubbling and fruit is tender.  Remove from oven and let cool on a wire rack for at least an hour.
*If you want this to be gluten free,
Gluten Free All Purpose Flour
will work as well in this recipe (the same amount substituted for the whole wheat flour).
(Visited 322 times, 1 visits today)