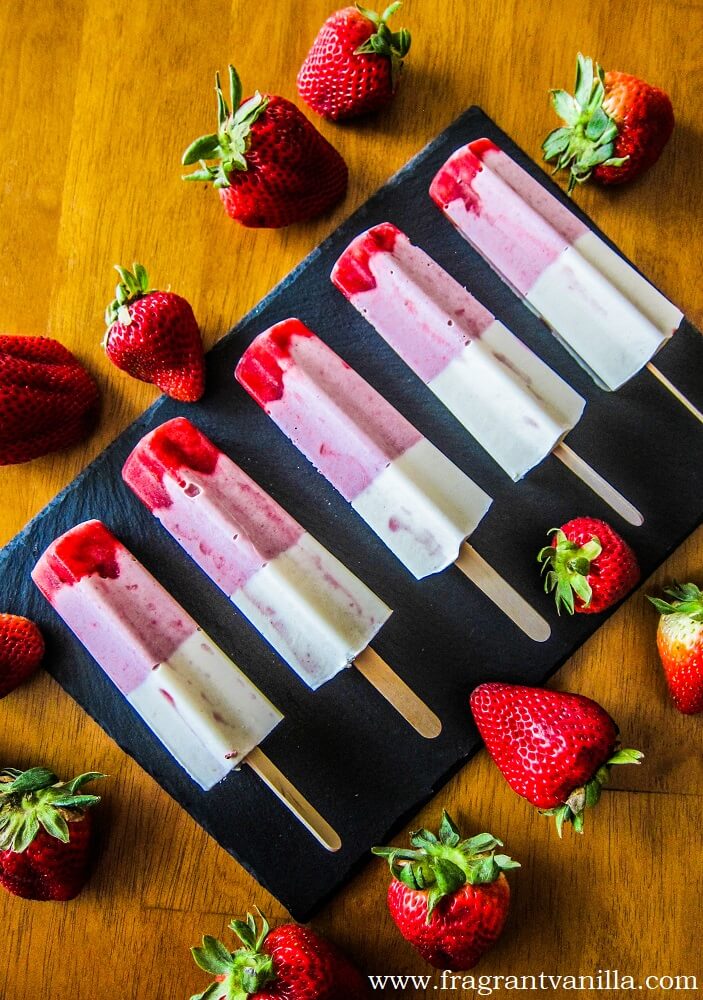 Vegan Strawberry Lemon Cheesecake Popsicles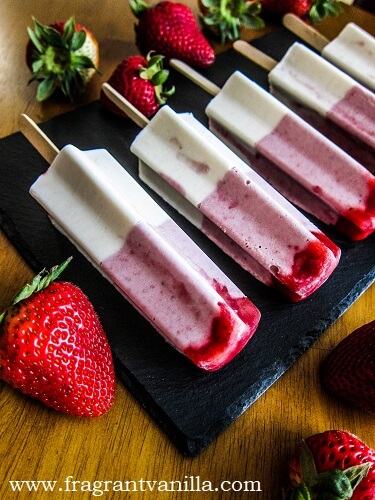 It feels like Summer here, so I am craving popsicles.  When I was little, they were an essential item that we always had to have around in the freezer.  The plain fruit sweetened ones were my favorite, especially the raspberry or strawberry.  I wasn't as big of a fan of the fake ones that were blue and green and whatnot.  Although I would never turn down a Freezee (those colored tubes of popsicle ice in case you have not heard of them), those were very popular when I was little.  Now as an adult, I like to get a little more creative with my popsicles, adding interesting flavors, or turning classic desserts into them.  Like the strawberry lemon cheesecake popsicles I made last weekend.  They tasted just like strawberry cheesecake!  I suppose it might be more appropriate to call them ice cream bars, but I am just sticking with popsicle, because that is the mold shape that I have.  I had organic strawberries on hand so I didn't have to buy any ingredients, which is always a win in my opinion!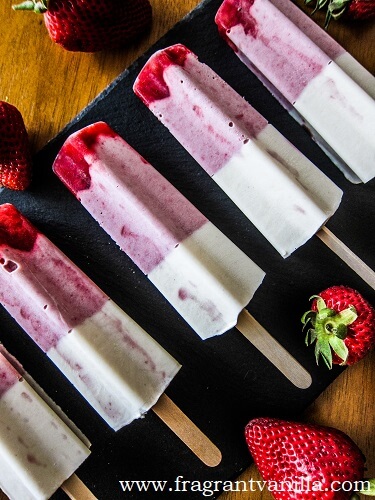 The strawberries are so good and flavorful lately too, so I knew these were going to be good before I even made them.  What most people don't realize is that it is really easy to substitute dairy in vegan recipes like this one.  Vegan cheesecake is just as delicious if not even more delicious than traditional dairy cheesecake.  I made a rich ice cream base with coconut milk and cashew butter and it tasted just like cheesecake once I added the vanilla.  I also added plenty of lemon zest and a bit of juice to give it a refreshing lemon flavor that didn't overpower.  I wanted these to be layered, so I had a layer of strawberries, then a layer of strawberry cheesecake cream then the plain lemon cheesecake cream. They were lovely!  Then I just had to let them chill and set.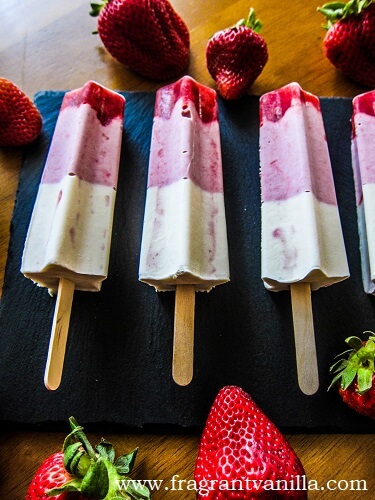 I wanted to try one, but I had to leave them overnight because I made them in the evening.  But it was perfect, because I got to try them the next day when it was pretty warm out after taking a walk, and I needed something refreshing.  They were sooo good!  They tasted just like cheesecake with a hint of lemon and the sweet jammy strawberries were what made it!  you would never guess that this does not contain any dairy, since it tastes so rich and delicious!  Give these a try, no need to wait until it is actually Summer!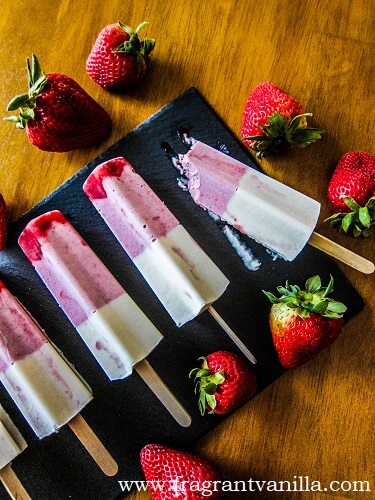 Vegan Strawberry Lemon Cheesecake Popsicles
Makes 8
Ingredients:
2 cups full fat coconut milk
1/2 cup raw cashew butter
1/4 cup maple syrup
1 tsp pure vanilla extract
pinch sea salt
1 Tbsp lemon zest
2 Tbsp lemon juice
1 cup organic strawberries, chopped (divided)
Instructions:
Combine the full fat coconut milk, cashew butter, syrup, vanilla, sea salt, lemon zest and juice in a blender and blend until smooth.  Remove half and set aside in a bowl.
Drop a few strawberries into the bottoms of 8 popsicle molds.
Blend the remaining coconut mixture (that you did not remove) with the remaining berries, then pour over the strawberries in the molds. Pour the mixture you had set aside without the strawberries over that.
Place sticks into the molds, leaving about 1 inch at the top, then place in the freezer until completely hard, about 4-6 hours (or overnight).
(Visited 490 times, 1 visits today)