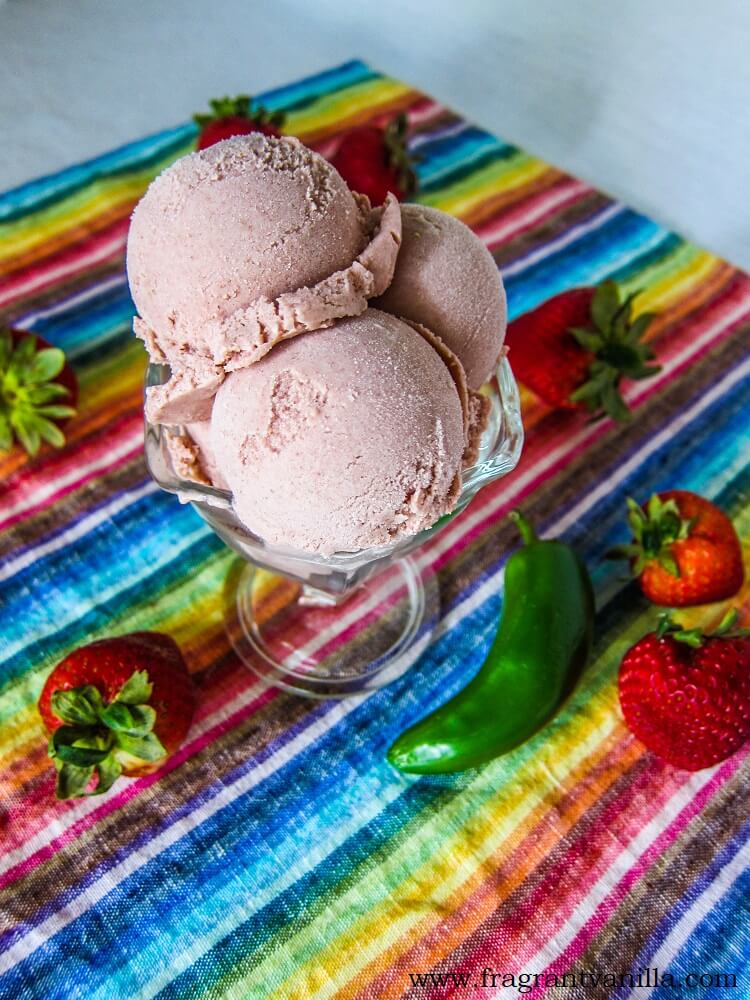 Vegan Strawberry Jalapeno Gelato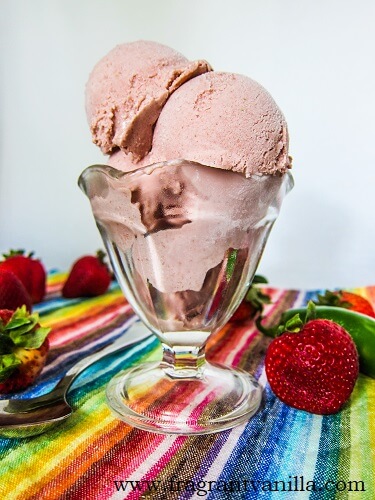 Although I have my favorite ice cream flavors that I make again and again, I will never tire of coming up with new ones.  I have over 100 ice cream recipes on my blog already but why stop there?  Keeps it interesting for me at least.  Once you get your own ice cream maker, it is hard to go back to store bought.  Or at least for me, because I enjoy making it, and many of the store bought vegan ice creams don't have a texture that I like, or are made with refined sugars or artificial ingredients.  I have tried other ones that had a good texture and no refined sugars that were just ok, but I missed my home made stuff.  Ice cream is so easy to make at home.  Even if you don't have an ice cream maker (see the note in the recipe if you don't).  I have been making it for over 10 years at home with and without an ice cream machine.  It feels like Summer here and I was craving some ice cream after a long day at work, so I made some strawberry ice cream a few days back.  Not just strawberry ice cream though, that isn't exciting enough for me right now.  Strawberry jalapeno gelato!  I am a big fan of sweet fruit desserts with a kick from chilies. Especially in the Summer because chilies actually have a cooling affect on the body.  If you are skeptical, trust me on this one.  I started adding chilies to things because Eric loves spicy food and desserts and I have come to love them too.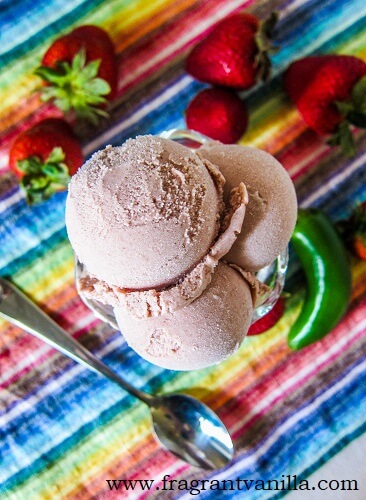 This ice cream was super easy to make.  I don't want to go through too much work to make things on a work night, so all it took was a moment in the blender and it was ready to go into the ice cream maker.  The base tasted delicious like a strawberry milk shake with a kick. How did I give it that gelato like texture?  With a mixture of coconut milk and cashew butter.  It makes for a super rich base that you would swear had dairy in it.  I added in plenty of strawberries, a dash of lime juice and of course the jalapeno.  I did not seed it because I like the kick, but you can if you want.  It actually ended up being just the right amount of heat.  Something that doesn't hit you right away, but slowly builds as you begin to taste it.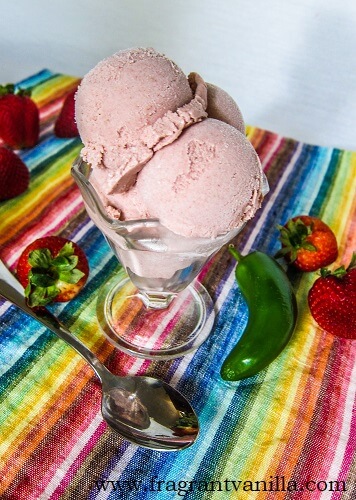 The gelato turned out so incredibly good!  Like classic creamy strawberry ice cream with a little heat at the end and a pop of lime flavor.  You know what would be amazing?  If you made a strawberry ice cream float with this in some strawberry kombucha with a shot of tequila.  Yes, I have made something like this before so that's how I know it is bomb!  If you are someone who likes to try new ice cream flavors, or maybe you just love chilies in things, give this gelato a try!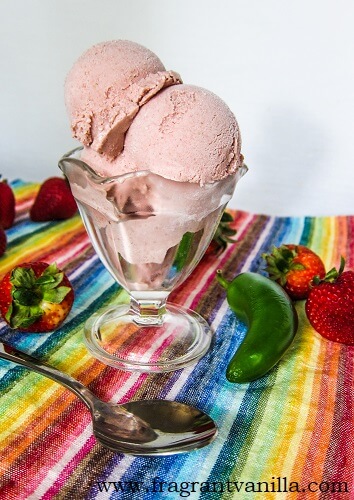 Vegan Strawberry Jalapeno Gelato
Makes 3 cups
Ingredients:
1 15 oz can full fat organic coconut milk
1/2 cup raw cashew butter
1 1/2 cups fresh organic strawberries
1/4 cup soft, pitted medjool dates (if they are not soft, soak them in filtered water for 30 minutes before using)
1/4 cup lime juice
1 jalapeno, diced (seeds removed if you want it less hot
1/4 tsp sea salt
Instructions:
Combine all ingredients in a blender and blend until smooth.
Pour into an ice cream maker and process according to directions.  Alternatively, if you do not have an ice cream maker, pour it into a bowl, and whisk every half hour until it is to the consistency of a thick malt.
Pour into a freezer safe container with a lid, and continue to freeze until firm enough to scoop (at least 4 hours or overnight). If it becomes too firm, simply let it sit out for 15 minutes before serving.
(Visited 685 times, 1 visits today)