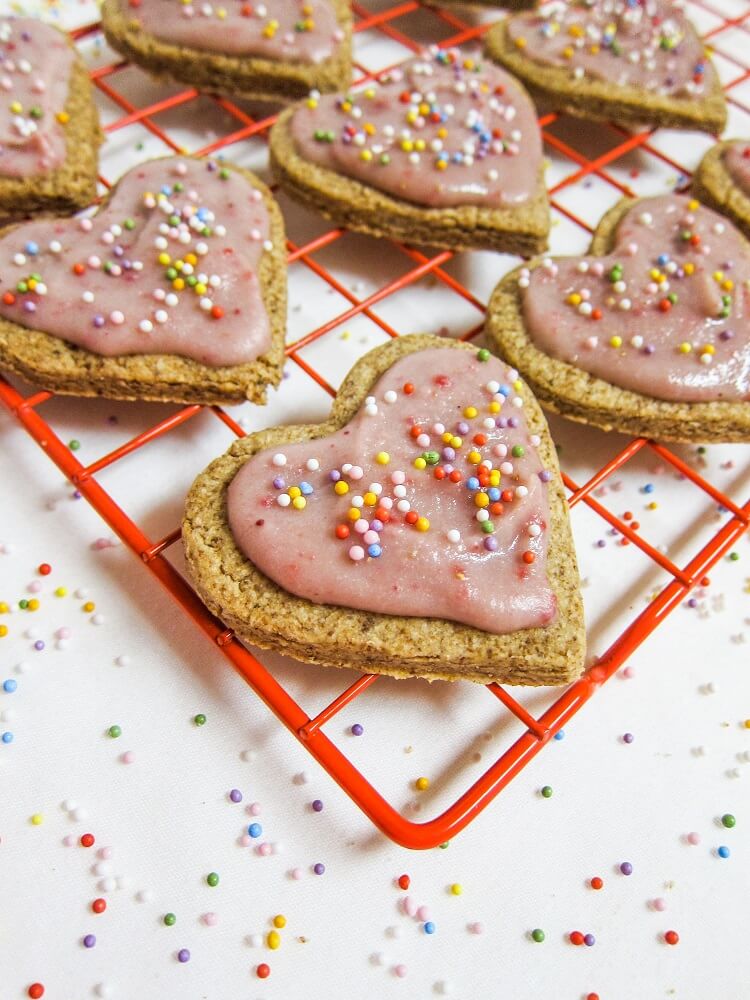 Vegan Strawberry Frosted Vanilla Cookies
Back when I was in high school I didn't cook a lot, but what I did do once in a while was make cookies. I especially loved my Grandma's cookie recipes, frosted sugar cookies being one of my favorites. I used to make a big batch, and share them with my friends and family. They were really rich delicious cookies with about a pound of butter in the dough, sugar plus powdered sugar and of course I topped them off with buttercream frosting that had more butter and sugar. So just one was plenty or you might go into a sugar coma. Well, several different people I gave a plate to ate the entire plate in one day! So I guess that means they were pretty darn good. Well, I don't make those cookies any more because they were obviously not vegan and I try to make things that are a bit healthier. But I do still like frosted vanilla cookies.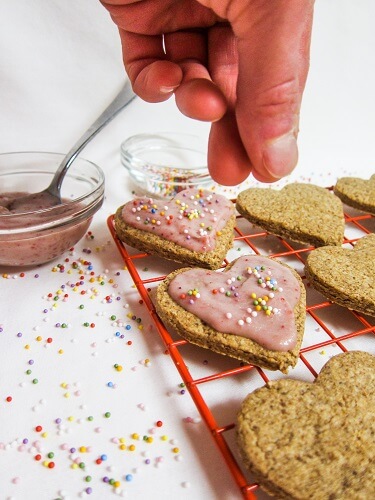 So last weekend I decided to make some vanilla frosted cookies. They are more shortbread buttery type cookies than the softer sugar cookies I used to make, but I like the texture of these even better. The cookie base is pretty simple and easy to make, not fussy at all. I use a mixture of whole wheat pastry flour plus a little tapioca flour to make the texture more tender. And for the fat in the dough I use a mixture of avocado oil and coconut oil because if it were all just coconut oil they would be harder at room temperature but the avocado oil makes the consistency more like actual butter or buttery spread. I am just not a fan of using store bought buttery spreads and would rather mix my own oils. The result is a delicious tender buttery cookie!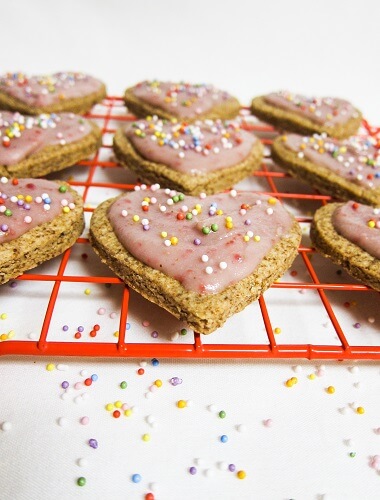 They smell amazing while baking too because of course you can't go wrong with vanilla. For the frosting on these cookies I thought about making a buttercream style vegan frosting, but decided to go with more of a glaze one instead. It is much easier to make and still good. I made a simple coconut butter glaze. I wanted a pink frosting, so I ground up some freeze dried strawberries into a powder to color it and it was so good! Like sweet strawberries and cream frosting! Lastly, I sprinkled the frosted cookies with some little candy balls, because why not make them pretty. These would be perfect for upcoming Valentine's Day, don't you think?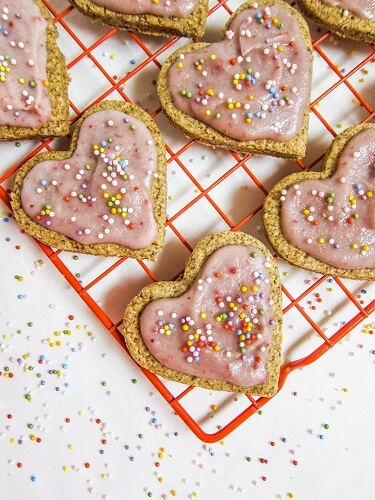 Vegan Strawberry Frosted Vanilla Cookies
Makes about 16
Ingredients:
1 3/4 cups organic whole wheat pastry flour*
1/4 cup tapioca flour**
1/4 cup plus 2 Tbsp maple sugar
1/4 tsp sea salt
1/4 cup melted coconut oil
1/4 cup plus 2 Tbsp avocado oil (or other neutral oil liquid at cool temperatures)
1 Tbsp filtered water
1 tsp pure vanilla extract
Frosting and Topping:
¼ cup plus 2 Tbsp coconut butter, warmed to liquid
¼ cup plus 2 Tbsp filtered water (or as needed)
1 Tbsp maple syrup
2 Tbsp strawberry powder***
vegan sprinkles (optional)
Instructions:
Preheat the oven to 300F degrees, and line a baking sheet with parchment.
To make the dough, mix all ingredients together in a bowl until combined and smooth (it may be slightly crumbly, and that is ok, just squeeze it back together), then place on a piece of parchment paper and roll out 1/4 inch thick. Cut into shapes with a medium sized cookie cutter (I used a heart shape) and place them onto the prepared pan. Re-roll any scraps squeezing them back together and rolling them out, and cutting into more shapes until all of the dough is used. Place the cut shapes on the pan into the freezer to chill for 10 minutes before baking.
Place the pan in the oven and bake for 20-25 minutes or until set and just barely beginning to brown at the edge.
Remove the pan from the oven and let cool completely on a rack.
Mix together the coconut butter, maple syrup and dried strawberries until smooth adding a touch more filtered water if it is too thick (you want it a thick glaze consistency).
Spread a thin layer of the frosting over the cookies, and sprinkle with the sprinkles. Set the glazed cookies in the freezer for about 5-10 minutes until set.
Store any leftover cookies in an airtight container in the refrigerator or freezer.
*If you wanted to make these cookies gluten free, you could use Bob's Red Mill gluten free all purpose baking flour instead of the pastry flour.
**If you do not have tapioca flour you can substitute cornstarch.
***To make strawberry powder, grind freeze dried strawberries to a fine flour consistency with a mortar and pestle, or grind in a clean dry spice grinder.
(Visited 250 times, 1 visits today)