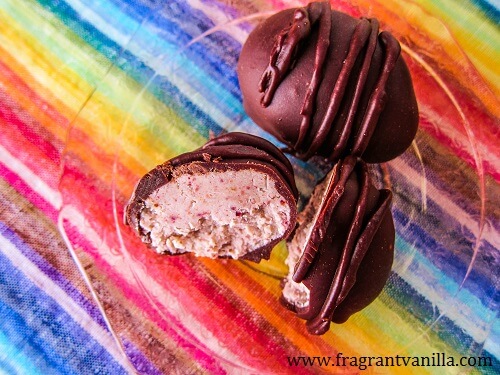 Vegan Strawberry Chocolate Eggs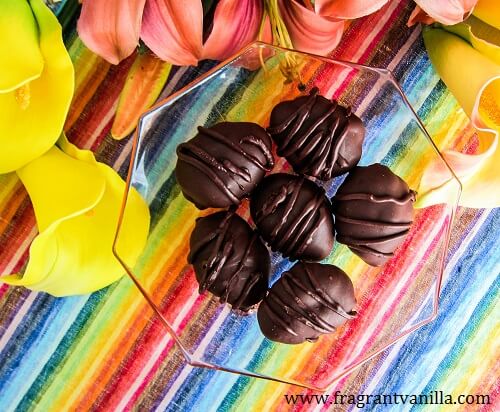 When I was little, I really looked forward to the Easter candy in the Spring.  I think it was my favorite candy of the year, because it was all decorated in cute pastel colors, and chocolate bunnies and eggs were usually bigger than the other Holiday's candies.  My favorite were the Reese's peanut butter eggs and the berry cream eggs, either strawberry or raspberry.  I was always hoping for those in my Easter basket.  I have since started to make my own, since most of the commercial candy companies are filled with refined sugars, dairy, and preservatives I don't want to be putting into my body.  But I do still like to indulge, I just do it with healthier ingredients.  Who says you have to give up your Easter candy because you are vegan?! Plus, I love making home made candy.  It is fun, and also fun to share with people, and they appreciate that you put work into it.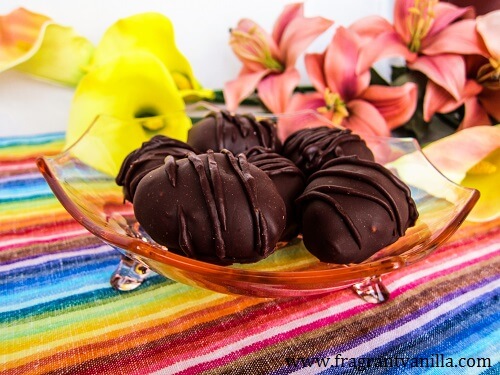 So, I decided to make some strawberry cream eggs this year.  I realized Easter is fast approaching so I better get with the program!  I feel like this year is going so fast that the Holidays come and go and I barely have time to enjoy them.  So, I got to work and made some deliciousness of the Easter candy variety!  The filling was luscious, a mixture of cacao butter (which makes it taste like white chocolate), cashew butter and coconut butter.  These were rich as candy should be.  I used dried strawberries in them because they pack loads of intense flavor, and don't add any extra moisture so good for candy.  I could not stop sampling the filling, because it was so good, but I knew I better because I wanted to end up with enough eggs.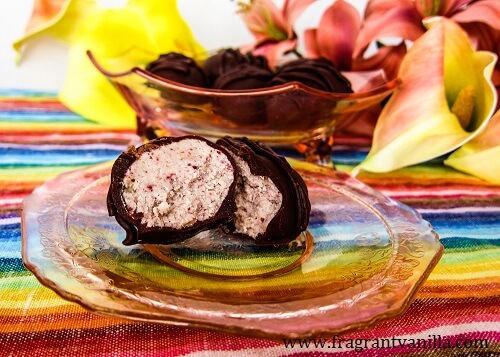 Once the filling was shaped and frozen, I dipped the little eggs into home made dark chocolate.  I could not wait to try them!  They were super delicious, even better than the cream eggs I had as a child, and they didn't leave me feeling yuck.  The good thing about these is that they are good sized, so one is satisfying.  If you have time, why not make your own Easter candy this year instead of buying it?  It is a lot of fun, and stuff tastes so much better knowing you put love into it!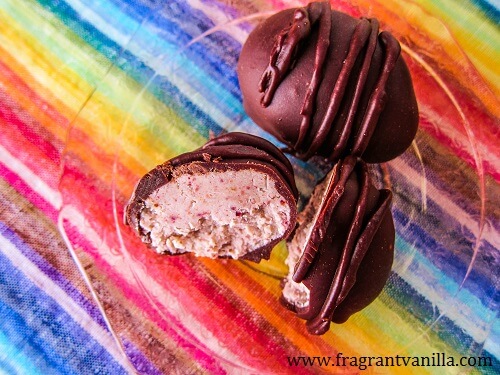 Vegan Strawberry Chocolate Eggs 
Makes 6-8 large eggs
Ingredients:
White Chocolate:
1/4 cup cacao butter (2 oz) or coconut oil if unavailable
2 Tbsp raw cashew butter
1/4 cup coconut butter
1 tsp pure vanilla extract
2 Tbsp maple syrup
1 cup freeze dried strawberries
1/4 cup filtered water
Dark Chocolate:
1/2 cup cacao butter (4 oz) or coconut butter if unavailable
3/4 cup cacao powder
1/4 cup maple syrup
pinch sea salt
Directions:
Combine all of the white chocolate ingredients but the berries and water over a double boiler, and whisk until smooth.
Pulverize the berries in a blender until fine, then whisk into the white chocolate along with the water. Place in the freezer for about 15-20 minutes until it is firm enough to scoop. Scoop into 8 balls, rolling them with your hands and shaping them into eggs.   Place on a parchment lined tray, and place back into the freezer until firm, about 30 minutes.
Meanwhile, to make the dark chocolate, combine all ingredients in a double boiler, and whisk until combined and melted.
Once the filling has firmed up, dip each chocolate into the dark chocolate, being sure to let the excess drain off, and place back onto the tray (I like to set mine on a fork to allow it to drain better). Once they are all dipped, set them in the freezer until hardened.
Store any leftover truffles in the refrigerator.
(Visited 279 times, 1 visits today)