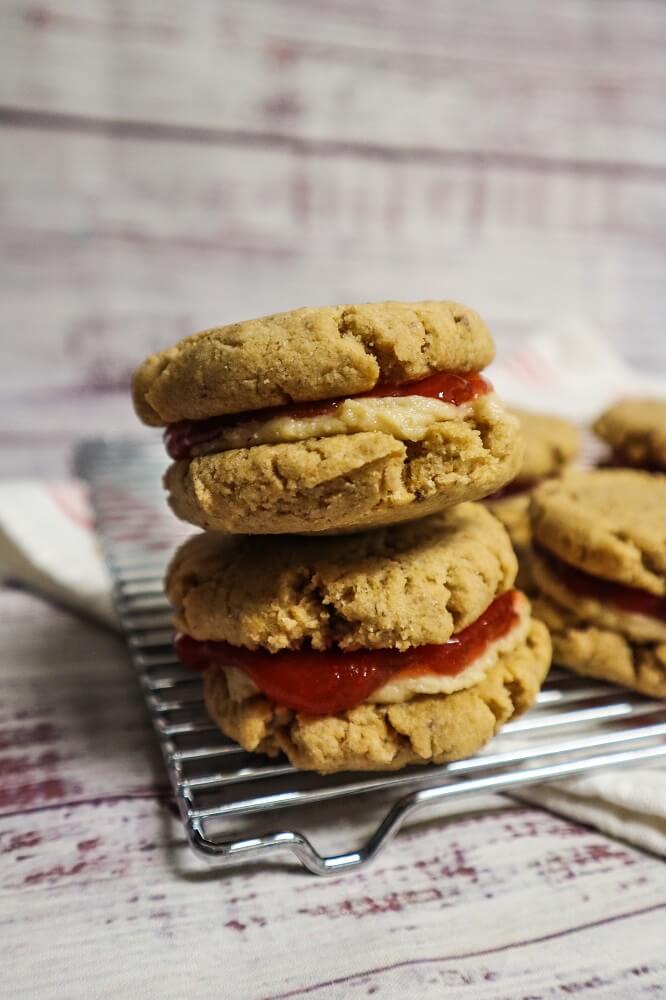 Vegan Strawberries and Cream Sandwich Cookies 
I am all about the strawberries lately!  I got some organic ones for a good price at the store so I have been enjoying those, and Eric's Dad sent us some amazing strawberry jam that he makes, so I have been making things with that!  Like these strawberries and cream sandwich cookies!  There was a limited edition Girl Scout Cookie when I was little that had a strawberry filling and a cream filling that I really liked the year wee bought it and I was thinking I should make something similar!  I don't know why they didn't make it for very long it was so good!  Luckily I can make my own veganized version with better ingredients.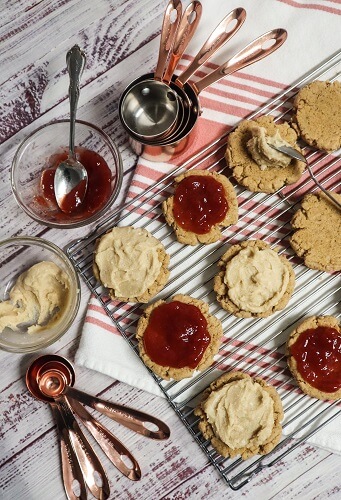 I started with a vanilla sugar cookie base.  This is the base I use for a blank palate for many of my other sugar cookies, but it is really good just as is too so I figured it would be delicious with the fillings!  These were not going to look like those Oreo style cookies like the original ones were, but that was ok with me. I didn't care so much that they were fancy (the other ones had a cut out in the top too) I cared that they tasted delicious!
They baked up beautifully and smelled amazing!  I love the aroma of vanilla scented baked goods!  It is seriously one of my favorite smells ever (and that is why I named my blog Fragrant Vanilla Cake)! Once the cookies had cooled I made a cream filling with a cashew butter and coconut butter base to make it rich and creamy!  It was heavenly once I added the vanilla and maple syrup to sweeten it!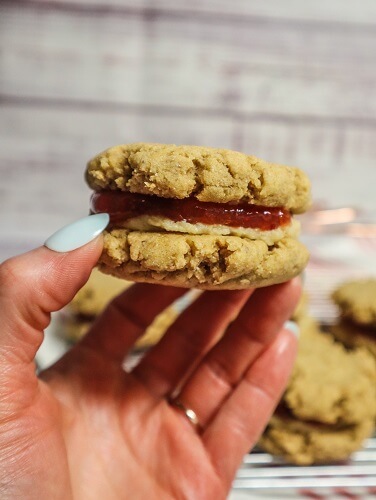 I sandwiched the cookies with the cream and the strawberry jam and I could not wait to taste them!  All of the components of the cookies had been really good on their own but they were heavenly when put together!  The buttery vanilla cookies paired perfectly with the rich cream and sweet gooey strawberry jam! If you are a sandwich cookie fan, definitely give these a try!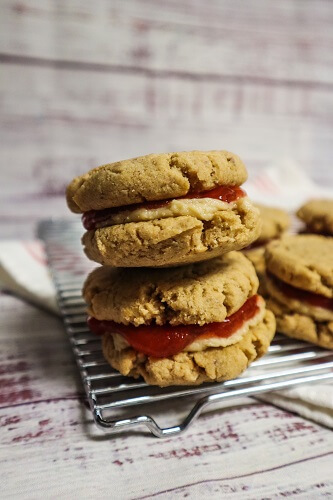 Vegan Strawberries and Cream Sandwich Cookies 
Makes 14 sandwich cookies
Ingredients:
Cookies:
2 Tbsp ground flax seed
1/4 cup plus 2 Tbsp filtered water
1 cup virgin coconut oil, warmed to liquid
1 1/2 cups xylitol (coconut sugar may be used but keep in mind the cookies will not be the same pretty pink color)
1 teaspoon vanilla extract
1 1/2 teaspoon baking soda
1 tsp baking powder
1/2 teaspoon sea salt
3 1/4 cups whole wheat pastry flour
Cream Filling:
1/4 cup raw cashew butter
1/4 cup melted coconut butter (not oil)
3 Tbsp maple syrup
1 tsp pure vanilla extract
2 Tbsp filtered water or as needed
Jam Filling:
Instructions:
 In a small bowl, whisk together the flax seed and filtered water.  Set aside in the refrigerator for 15 minutes.
In a large bowl, mix coconut oil with sugar and mix until well combined.
Mix in the vanilla extract and flax mixture until well combined.
Add the baking soda, salt, then the flour, a cup at a time, mixing between each addition, until well combined.
To bake, Preheat your oven to 350 degrees. Line 2 large baking sheets with parchment paper. Roll balls into about 1 1/2 inch balls, and place on prepared cookie sheets a couple inches apart.
Place in the oven and bake for about 15-18 minutes, until puffed and just starting to brown slightly.
Remove from the oven, and allow to cool.  Repeat with remaining cookies and let cool completely.
To make the cream filling, mix together all ingredients until smooth.  You want it a spreadable consistency just a little softer than smooth peanut butter. If it is too thick add a touch more water.
To assemble the cookies, flip them over and spread about 1 Tbsp of the cream mixture over half, and strawerry jam over the other half and put them together.
Enjoy!
Cookies keep refrigerated for about a week, and frozen for up to 4 months in an airtight freezer container with a lid.
(Visited 466 times, 1 visits today)