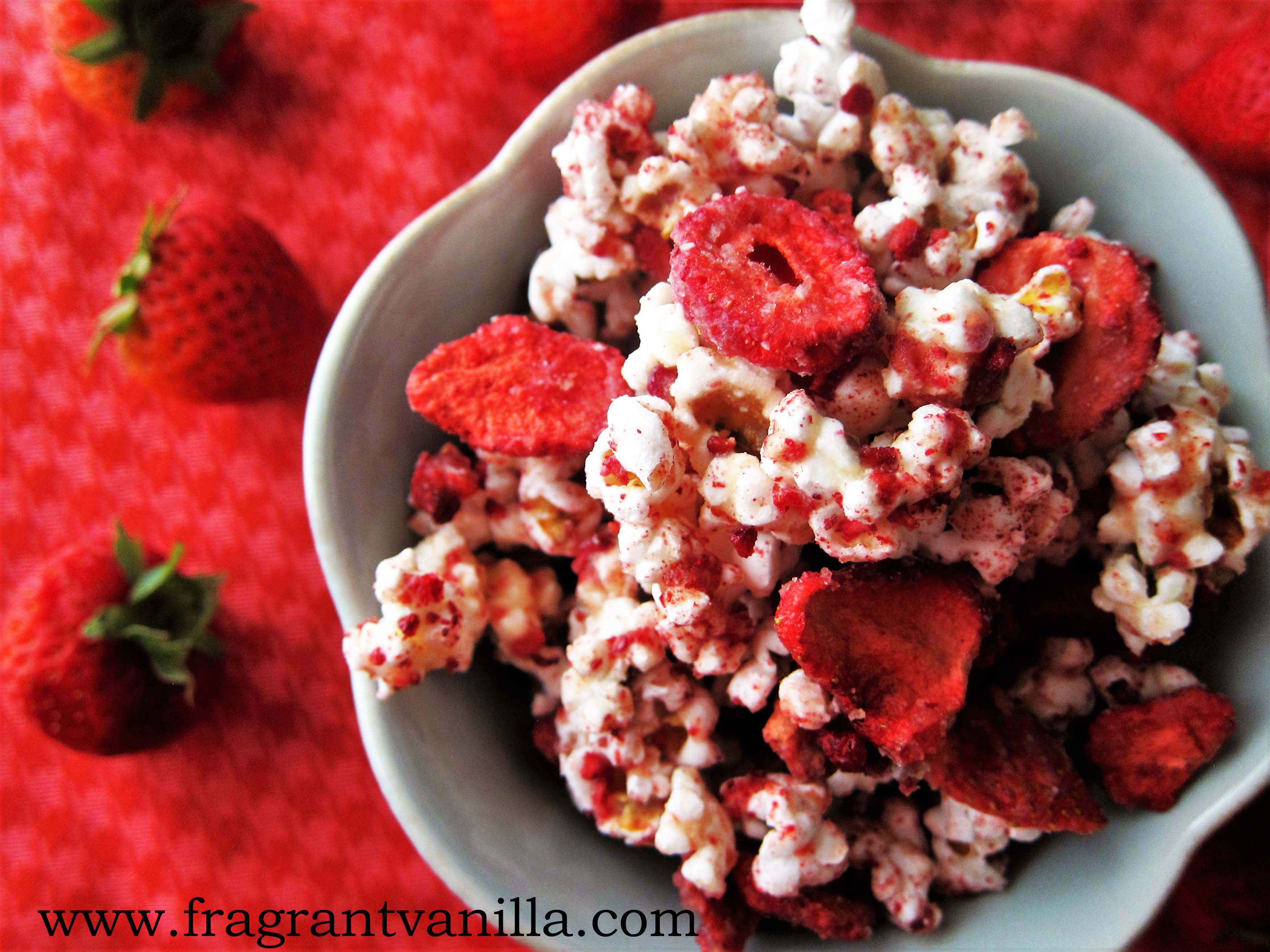 Vegan Strawberries and Cream Popcorn
Strawberries are finally in season here, so I have been a little obsessed with them lately.  Strawberries and rhubarb of course, but strawberries on their own are pretty sweetly satisfying too.  Someone was telling me about some Mango popcorn at a local store, and I thought to myself, I want strawberry popcorn.  It was going to happen. No, I did not puree strawberries and pour them over popcorn, it was a bit more shelf stable than that.  I used freeze dried strawberries, about the most flavorful berries short of picking your own local ones.  They are great for when you want to add strawberry flavor without any moisture.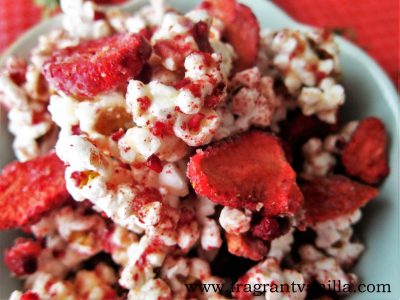 I decided to call this strawberries and cream popcorn, because that is what it tasted like.  The classic dessert in snack form, popcorn style.  Kind of sweet and salty, just the sort of thing I crave.  It was easy to make, and sooo good!  I had a large pan of it sitting there, and let's just say 1/4 was gone before the photo taking process was over.  That is sort of how it is being a food blogger. The food is right there calling your name. I wasn't exactly generous with this either, I shared a small portion, but most of it I kept to myself, it was that good.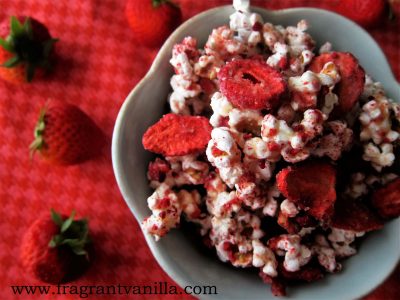 I remember when I was a kid, they had flavored popcorn you could buy and it was these bright colors that I am sure were not real.  It was supposed to be berry, but it did not taste like real berries it tasted like nasty artificial flavors.  Sadly it was the pretty colors that drew my 8 year old self to it and I was not impressed after eating that stuff.  Well folks, this is the real deal version of that popcorn.  So much better, it tastes amazing like the essence of strawberry and you will not regret making it.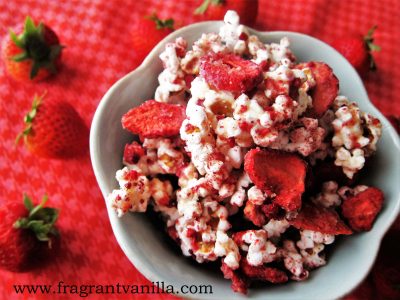 Vegan Strawberries and Cream Popcorn
Makes 8 cups
Coating:
1/4 cup raw cashew butter
1/4 cup  plus 2 Tbsp raw coconut butter, warmed to liquid
1 tsp pure vanilla extract
2 Tbsp maple syrup (or to taste)
8 cups plain popcorn
1 cup organic freeze dried strawberries, crushed
To make the coating, whisk together all ingredients until smooth, then pour over the popcorn in a large bowl, and add the berries. Toss together until all of the popcorn is coated, and the berries are evenly distributed. Allow to cool until the coating dries (I put it in the freezer for 15 min). Enjoy!
(Visited 82 times, 1 visits today)