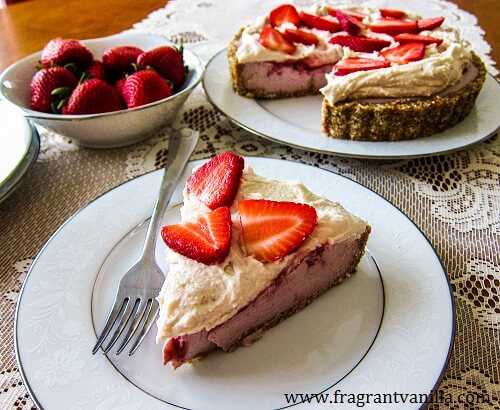 Vegan Strawberries and Cream Pie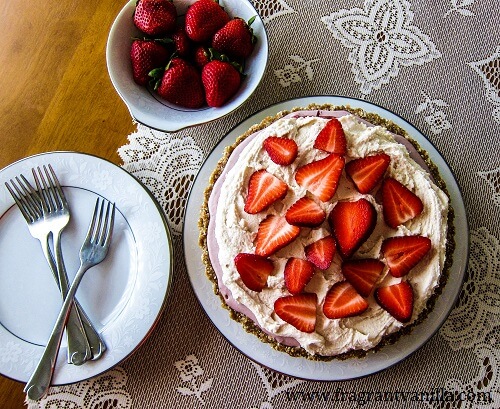 I used to love Strawberry Shortcake as a child.  I am talking about the girl Strawberry Shortcake, not the dessert.  The one that was popular in the 1980s and early 90s when I was little.  She had it all as far as I was concerned.  She was cute, she lived in a cute little town with other dessert themed characters, she baked, she had pets, she smelled good (well, the doll I had did) she was awesome to my five year old self! My Grandma had taped one of her movies for me to watch, and I watched it over and over again, never getting tired of it.  I had a strawberry shortcake doll, and even pajamas among other things. Good times.  So, now whenever I smell strawberries, it makes me think of Strawberry shortcake.  Where am I going with all this Strawberry Shortcake talk?  No, I did not make the dessert with  the same name, but I did make a delicious pie including strawberries and it smelled like something that I imagine Strawberry Shortcake would bake.  I had gotten some strawberries on sale, and the first thing that came to mind to make was pie.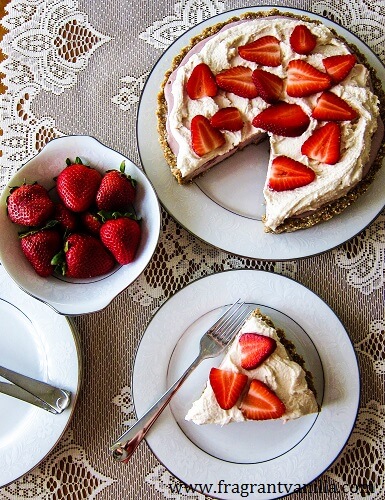 We are were lacking sunshine at the end of last week with it raining on and off, so I decided that something bright and fruity like a strawberry pie would be perfect to bring us all out of that gloomy funk.  I have never made a strawberries and cream pie, so I was excited about this! I made a simple crunchy crust using one of my raw recipes I perfected a while back for raw desserts, and it was perfect.  What gives it the crunch is the sprouted, dehydrated buckwheat groats.  I keep them on hand already made in my freezer at all times.  If you have not heard of them, they are pretty easy to make.  You just buy raw buckwheat groats (most health food stores sell them in the bulk section), soak them in filtered water for 30 minutes, then dehydrate them on a tray until dry (about 24 hours) or if you do not have a dehydrator, place them on a lined sheet pan and bake them in the oven at the lowest temperature (170F or so), for about 5-7 hours until completely dry.  Then you may use them for recipes.  I like them in my raw crusts so that I don't have to use so many nuts.  They are great for adding crunch to things.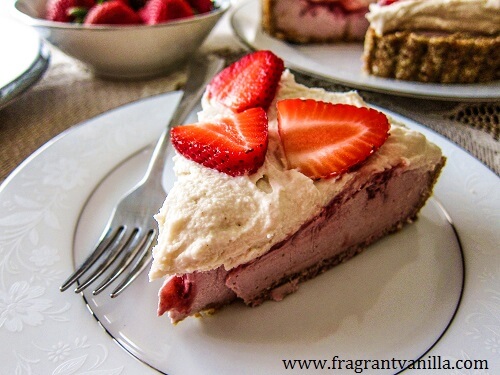 For the filling, I started out making a sort of strawberry jam on the stove.  Why on the stove?  Well, I wanted the berries to cook down a little to intensify in flavor and get rid of some of the moisture.  It worked out perfect, and I included it in both my filling and to swirl throughout the pie filling to give it  little jammy bursts of flavor throughout the creaminess.  It may seem like a few steps to make this pie, but it really isn't difficult.  I made the crust and filling on a Friday evening to finish making and enjoy on Saturday and it worked out perfect.  Often times I make my desserts in steps or ahead of time.  Once the filling was all set, and I was ready to serve and enjoy it, I topped it off with coconut whipped cream.  OMG was it ever good!  Sweet luscious strawberry filling, ribboned with more flavorful strawberry jam, and topped off with a heavenly whipped cream all on top of a crunchy sweet crust reminiscent of graham crackers...so yummalicious!  This would be the perfect thing to serve at a Spring celebration, or for an Easter spread.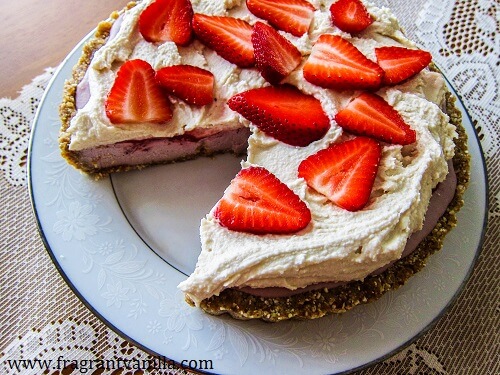 Vegan Strawberries and Cream Pie
Makes one 9 inch pie
1 8 inch pie plate
Crust:
3/4 cup finely shredded dried coconut
3/4 cup sprouted, dehydrated buckwheat groats, or raw walnuts
1/4 cup ground flax seed
1 cup soft pitted medjool dates (if they are not soft, soak them 30 minutes and drain well before using)
1/4 tsp sea salt
filtered water as needed
Jam:
3 cups fresh organic strawberries
2 Tbsp maple syrup
pinch sea salt
1 Tbsp arrowroot powder mixed with 1 Tbsp lemon juice
Filling:
1 1 15 oz can full fat organic coconut milk, chilled
1/4 cup soft pitted medjool dates (if they are not soft, soak them 30 minutes and drain well before using)
1/4 tsp sea salt
1 tsp pure vanilla extract
1/2 cup raw cashew butter
1 cup of the prepared strawberry jam (from above)
1 cup coconut butter warmed to liquid
Cream Topping:
1 1 15 oz can full fat organic coconut milk, chilled
1/4 cup maple syrup
pinch sea salt
1 tsp pure vanilla extract
1/2 cup plus 2 Tbsp raw coconut butter, warmed to liquid
Instructions:
To make the jam, combine all ingredients except for the lemon juice and arrowroot in a saucepan.  Cook over medium heat, until berries are jammy, and starting to fall apart, about 15-20 minutes, stirring often.
Once they are jammy, stir in lemon juice mixture, and cook for a minute until thickened, then puree in a food processor (you should have about 1 1/2 cups).  Set aside, and allow to cool.  You will be using some in the filling, and some for the swirl in the filling.
For the crust, combine all ingredients in the food processor until finely chopped and starting to hold together when squeezed (if it doesn't you may need to add a little filtered water 1 Tbsp at a time).
Press the mixture into a 9 inch removable bottom tart pan with high sides or pie pan greased with coconut oil.
For the filling, combine all ingredients in a high speed blender (including 1 cup of the jam you made) and blend until smooth. Pour into the crust.
Drop the rest of the jam over the filling by the Tbsp, and swirl with a knife to create marbling.  Place in the freezer to firm up (about 2 hours).
Meanwhile, for the cream topping, combine all ingredients in a blender and blend until completely smooth. Pour into a bowl and place in the freezer until it is thick like whipped cream (whisking every so often), about 45 minutes.
Once the cream is ready, spread over the top of the pie.
Pie keeps refrigerated for 1 week in a container.
(Visited 445 times, 1 visits today)