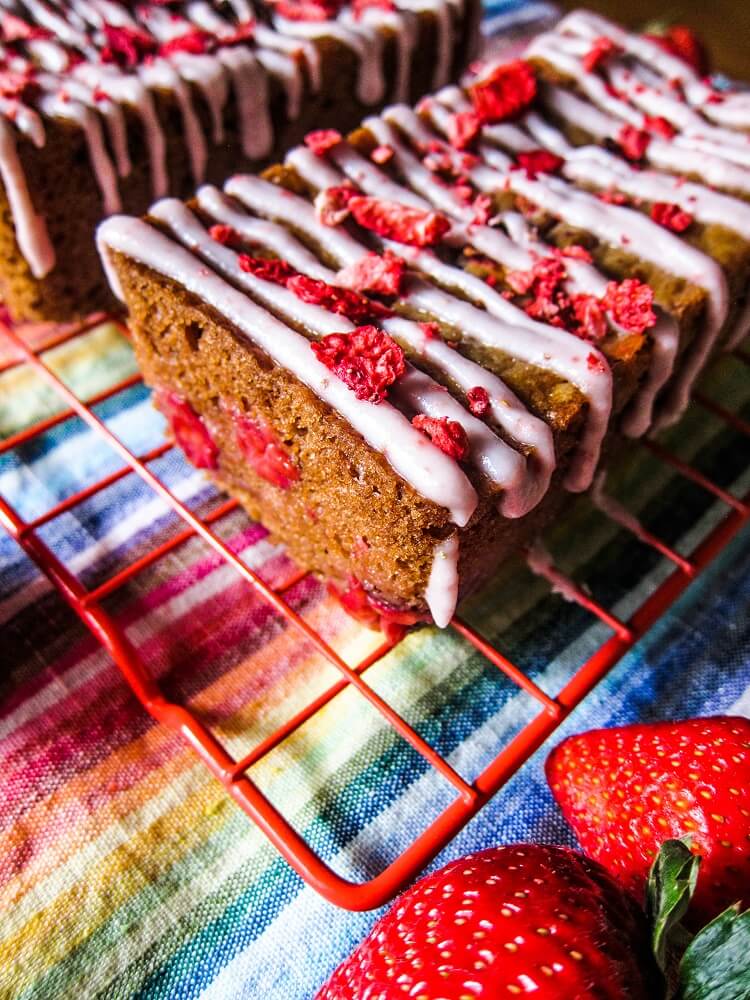 Vegan Strawberries and Cream Mini Loaf Cakes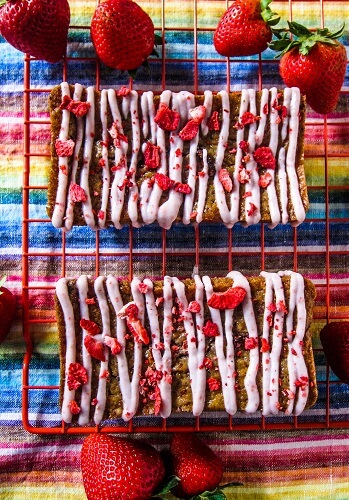 I was planning on making something strawberry rhubarb last weekend but I wasn't able to get rhubarb, so I just went with the strawberry instead! I wanted to make something I hadn't made before, so I decided on a loaf cake. I don't usually make them, since a lot of times I want cakes with frosting, but a strawberries and cream cake with a sweet glaze sounded just as good plus a whole heck of a lot easier!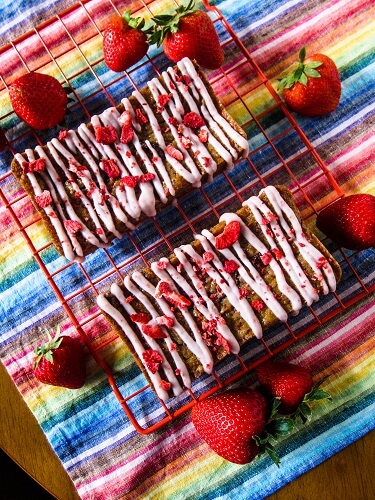 I already had strawberries on hand, so that was an added bonus! I love it when I have all of the ingredients for a recipe that I randomly think up, and I don't have to spend extra money to buy more. It is just a good feeling! Anyways, these cakes were really easy to make. I use smaller loaf pans, because I like to be able to share them, they bake up a lot faster and they are so cute! I mean, who doesn't love having their own whole little mini cake?
No fancy tools required to make this cake either, you just whisk them all together in a bowl, pour into the pans and bake! Your kitchen will smell heavenly while they are baking too, like strawberry shortcake. Unfortunately they have to cool before you un-mold them if you want them to look nice so you will have to wait until they cool to take them out unless you don't mind messy cake. Which by the way would totally be ok if you didn't have to photograph them like me, because I can dig messy cake with the glaze poured on in the pan and eating it out of there.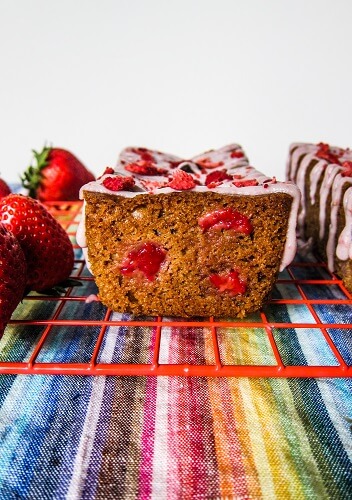 For the glaze I kept it simple. I am not a fan of refined sugar so no powdered sugar here, just a simple glaze made from Dastony coconut butter from Raw Guru, a little lemon juice, maple syrup and strawberry powder. Once the glaze was poured over the cake, it was totally heavenly! Soft and sweet, packed with strawberry and vanilla flavor and just the pick me up I wanted on the weekend to go with my tea!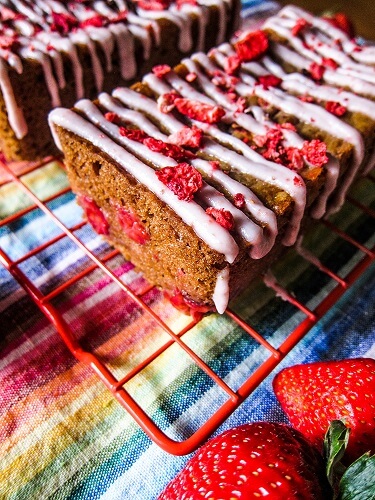 Vegan Strawberries and Cream Mini Loaf Cakes
Makes 4 mini loaf cakes
4 mini (5x3 inch) loaf cake pans
Cake:
1 1/2 cups Bob's Red Mill All Purpose Gluten Free Flour
1 1/2 tsp baking soda
1 tsp baking powder
1/2 tsp sea salt
1 cup coconut sugar
1/2 cup virgin coconut oil, warmed to liquid
1 cup coconut milk (at room temperature)
1 Tbsp pure vanilla extract
2 Tbsp lemon juice
1 cup sliced strawberries
Glaze:
3 Tbsp Raw Guru coconut butter, warmed to liquid
1 Tbsp lemon juice
1 Tbsp maple syrup
2 tsp strawberry powder (I took freeze dried strawberries and ground them to powder for this)
filtered water as needed
Instructions:
Preheat the oven to 350F degrees and position rack in center of oven.
Oil 2 mini loaf pans lightly so that the cake doesn't stick.
Whisk flour, baking soda, sea salt, and sugar in a large bowl to blend well.
Whisk oil , coconut milk, vanilla extract together in small bowl to blend well, then whisk into the flour mixture until well blended.
Transfer cake batter to prepared pans and bake cakes until tester inserted into center comes out clean, about 25-30 minutes.
Cool cakes completely in pans on rack, about 1 hour. Let cool completely, then un-mold.
To make the glaze, whisk together all ingredients, adding a little more water if it is too thick (you want to be able to drizzle it over the cakes).
Drizzle the glaze over the cakes, and enjoy!
*My mini loaf pans are 5x3 inches and 2 1/2 inches tall. If yours are smaller, you will get 8 loaves, and decrease the baking time by half.
(Visited 277 times, 1 visits today)