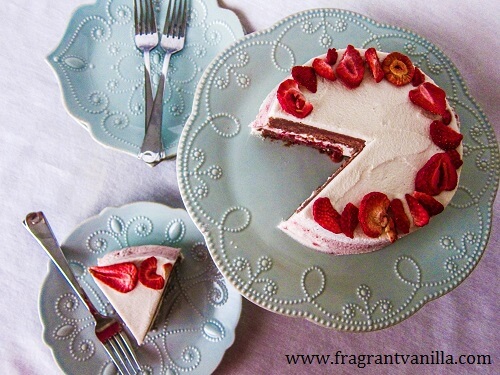 Vegan Strawberries and Cream Layer Cake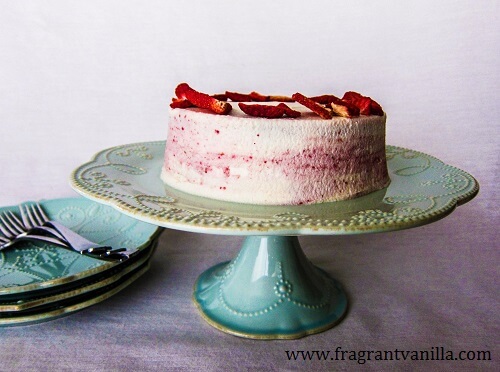 I am so ready for all things Spring.  Like, bye bye cold weather, and hello Sunshine and 60 degrees, tulips blooming and green grass and leaves on trees.  Not that we haven't had a mild Winter this year, but it is my least favorite season.  Another thing I am excited about is the Spring produce.  I love the veggies, like asparagus, peas and baby carrots, but I love strawberries the most.  Although, here in Minnesota we have to wait until practically the end of May to have local ones.  Luckily, I can satisfy my craving with frozen ones for now.  So I bought some and I am making some delicious desserts with them.  I made a strawberry ice cream a few days ago, and I decided to make a Strawberries and Cream Cake last weekend.  I had made a strawberries and cream cake years ago, and I decided that recipe needed a bit of revamping to make it even more delicious and prettier.  Since my cake baking and decorating skills have much improved since then.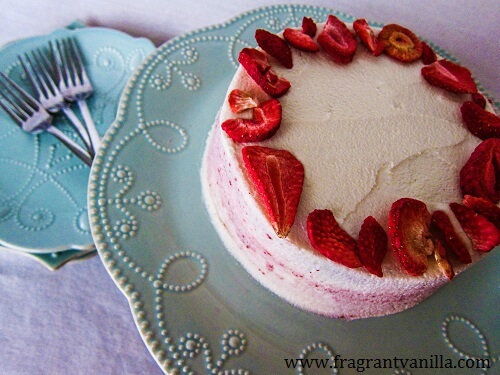 It was a cake I made for Father's Day for my Dad, and it was good but I have made it even better and I am sharing that recipe with you today.  I wanted a cake that was packed with strawberry flavor, so I even put strawberries in the cake batter.  Because why not have vanilla strawberry flavored cake AND strawberry filling.  The cake portion of this was also fruit sweetened since I used dates along with the strawberries in the filling instead of sugar and it was just the right amount of sweetness.  I made a simple strawberry filling, because I wanted strawberries to be the star of this and have a nice layer of jam in between the soft cake layers.  Lastly, I topped it off with a luscious vanilla whipped cream.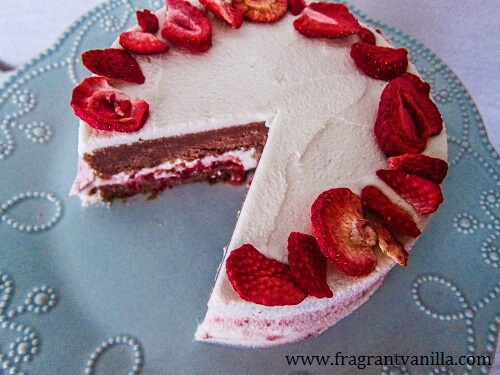 This cake was simply heavenly!  I shared some with Eric, and we were in luck!  The strawberry wine I made has aged enough to enjoy and it was ready just in time!  The cake was perfect, moist light layers scented with strawberry, the perfect amount of jammy filling, and a sweet creamy vanilla frosting!  This is the sort of cake every little girl dreams of for her Birthday.  Well, at least I would.  Because I love berries in all forms.  This cake was even better than that one I made a few years back for my Dad, so I am glad I updated the recipe.  I am also happy that Spring is now here and making this cake was the perfect way to celebrate!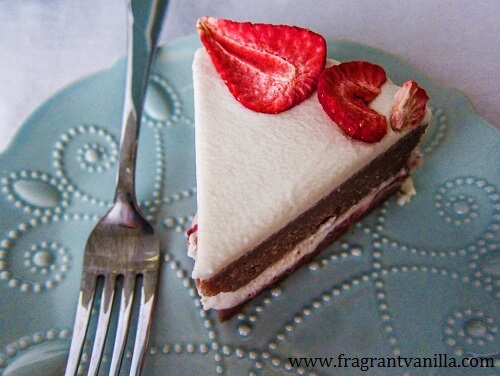 Vegan Strawberries and Cream Layer Cake
Makes one 2 layer 6 inch cake
Ingredients:
2 6 inch cake pans
Cake:
1 1/2 cups Bob's Red Mill Gluten Free All Purpose Flour
1 1/2 tsp baking soda
1 tsp baking powder
1/2 tsp sea salt
1 cup packed soft medjool dates, pitted, soaked in water for 30 minutes and 1 1/2 cups of the water reserved
1/4 cup organic almond butter
2 tsp pure vanilla extract
1/2 cup pureed organic strawberries
2 Tbsp apple cider vinegar
Filling:
1 cup organic strawberries, quartered
Frosting:
1 15 oz can full fat organic coconut milk, chilled
1/2 cup organic cashew butter
1/4 cup maple syrup
1 tsp pure vanilla extract
1/4 tsp sea salt
1/2 cup plus 2 Tbsp melted coconut butter (warmed to liquid)
Directions:
Preheat the oven to 375F degrees and position rack in center of oven.
Oil 2 6 inch round cake pans with coconut oil and line the bottom with parchment.
Whisk flour, baking powder, baking soda, sea salt in a large bowl to blend well.
Place dates, reserved date water, almond butter, strawberries, and vanilla extract into a blender, and blend until smooth, then whisk this blended mixture into the flour mixture until well blended. Whisk in the cider vinegar until bubbles form.
Pour the cake batter into prepared pans, and place in the oven.
Bake cakes until set and a toothpick inserted into the center comes out almost clean, about 25-30 minutes.  Remove from oven, let cool completely, then un-mold onto plates.
To make the frosting, combine all ingredients in a high speed blender or food processor and blend until completely smooth.  Pour into a bowl and place in the freezer until the consistency of stiffly whipped cream (about 30-45 minutes depending on how warm it has gotten).  Once it is ready place in the refrigerator until ready to assemble.
To assemble, place one cake layer on a plate.  Spread 3/4 cup frosting over the cake layer.  arrange the strawberries for the filling over that.  Place the other cake layer over that, and spread the remaining frosting over the top and down the sides of the cake.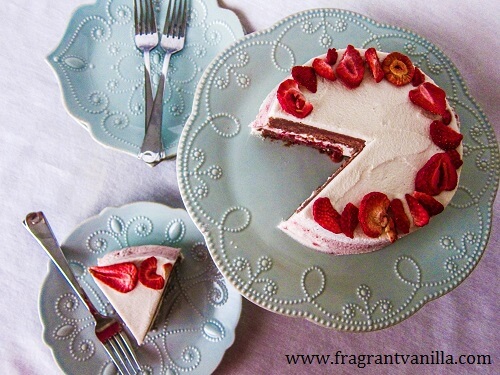 (Visited 602 times, 1 visits today)