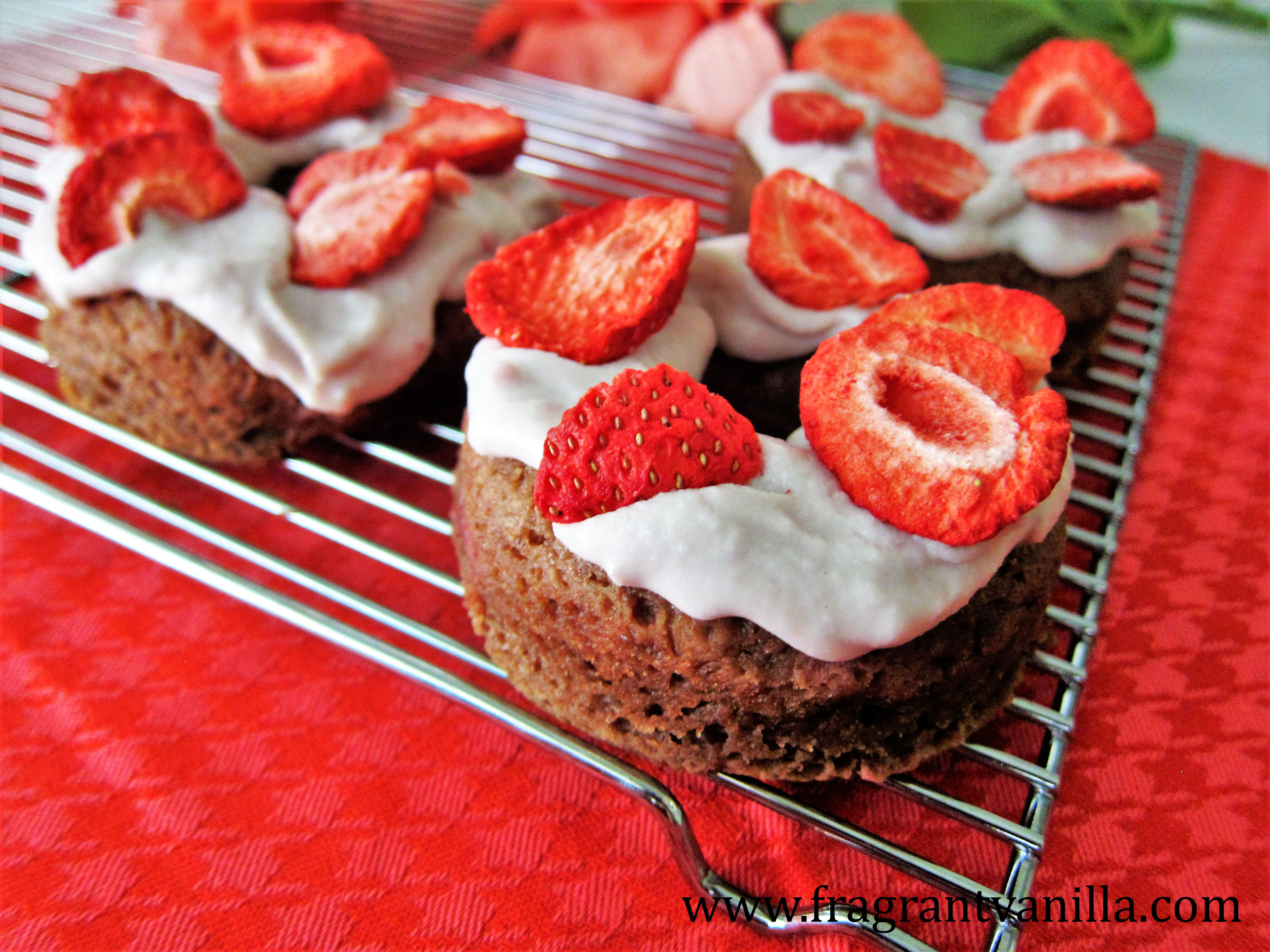 Vegan Strawberries and Cream Doughnuts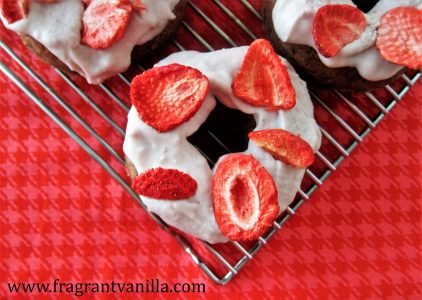 When I was little I was a big Strawberry Shortcake fan.  As in the popular cute kids TV character with her own show.  My Grandma had taped the episodes for me and I would watch them over and over again.  If you never watched the show, Strawberry Shortcake was the main character and she had friends who also had dessert themed names and clothes, like Apple Dumpling and Raspberry Tart.  They all had pets too with names like custard, who was Strawberry Shortcake's cat.  I would have loved to have been Strawberry Shortcake and lived in a delicious village filled with food themed items.  I used to imagine her house smelled like strawberry shortcake, and she baked desserts all day. Sounded like fun!  So now, whenever I smell something strawberry baking, I think about this chapter of my life, when I loved Strawberry Shortcake.  I really think sometimes the 80's cartoons were the best, and they need to have more shows for kids like that now.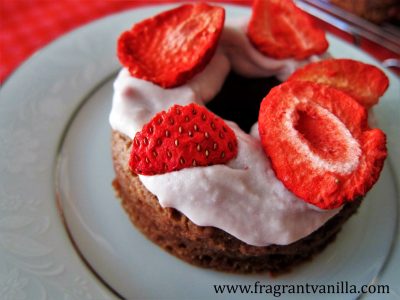 Back to the baking part, my coworker at the deli likes to make strawberries and cream scones, and whenever that sweet aroma hits me, it reminds me of strawberry shortcake, and also makes me want to bake something with strawberries.  Well, she made some the other day and I decided that making something with strawberries sounded like a good idea! But I had just made scones, so I decided on doughnuts.  Because I thought I could put a delicious glaze over them too with strawberries and coconut cream.  Ever since I bought my doughnut pan, I am really into baked doughnuts.  I can say I have had a regular fried doughnut in over 10 years because they didn't appeal to me, but I love the cakey baked ones.  So easy too, just pour the batter in, bake and top with whatever you want if you want anything.  Plus, they are healthier if you use the right ingredients.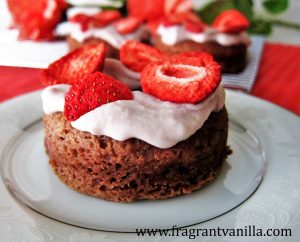 I made the cake base for mine fruit sweetened with freeze dried strawberries and dates.  If you are wondering why freeze dried strawberries are in this recipe, well, they do not add excess moisture and they have loads of flavor.  So I gave these doughnuts a double strawberry whammy with both fresh and freeze dried.  They turned out so delicious too!  My kitchen smelled like Strawberry Shortcake's house (well, at least as I imagine it would smell)!  The doughnuts turned out light and delicious with jammy strawberries on the inside and the rich strawberries and cream glaze was the perfect topper.  These taste like Summer!  Trust me, you need to give them a try the next time you are in the mood for a strawberry dessert!
Vegan Strawberries and Cream Doughnuts
Makes 6-8 Large doughnuts (depending on your molds)
Ingredients:
Batter:
1/2 cup soft, pitted medjool dates, soaked in filtered water for 30 minutes and drained
1 cup coconut milk
2 Tbsp raw pecan butter or raw almond butter
1 tsp pure vanilla extract
1/2 cup freeze dried organic strawberries
1/4 tsp sea salt
3/4 cup all purpose gluten free flour
1/2 tsp baking powder
1/2 tsp plus 1/4 tsp baking soda
1 Tbsp cider vinegar
1 cup organic strawberries, cut into eighths
Glaze:
1 cup full fat coconut milk at room temperature (not just from the top of the can, but blended)
1/2 cup freeze dried strawberries, crushed
1 1/2 Tbsp maple syrup
1 tsp pure vanilla extract
pinch sea salt
1/4 cup plus 2 Tbsp coconut butter (not oil), warmed to liquid
Freeze dried or fresh organic strawberries for topping the doughnuts
Preheat the oven to 375F degrees, and oil a doughnut pan.
To make the batter, combine the dates, coconut milk, pecan butter, vanilla, dried strawberries, and sea salt in a high speed blender and blend until smooth.  Add the flour, baking powder, baking soda, and blend until combined (but don't overblend).  Add cider vinegar, and blend slowly until bubbles form (you don't want to go fast or you will deflate it).  Fold in the strawberries, and pour into the prepared doughnut pan.
Place the pan in the oven and bake for about 20 minutes until a toothpick inserted into the doughnut comes out almost clean.  Let cool completely on a wire rack before unmolding.
To make the glaze, whisk together all ingredients until smooth, and place in the freezer to thicken just a little.  Once it has thickened, spread it over the tops of the doughnuts, and top them off with freeze dried strawberries (or fresh if you prefer).  Enjoy!
(Visited 73 times, 1 visits today)