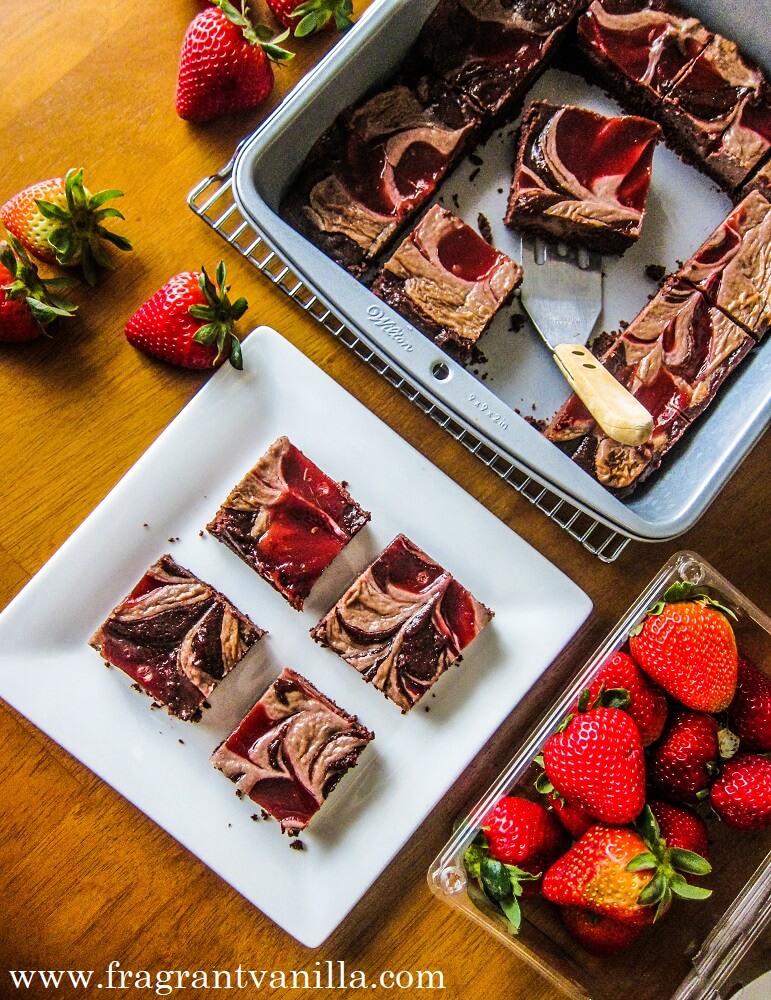 Vegan Strawberries and Cream Brownies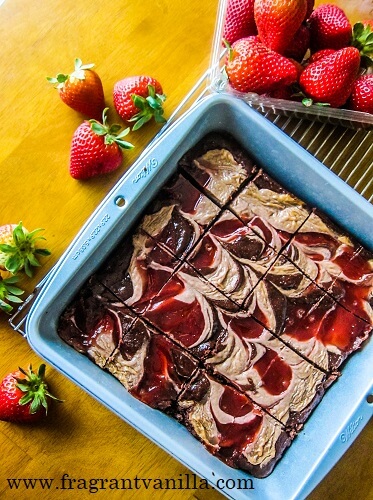 I spent most of last weekend outside, going for long bike rides and walks, because I feel like we haven't seen the sun or warmth like this in forever.  I mean, Winter lasted an extra 2 months, and now I feel like Summer has arrived and we have skipped Spring weather wise.  It is ok though, it feels nice and now we just have to wait for the plants to catch up.  When I did take a break from the outdoors stuff,I made some really delicious food. On Sunday, after Eric and I took a 27 mile bike ride, I made some vegan ramen from a recipe by Cilantro and Citronella.  You can find it HERE.  Man was it ever delicious!  I don't usually follow recipes when I make stuff, but her recipe sounded amazing.  I was craving that type of ramen because it is the type I like to order at a local restaurant and I wanted to make it at home.  It turned out sooo good! It has a creamy sesame broth that makes it like comfort food.  I know, not really 80 degree weather type food but I was hungry for it.  The second thing I made is what this post is all about, some Vegan Strawberries and Cream Brownies.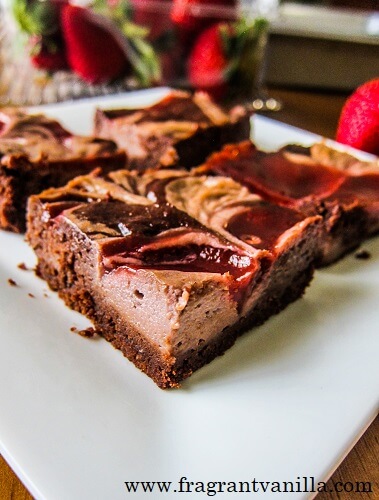 I am in a strawberry type of mood now that it feels like Summer, and I thought to myself, why not pair them with chocolate in some fudgy brownies?!  Yes, my brownies have to be fudgy, I am not a cakey brownie person at all.  I used my gluten free brownie base for these, and they turned out perfect!  It has a mixture of apple sauce and avocado oil to keep it moist but you would never know.  If you don't have access to avocado oil, olive oil would work too (you can't taste it because of the strong chocolate flavor).  For the strawberries and cream part, I used a mixture of coconut milk and cashew butter with freeze dried strawberries and it turned out like strawberry cheesecake swirls.  Why freeze dried strawberries?  Well, they are packed with strawberry flavor, but don't add a lot of moisture to the recipe.  Lastly, I dropped some strawberry jam over the brownies as well.  I swirled it together, and could not wait to try them!
Sadly I had to wait until they cooled but it was so worth it!  They were so good!  Super fudgy texture, rich chocolate flavor and sweet strawberry cheesecake like filling with flavorful jam throughout.  They taste like Summer brownies!  I mean, these are so much better than chocolate dipped strawberries!  If you are in the mood for something chocolaty, give these a try!  I hope you are all having a wonderful week!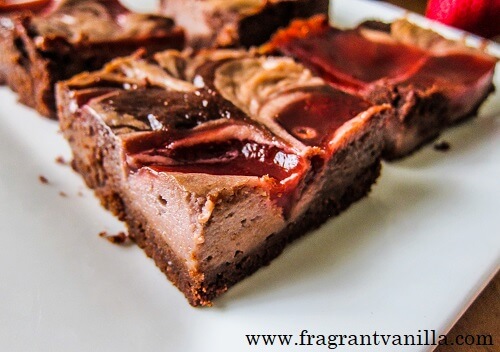 Vegan Strawberries and Cream Brownies 
Makes 16
Cheesecake swirl:
1 cup freeze dried strawberries
3/4 cup thick coconut milk (from the top of a chilled can)
1/2 cup raw cashew butter
2 Tbsp maple syrup
1/8 tsp sea salt
1 tsp pure vanilla extract
Brownies:
1/4 cup avocado oil

1/2 cup applesauce

1 cup coconut sugar

2 Tbsp ground flax seed mixed with 1/4 cup plus 2 Tbsp filtered water

2 teaspoon vanilla extract

1 cup gluten free all-purpose flour

1/2 cup cacao powder or unsweetened cocoa powder

1/4 teaspoon sea salt

1/2 cup strawberry rhubarb jam
Ingredients:
To make the swirl, combine all ingredients in a blender and blend until smooth.  Pour into a bowl and set aside.
To make the brownies, pre-heat the oven to 375F degrees. Whisk together the sugar, avocado oil and applesauce until well combined and the sugar is starting to break down.
Add the flax water mixture, and vanilla and beat until smooth.
Add the flour, cacao powder and sea salt and beat until smooth.
Scrape the batter into a greased 8x8 inch pan, then pour the swirl over it, then drop the jam by the tsp over that.
Place in the oven, and Bake for about 30 minutes or until set (but do not over bake).
Let cool completely before cutting into bars.
(Visited 1,038 times, 1 visits today)