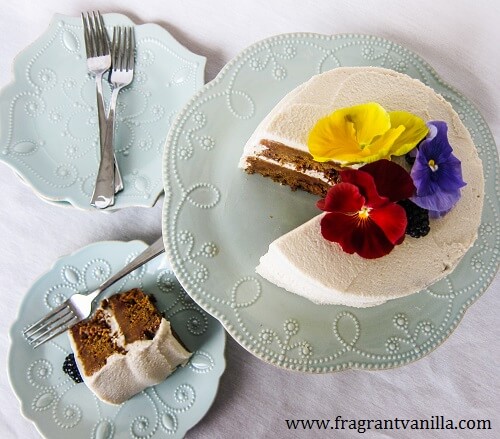 Vegan Spring Carrot and Beet Cake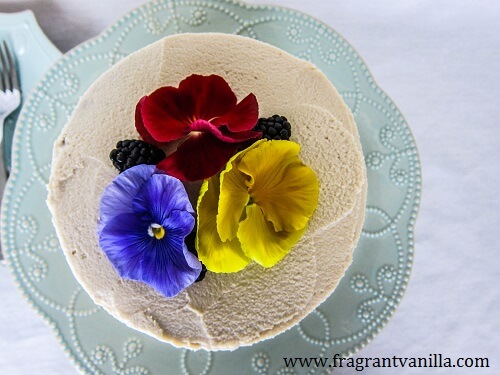 I don't get people that don't like carrot cake.  I mean, are they afraid of the veggies so they have never tried it and therefore don't know how incredibly delicious it is?!  I have always loved it, even as a youngster.  But then again I have never been afraid of veggies and trying new things.  I love hiding veggies in desserts.  I mean, why not eat your cake and get a serving of veggies too!  Sounds pretty awesome to me. So, I am always up for some good old carrot cake.  This time of the year it just seems right to make it.  Even though carrots (or any veggies for that matter) are not growing here yet, Spring is carrot cake season.  My Mom always made a variation with pineapple, coconut and nuts with a cream cheese frosting, and I recreated that one last year, and I could have made it again, but I decided to try a new recipe.  A carrot beet cake.  I love beets, so why not include them in with the carrots?  They are equally as sweet and delicious.  So I gave it a go.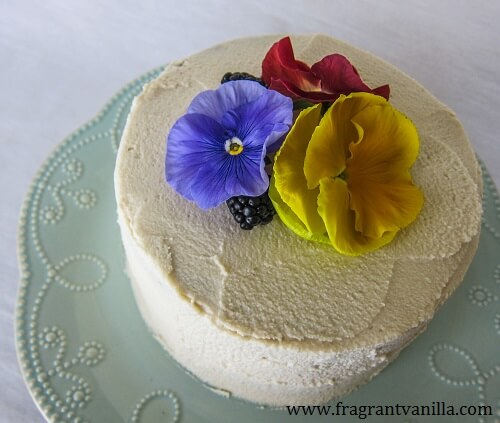 This cake is really quite traditional, as far as the flavors go and I loved it.  I made a date sweetened batter, my go to recipe for most cakes, and it was delicious with the carrots and beets folded in.  You might think that the cakes would turn pink from the beets, but that was not the case.  Maybe slightly to begin with, but when you bake with beets they do not stay pink or bright red in the baked goods once the baking soda reacts with them.  I have tried to color cakes this way with no luck in the past, so I figured I would let you know so you don't fail at it too.  They may not have added color to this cake, but they added moisture and veggie nutrients!  I spiced the batter lightly with cinnamon, nutmeg and ginger.  It was so delicious smelling as it baked!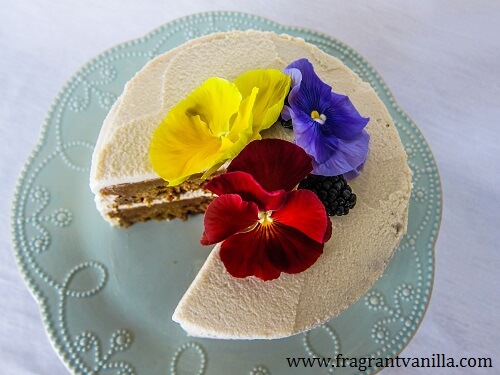 I made a faux cream cheese frosting to top it all off, because that is first off my all time favorite frosting, and second, the ONLY frosting that goes on carrot cake as far as I am concerned.  It was one of the first things I had to figure out how to veganize, because not only do I like it on carrot cake, but just about every other cake as well.  This cake as a whole turned out super delicious, and it would be perfect for Easter!  I hope you are all having a wonderful Spring!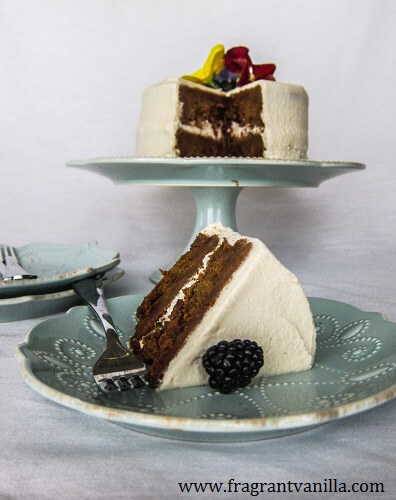 Vegan Spring Carrot and Beet Cake 
Makes 1 6 inch 2 layer cake
2 6 inch cake pans
Ingredients:
Cake:
1 1/2 tsp baking soda
1 tsp baking powder
1/2 tsp sea salt
2 tsp ground cinnamon
2 tsp ground ginger
1/4 tsp nutmeg
1 cup packed soft medjool dates, pitted, soaked in water for 30 minutes and 1 cup of the water reserved
1/4 cup almond butter
1 Tbsp pure vanilla extract
1 cup filtered water
2 Tbsp apple cider vinegar
3/4 cup shredded organic carrots
3/4 cup shredded organic beets
Frosting:
1 15 oz can full fat organic coconut milk, chilled
1/2 cup organic cashew butter
1/4 cup maple syrup
1 tsp pure vanilla extract
1/4 tsp sea salt
1/2 cup plus 2 Tbsp melted coconut butter (warmed to liquid)
Instructions:
Preheat the oven to 375F degrees and position rack in center of oven. Line two six-inch-diameter cake pans with 2-inch-high sides with parchment paper. Coat parchment paper and pan sides lightly with oil so that the cake doesn't stick.
Whisk flour, baking powder, baking soda, sea salt, ginger, nutmeg, and cinnamon in a large bowl to blend well.
Place dates, reserved date water, oil, water, and vanilla extract into a blender, and blend until smooth, then whisk this blended mixture into the flour mixture until well blended. Whisk in the cider vinegar until bubbles form. Mix in carrots and beets.
Transfer cake batter to prepared pans and bake cakes until tester inserted into center comes out clean, about 30 minutes. Cool cakes completely in pan on rack, about 1 hour. Cut around sides of pan to loosen. Turn cakes out onto platter; peel off parchment paper. Let cool completely.
To make the frosting, combine all ingredients in a high speed blender or food processor and blend until completely smooth.  Pour into a bowl and place in the freezer until the consistency of stiffly whipped cream (about 30-45 minutes depending on how warm it has gotten).  Once it is ready place in the refrigerator until ready to assemble.
To assemble, place one cake layer on a plate, and spread frosting 1/2 inch thick over it.  Place the other cake layer over that, then spread the remaining frosting on the top and down the sides of the cake.
***If you would like a 2 layer 9 inch cake, double this entire recipe and bake in two 9 inch cake pans.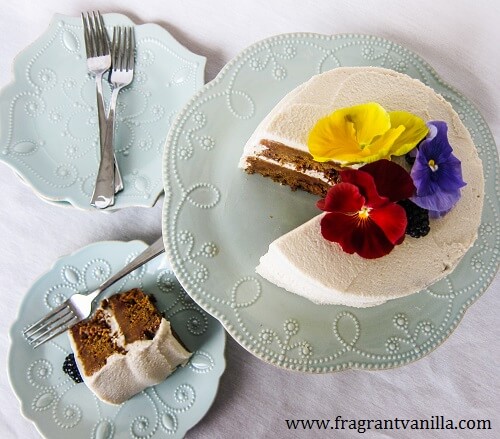 (Visited 598 times, 1 visits today)