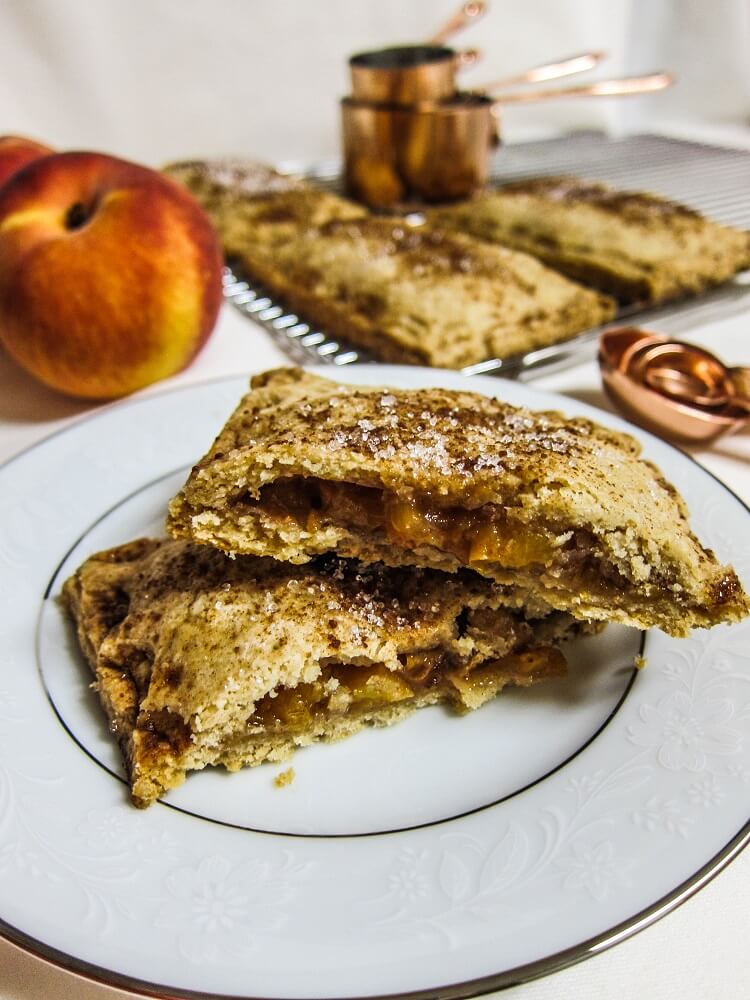 Vegan Spiced Peach Hand Pies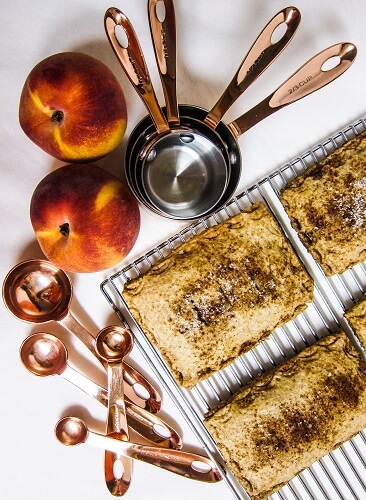 We are kind of in between summer and fall right now.  The weather can't seem to decide since we have gone from cool and 50F degrees and raining to sunny and nearly 80 within a few days.  Don't get me wrong, I love summer but I am really excited for fall and that chill in the air is kind of nice, especially for running or doing anything active outside.  I am one of those people who likes it a little cool, so I am not sweating my butt off. I like to go enjoy the outdoors in the cool air in the fall then head inside for a warm drink like apple cider or a matcha latte.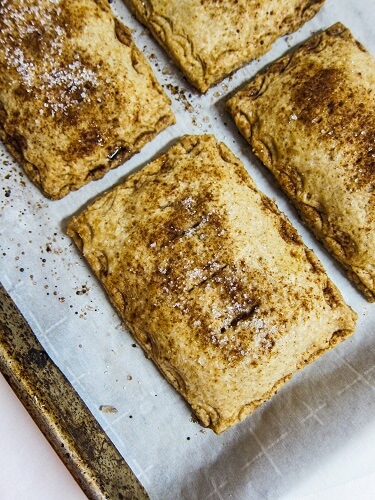 Since we are between seasons right now though, I decided to make a recipe that sort of was too on my day off last weekend.  I had some very ripe peaches on my counter  that needed to be used right away, so I was going to make some pie, but then I decided to include warming fall spices in them because I am in a fall sort of mood.  Spice is lovely with peaches just like it is with apples, and I will have plenty of those soon so why not enjoy the peaches while I still can.  That pie turned into hand pies, because I just didn't feel like making a whole giant pie for myself.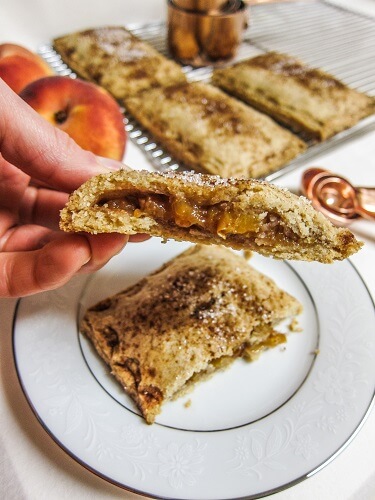 With hand pies, they are easier to share or I can freeze them for later.  Also, they are pretty simple to make and it is kind of fun to assemble them! First, I cooked the peach filling.  I do this, because they take less time to bake this way, and the fruit will always come out nice and tender.  I added some cinnamon, nutmeg and ginger for the spices, and a little bit of maple syrup to sweeten and it was perfect!  It needed to cool though before I made the crust so it didn't melt it.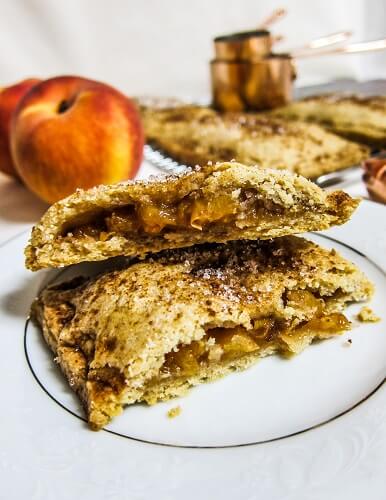 For the crust, I used a simple recipe with whole wheat pastry flour, coconut oil, maple sugar and sea salt.  I wanted it simple to allow the flavor of the peaches to shine.  You could of course use Bob's Red Mill all purpose gluten free baking flour if you wanted it to be gluten free (I have tested this brand and know it works well).  They baked up beautifully and my house smelled amazing! I could not wait to try one!  I didn't have to let them cool long, because I love warm fruit pie, especially with coconut milk ice cream (which sadly I didn't have any of when I made these because I wasn't thinking ahead).  They were super delicious!  Sweet, jammy peach filling with just the right amount of warming spices in a flakey tender crust!  Just the sort of thing that is perfect for in between summer and fall!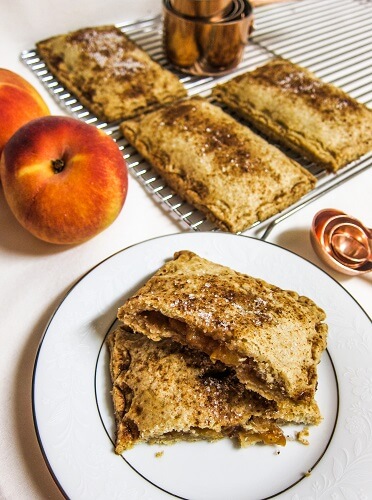 Vegan Spiced Peach Hand Pies 
Makes 8
Filling:
3 cups organic peaches, cut into small pieces (like 1/2 inch cubes)
2 Tbsp maple syrup
1/2 tsp cinnamon
1/8 tsp nutmeg
1/4 tsp ground ginger
1 Tbsp organic whole wheat pastry flour
1 tsp pure vanilla extract
Crust:
2 1/2 cups organic whole wheat pastry flour
1/4 cup maple sugar or coconut sugar
1/2 tsp sea salt
3/4 cup coconut oil in its solid state
about 6-7 Tbsp cold water (or as needed)
Topping:
2 Tbsp maple sugar or coconut sugar
1/4 tsp cinnamon
Instructions:
In a saucepan, combine the peaches, maple syrup, cinnamon, nutmeg, ginger and cook over medium heat for about 15 minutes stirring often until the fruit is soft and starting to fall apart. Mix in the vanilla and flour and cool completely.
To make the crust, in a large bowl, mix together flour, sugar, and sea salt. Cut in coconut oil with a pastry blender or 2 knives until it is in pea sized pieces. Mix in just enough water to create a smooth dough that holds together but isn't too sticky. Add more water if needed, and knead slightly until a smooth dough is created.
Roll out into a large rectangle and cut into 16 identical rectangles.  Chill if too soft before assembling.  You want the dough a little pliable, but not so warm that it will break. Preheat oven to 375F degrees.
To assemble, spoon about 2 heaping Tbsp of the peach filling over half of the dough rectangles (leaving a boarder so you can attach the dough at the sides). Cover with the remaining pieces of dough (I used a small spatula to carefully move them), pressing the edges and crimping with a fork or spoon or the edge of something with a flat edge, like a spatula.
Mix together the 2 Tbsp maple sugar and cinnamon and sprinkle it over the pies.
Bake for about 30 minutes until the crusts are starting to brown lightly.
Remove from oven and let cool on a wire rack until warm.
(Visited 285 times, 1 visits today)