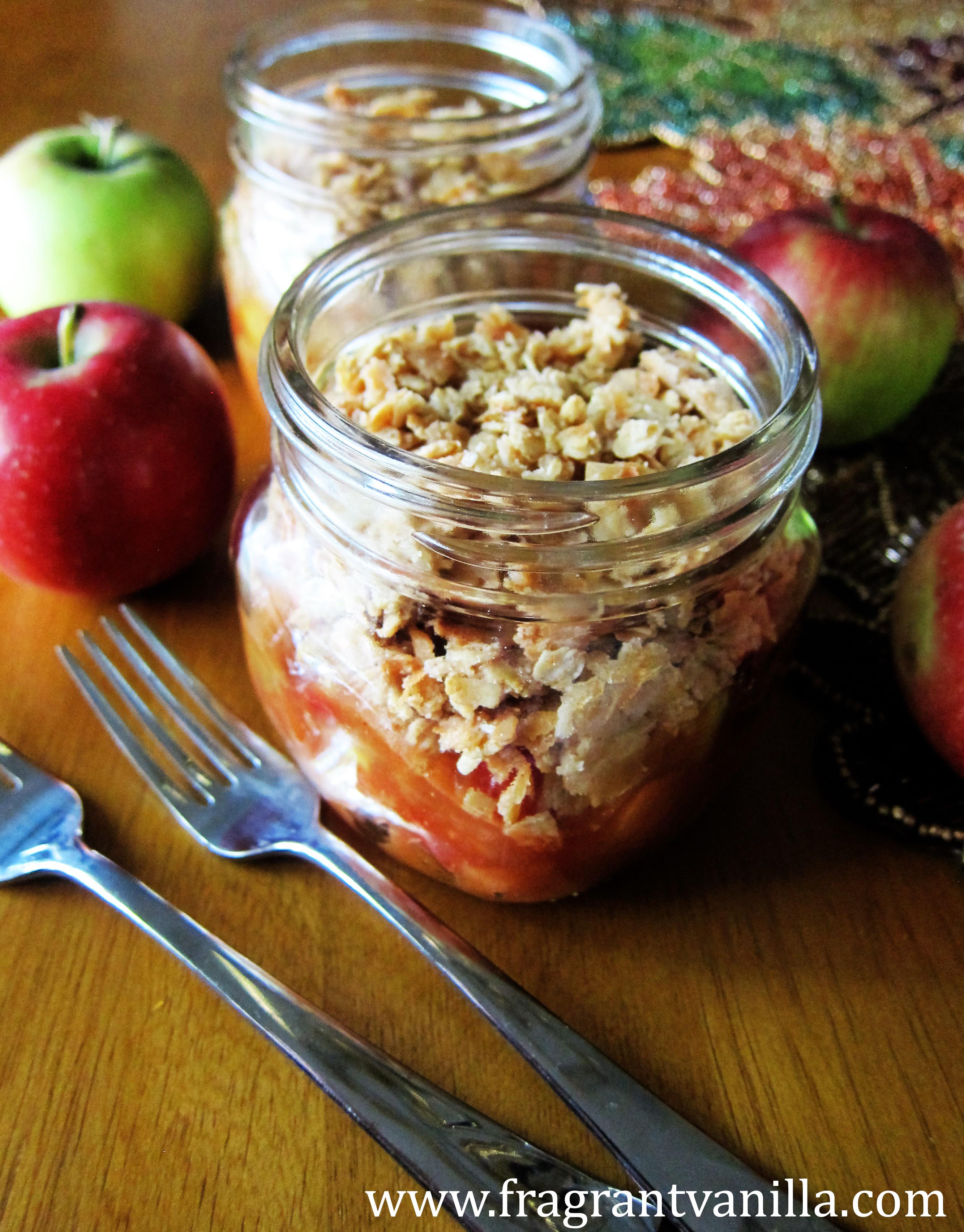 Vegan Spiced Apple Crisp in a Jar
Apple crisp is the quintessential Fall dessert as far as I am concerned.  I know most people would say pie, but in my house growing up, my Mom made apple crisp more often, since it was a quick and easy week day dessert that she could make after work and have it be ready by after dinner time.  Hers always included sweet tart apples like haralsons or honeycrisps were her favorite, and they are awesome for baking as well as being local.  She always used plenty of cinnamon and a little lemon juice in the filling for that something extra.  We like our apple crisp to be a little tart along with the sweet.  The topping always had to include oats, which made it extra crunchy.  None of that just flour business.  I make mine similar, except mine is veganized, I use maple syrup in the filling,  and I add coconut to my topping.  I have probably made this recipe at least 100 times over the years and it is always good.  I got some cute little mason jars for serving desserts in (yes, I bought them for that purpose, because they are adorable and it makes them easy to share without being messy) and I wanted to make apple crisp and serve it in them.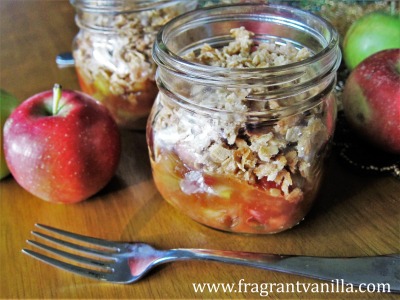 I read that mason jars can go in the oven, but instead of doing that, I cooked the topping and apple filling separately, and then spooned them into the jars (they looked cleaner this way as well).  I had gotten a big bag of local apples from a family member so I was all excited about making these!  It is only this time of the year you can get them after all.  I know apples come from around the world year round and are at the store but it is just not the same as the local ones.  I added a few extra spices this time, some nutmeg and cardamom along with the cinnamon to make these extra good.  I cooked the filling on top of the stove, which was much faster than the oven by far, and it gave me a chance to taste it for seasoning before it was finished.  It was delicious!  I baked the topping in the oven to crisp it up nicely before spooning it over the apple filling in the jars.  it smelled heavenly in my kitchen!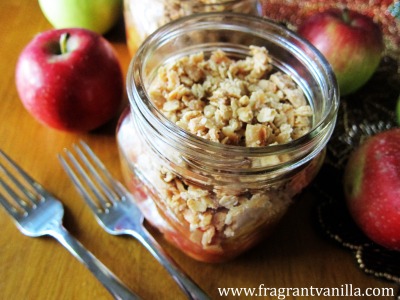 They were delicious!  Just as good as crisp baked only in the oven, but a lot faster.  The apples were sweet, and jammy and the perfect consistency (thanks to being able to test them for doneness), spiced lightly, and the perfect pairing for the crunchy topping.  These are good as is, but even better topped off with some coconut milk ice cream.  Also, these are portable, and I imagine they would be perfect for bringing to a Fall picnic!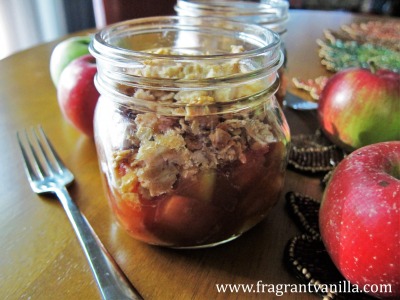 Vegan Spiced Apple Crisp in a Jar
Serves 4
Fruit:
4 cups organic sweet tart apples (such as honeycrisp or pink lady), diced
3 Tbsp maple syrup (or to taste depending on how sweet your apples are)
1 tsp cinnamon
1/4 tsp nutmeg
1/4 tsp cardmom
pinch sea salt
1 Tbsp arrowroot powder
2 tsp lemon juice
Topping:
3 Tbsp gluten free all purpose flour
3 Tbsp large flake dried unsweetened coconut
1/2 cup gluten free rolled oats
3 Tbsp coconut sugar
1/8 tsp sea salt
1/2 tsp cinnamon
3 Tbsp coconut oil
6 inch wide ovenproof bowl or pie plate
Instructions:
Preheat the oven to 350F degrees.
Place all of the filling ingredients except for the flour in a saucepan over medium heat until the apples start to sizzle, then lower heat to medium, cover, and cook until the apples are tender (stirring often) about 15minutes.  Add the arrowroot, and stir until thickened.  Remove from heat.
To make the topping, combine all ingredients in a bowl and mix together with your hands scrunching together to form small clumps until there are no floury spots left. Spread out on a sheet pan, place in the oven and bake until crunchy, about 15 minutes.  Remove from oven and let cool.
Spoon the apple filling into jars, then top with the crumble topping.  Serve!
(Visited 158 times, 1 visits today)