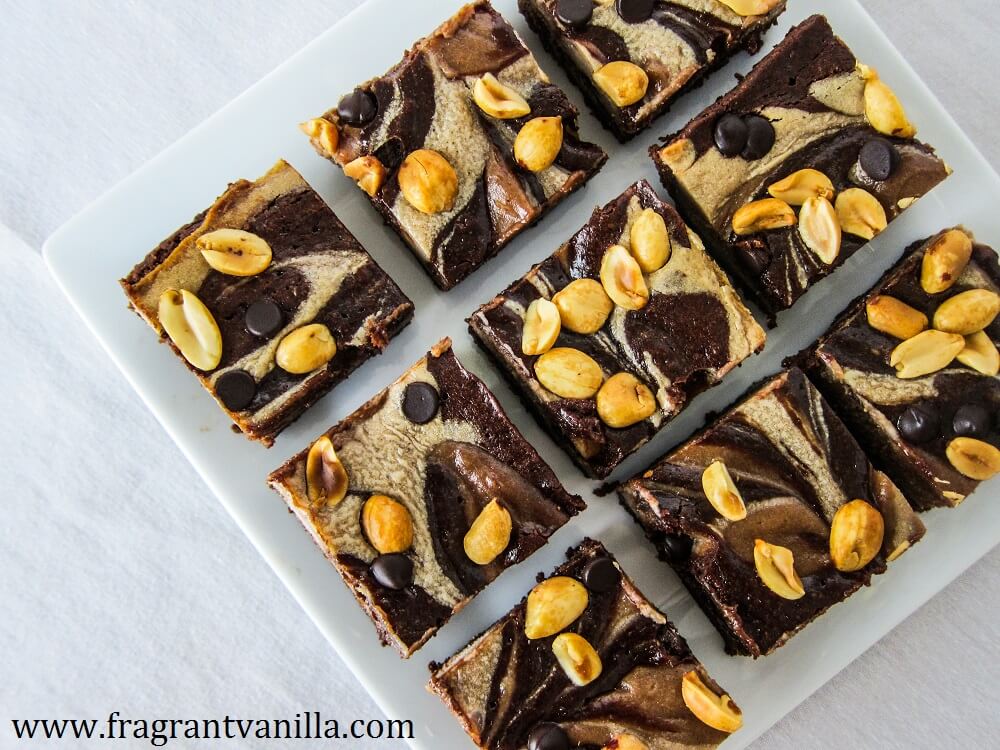 Vegan Snickers Swirl Brownies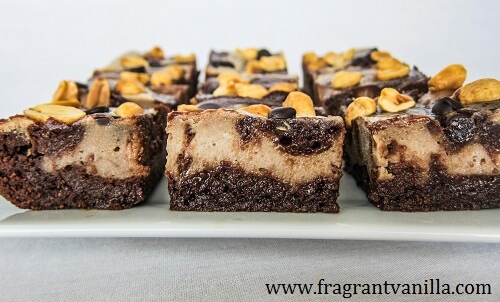 I have been wanting to make brownies for a couple of weeks now, and I finally got around to it on Wednesday.  Maybe I just made it happen because I was day dreaming about them on my 7 mile run that morning.  Yes, I sometimes dream about recipes and come up with ideas when I am running.  It is a great time to think since I am just in my own head without other people talking to me, and it helps to distract from things like feeling fatigued for that middle mile or that my hamstring is angry. I decided that I wanted snickers brownies.  I have never made them before, and I knew they would be good.  I loved snickers when I was a kid, and that is what I looked for in my Halloween candy every year. Since I am a vegan now as an adult though, I usually make my own.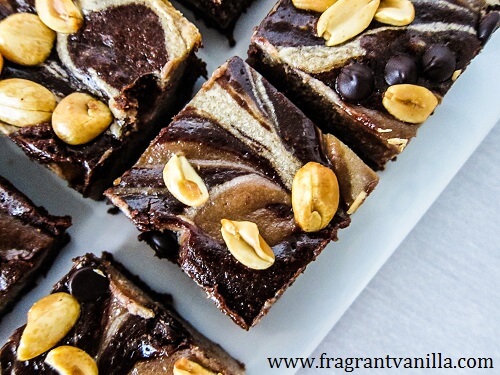 I did not just cut up snickers bars and stir them into my usual brownies.  I made the brownies into sort of swirly snickers.  I made a luscious cheesecake type filling that served as the nougat part of the snickers, and it was so tasty even before I baked them.  It reminded me of a raw cheesecake filling and tasted just like I remember the nougat on a snickers.  I made a date caramel to swirl into these as well, and as always I couldn't stop tasting that because it is super addictive.  I swirled those two fillings into the rich batter, and topped it all off with some peanuts and chocolate chips.  It was a lovely sight.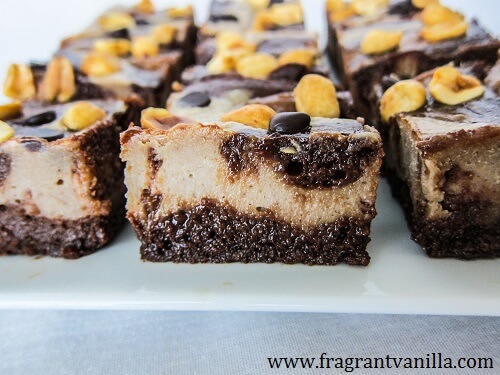 Even more so when it came out of the oven and it was all set up and smelling amazing.  The sad part was I had to wait overnight for these to cool because I baked them in the evening after work and I wanted them to have clean edges when I cut them.  But they were well worth the wait.  So rich and delicious, I have a feeling these would win over any omnivore you are looking to convince that the vegan lifestyle doesn't mean deprivation.  These were simply heavenly!  If you are in the mood for something  chocolaty and of the indulgent nature, give these a try!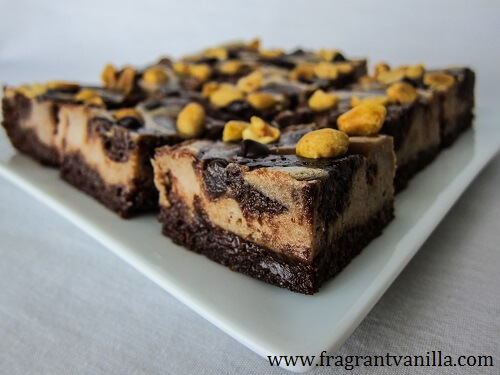 Vegan Snickers Swirl Brownies
Makes 16
Caramel:
1/2 cup soft medjool dates, pitted (if they are not soft, soak them in water and drain well first)
2 Tbsp organic peanut butter
1 Tbsp maple syrup
1/8 tsp sea salt
1 tsp pure vanilla extract
1/4 cup filtered water (or as needed)
Swirl:
3/4 cup thick coconut milk (from the top of a chilled can)
1/2 cup cashew butter (or almond butter will also work here)
2 Tbsp maple syrup
1/8 tsp sea salt
1 tsp pure vanilla extract
1 tsp maple extract (optional)
2 Tbsp arrowroot starch or cornstarch
Brownies:
1/2 cup avocado oil
1/4 cup organic peanut butter
1 cup coconut sugar
1/4 cup plus 2 Tbsp reduced aquafaba or 2 flax eggs*
2 teaspoon vanilla extract
1/2 cup cacao powder or unsweetened cocoa powder
1/4 teaspoon sea salt
½ cup vegan chocolate chips
1/2 cup organic roasted peanuts
Directions:
To make the caramel, combine all ingredients in a blender and blend until smooth (adding a little water if necessary, it should be the consistency of pourable but still thick caramel). Pour into a bowl and set aside.
To make the swirl, combine all ingredients in a blender and blend until smooth. Pour into a bowl and set aside.
To make the brownies, pre-heat the oven to 350F degrees.
Whisk together the sugar, oil and peanut butter until well combined and the sugar is starting to break down. Add the aquafaba and vanilla and beat until smooth. Add the flour, cacao powder and sea salt and beat until smooth.
Scrape the batter into a greased 8x8 inch pan, then drop the swirl and caramel over it in 2 Tbsp amounts, and swirl it with a knife.
Sprinkle with chocolate chips and peanuts. Place in the oven, and Bake for about 30-35 minutes or until set (but do not over bake).
Let cool before cutting into bars.
*The aquafaba is the liquid from cooked or canned chickpeas. You want it to be thick like egg whites. If you are wanting to make flax eggs, simply mix together 2 Tbsp ground flax seeds, and 6 Tbsp filtered water and let sit in the refrigerator for 15 minutes before using in the recipe.
(Visited 253 times, 1 visits today)