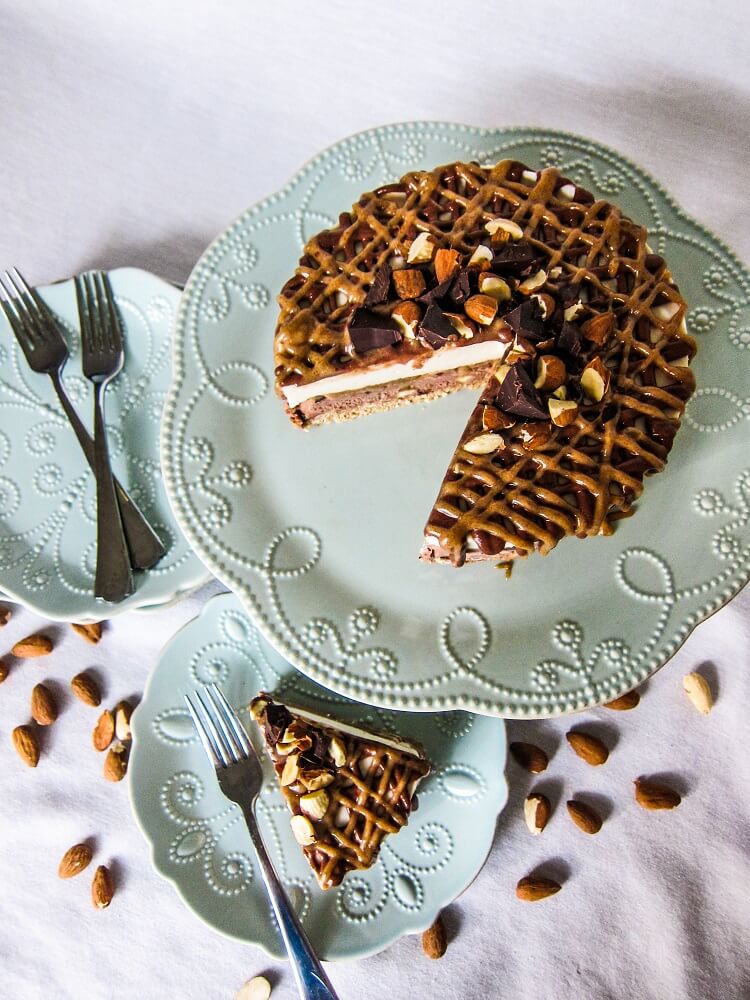 Vegan Snickers Almond Cheesecake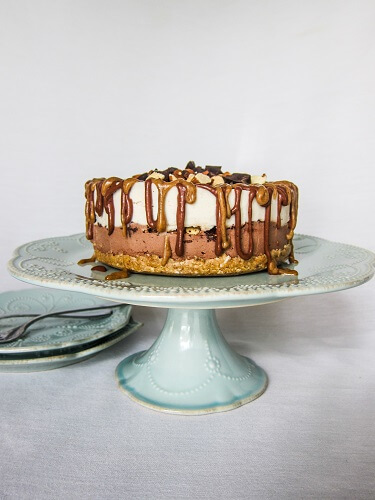 I loved Snickers bars as a kid. They were always the thing I traded other candy for on Halloween (well tied with peanut butter cups of course), because I couldn't get enough of them. Well, as an adult I like to make my own home made healthier veganized version of Snickers, as well as Snickers inspired desserts, because that flavor combination is heavenly! They did not have Snickers almond bars when I was younger, but I have always thought those sounded good so when I decided to make a cheesecake last weekend I made a Snickers almond cheesecake. Just for those of you who are not big fans of peanuts like my Mom.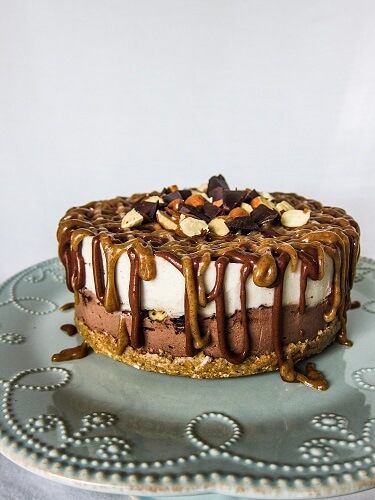 I was really excited about this cheesecake. I haven't made a cake in a while, and cheesecake happens to be my favorite. Raw Guru had also just sent me some Dastony almond butter so I figured it would be perfect for using in the caramel for the cake. Caramel is an essential part of Snickers after all. I made some gooey almond date caramel and it was perfect in the cake! Also, half of it I made into a super delicious chocolate fudge! These two toppings would be amazing on coconut milk ice cream as well, just sayin'!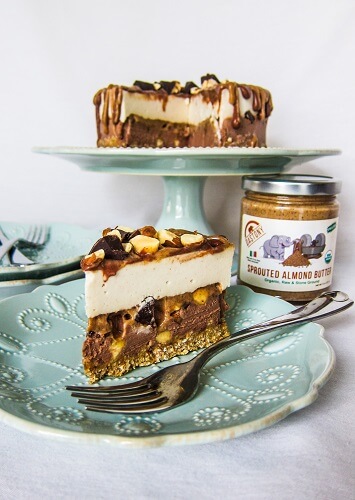 I made two different cheesecake layers, a vanilla almond which was supposed to taste kind of like the nougat in Snickers, and a chocolate almond on the bottom. I think it looks prettier with two layers, and I love a good chocolate and vanilla contrast so everyone is happy! I also put a layer of fudge and caramel, plus crunchy almonds and chocolate in the middle, and on top of the cake. I could not wait to try the finished product!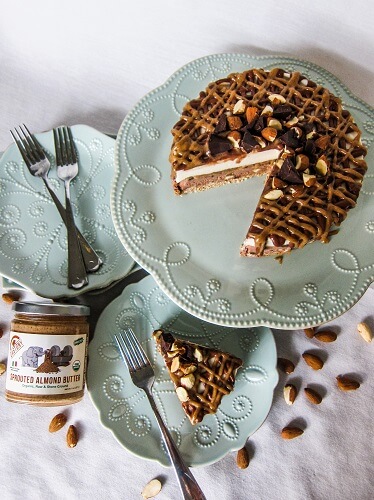 It was sooo heavenly! Rich, creamy and dreamy with gooey caramel, intense dark chocolate and crunchy almonds! Way better than an actual Snickers bar! If you are in the mood for something decadent, give this cake a try!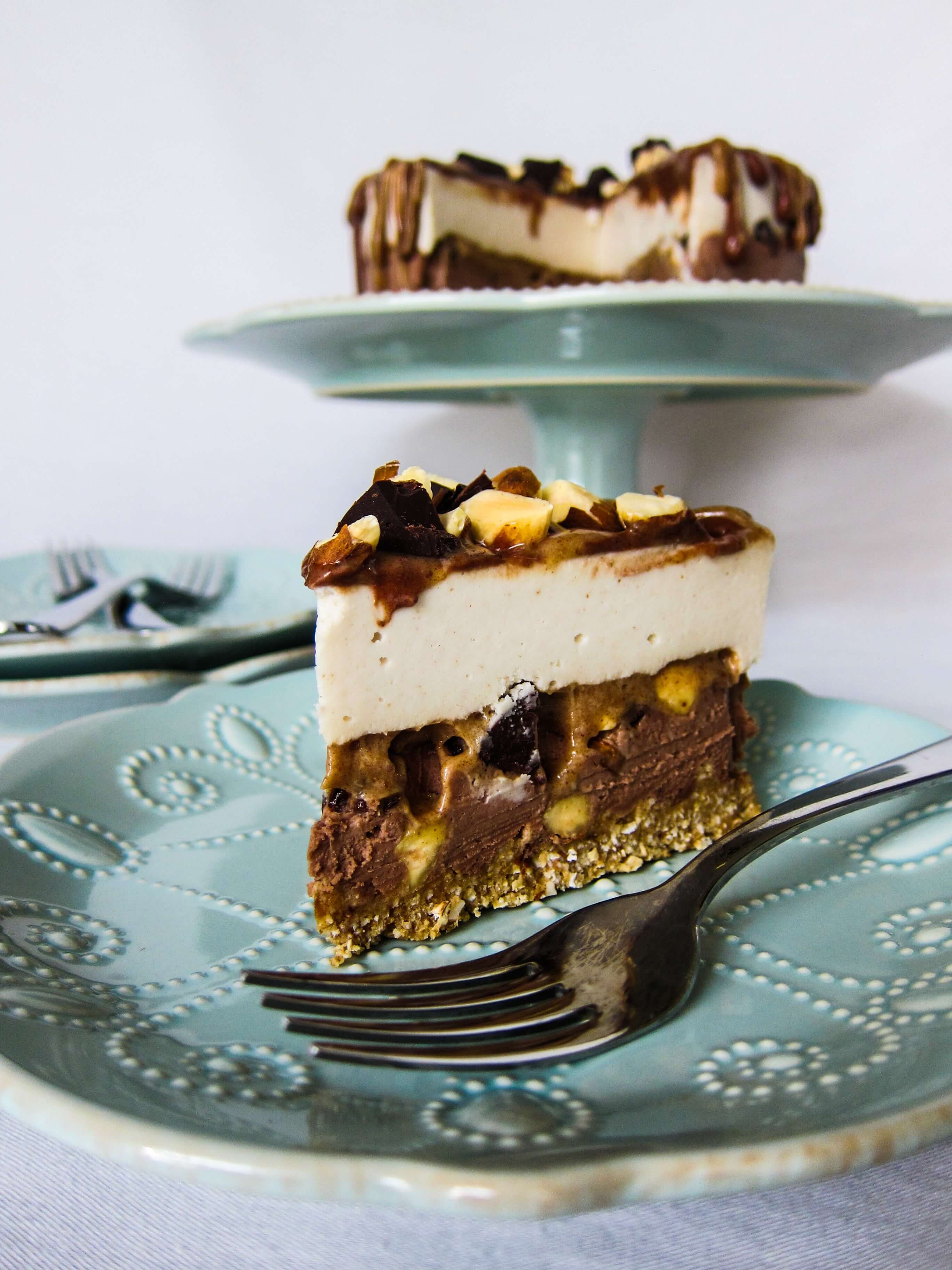 Vegan Snickers Almond Cheesecake
Makes one 6 inch cake
Crust:
1/4 cup finely shredded coconut
1/2 cup organic gluten free rolled oats, or quinoa flakes
1/4 cup pitted medjool dates (if not soft, soak them in filtered water first and drain well)
1/8 tsp sea salt
Caramel and Fudge:
Filling:
1 1/2 cups full fat coconut cream (I used the thick part of a can of Thai Kitchen coconut cream, but their full organic full fat coconut milk will also work*)
1 cup Raw Guru almond meal
3/4 cup soft, pitted medjool dates (if they are not soft, soak them in filtered water before using and drain well)
1 1/2 tsp pure vanilla extract
1/8 tsp sea salt (or to taste)
3/4 cup coconut butter (NOT OIL), warmed to liquid
1/4 cup Raw Guru cacao powder or unsweetened cocoa powder
2 Tbsp vegan dark chocolate chips or chocolate chunks
1/4 cup roughly chopped roasted almonds
For topping:
2 Tbsp vegan dark chocolate chips or chunks
2 Tbsp roughly chipped roasted almonds
Instructions:
Oil a 6 inch spring form pan, and line the bottom with parchment paper.
To make the crust, place all ingredients in a food processor, and process until crumbs and starting to hold together (if they are not holding together when squeezed, add a few tsp filtered water and blend). Press into the bottom of the prepared pan.
To make the caramel, blend all ingredients in a blender until smooth, then pour into 2 bowls. Put one back into the blender and add the cacao powder and blend until smooth. You want both to be pour-able but still thick, if they are too thick, whisk in a touch more filtered water until you reach the desired consistency.
Meanwhile, to make the filling, combine all ingredients but the cacao powder, almonds and chocolate chips in a high speed blender or food processor and blend until smooth.
Divide the filling mixture between 2 bowls. Pour one back into the blender along with 1/4 cup cacao powder and blend until smooth. Pour over the cheesecake crust.
Next, drop some of the caramel and fudge by the tspful over the filling in the pan, then sprinkle over the almonds and chocolate chunks.
Pour the second vanilla almond layer over that.
Place back in the freezer to set for about 4 hours (or overnight in the refrigerator if you are not in a hurry).
Remove from the freezer, un-mold and drizzle with the remaining caramel and fudge and sprinkle with almonds and chocolate chunks. Enjoy!
Store any leftover cake in the refrigerator.
*I use Thai Kitchen full fat coconut milk. If you are using a different brand, just make sure it is the thick type, 2/3 of the can at least should be very thick when chilled.
(Visited 2,139 times, 1 visits today)