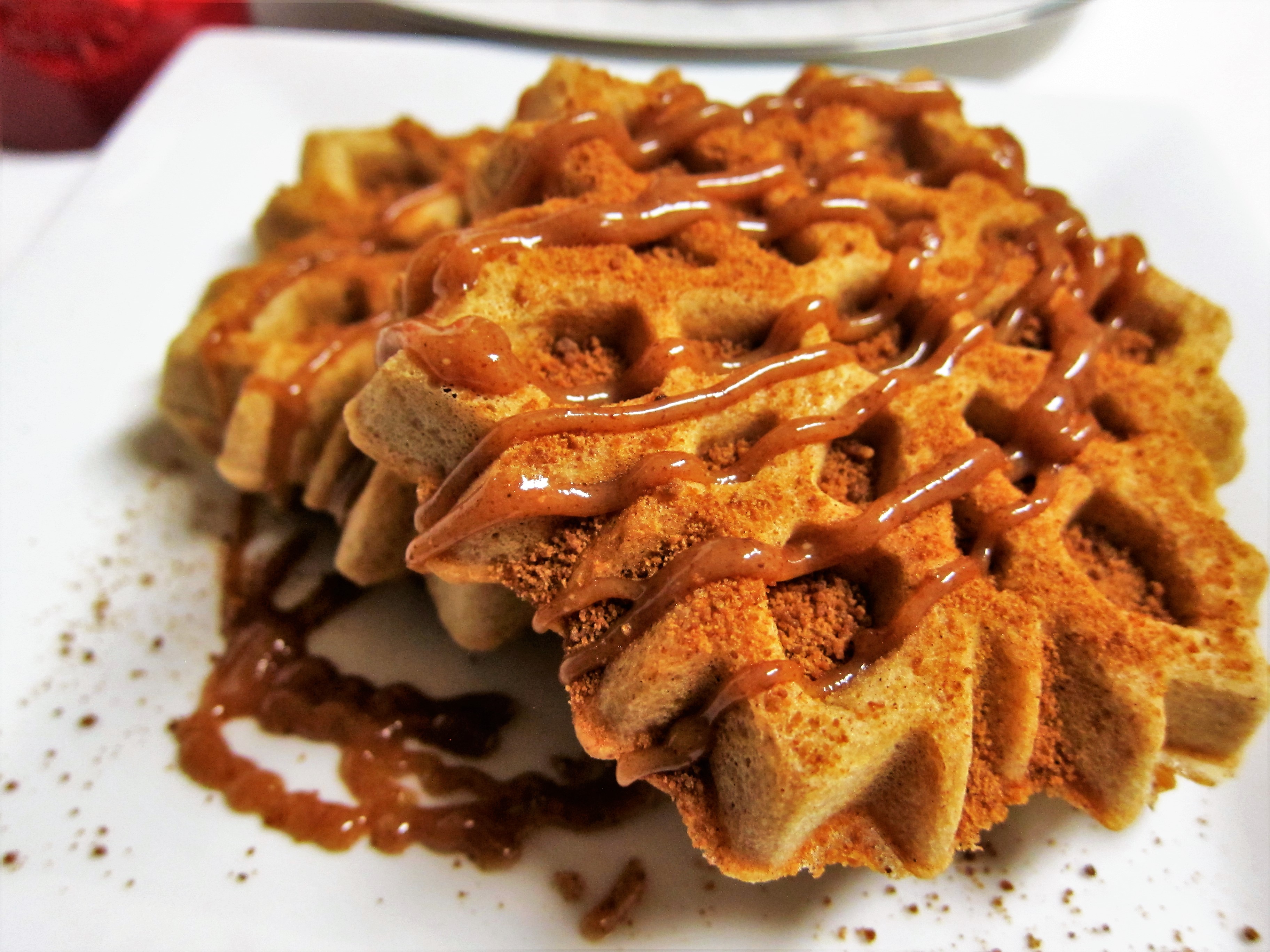 Vegan Snickerdoodle Waffles with Caramel Sauce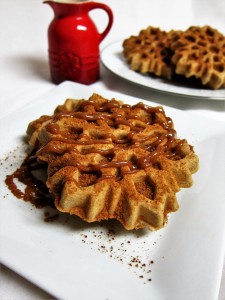 When I was little, waffles usually ended up being more of a weeknight occasional special breakfast for dinner rather than actual breakfast. We didn't usually have time in the morning to make stuff like that, unless it was a quiet weekend, but I often times had stuff going on during weekends like school or church activities, so I was ok with having them for dinner.  I always felt like I was getting away with something because waffles are dessert like to me.  I still feel that way.  Funny thing is, now I actually eat them for dessert!  Weird I know, but they are sweet enough, and crave worthy enough when made the right way so why not?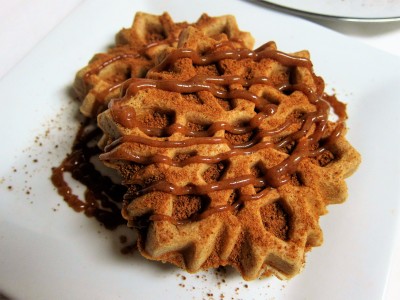 I made some last week, and they were so good I had to share the recipe with you all.  They can be dessert, or breakfast, or of course Brinner (breakfast+dinner) whatever floats your boat.  They were snickerdoodle waffles. Snickerdoodles are a Holiday thing to me, so I thought it appropriate.  Also, besides the cinnamon coconut sugar I dusted them with, I wanted to drizzle them with something too.  But not straight up maple syrup...I wanted date caramel instead.  Such a heavenly combination.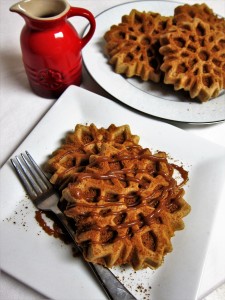 These are every bit as good as the home made waffles my Mom used to make, even if they are gluten free and vegan.  If you have non-vegan guests over the Holidays, make these for them, and I assure you they will never know they are not regular waffles!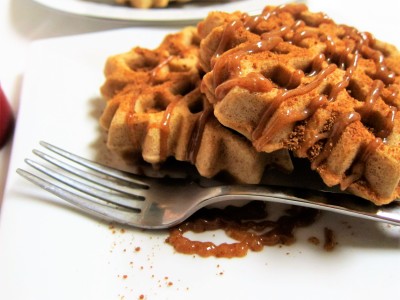 Vegan Snickerdoodle Waffles with Caramel Sauce
makes 10-12 depending on your waffle maker
Batter:
2 cups gluten free all purpose flour
1/4 cup coconut sugar
1/2 tsp baking soda
1 tsp baking powder
1 tsp cinnamon
1 tsp sea salt
1/2 cup plus 1 Tbsp aquafaba*
2 Tbsp melted coconut oil
2 cups coconut milk
Topping:
1/4 cup fine coconut sugar (I buzzed mine in the blender for a few seconds)
2 Tbsp cinnamon
Caramel Drizzle:
1/2 cup date puree**
2 Tbsp pecan butter
2 Tbsp maple syrup
1 tsp pure vanilla extract
pinch sea salt
filtered water as needed
Whisk together all of the dry ingredients, then whisk in the wet ingredients.  Pre-heat waffle iron. Once it is heated, add about 1/3 cup waffle batter to the iron and close it (the size of the scoop of batter you need may change if you have a larger iron, mine is smaller).  Cook according to waffle iron package directions.  Keep warm in an oven at low heat (150F degrees). Mix together the topping ingredients, then dust waffles with it before serving.
To make the caramel, whisk together ingredients in a bowl, adding enough water to make the caramel a drizzleable consistency. Drizzle caramel over waffles before serving.
*Aquafaba is chickpea liquid.  You may used canned, or if you are using the liquid from home cooked chickpeas, reduce it to the consistency of egg whites.  Alternatively, you may use 3 flax eggs for the recipe (3 Tbsp ground flaxseed, whisked together with 1/2 cup plus 1 Tbsp filtered water).
**Date Puree is just dates blended with water. To make it blend a 1:1 ratio of soft, pitted dates and water together until smooth.
(Visited 213 times, 1 visits today)