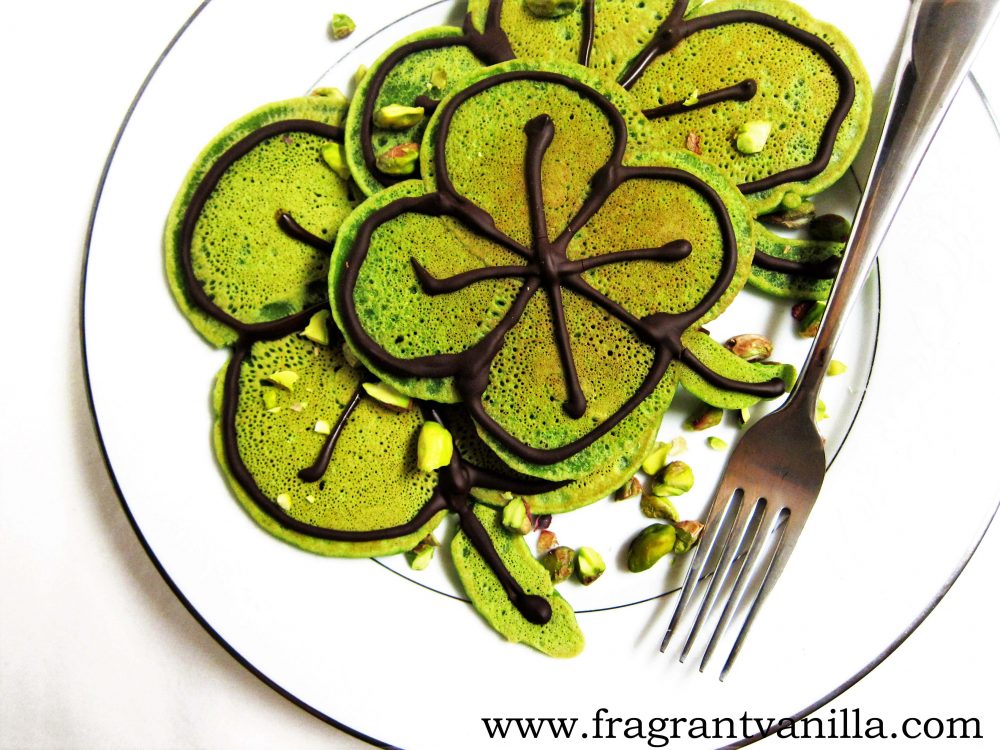 Vegan Shamrock Pancakes
March is here, St. Patrick's Day is just around the corner, and I am loving the color green lately (since I miss that green grass, and I hope it appears soon) so I thought I would make something green and St. Patrick's Day themed.  I have never actually made shaped pancakes before, and I am no pancake artist, but I attempted it.  I decided to make some shamrock pancakes.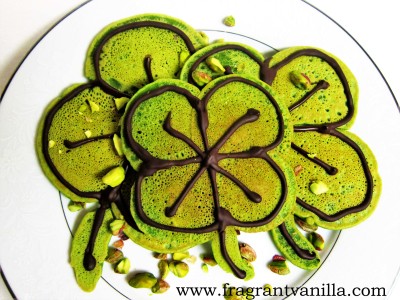 I was going to make them with matcha, because I love green tea, but I ended up using spinach instead.  In fact, these contained 2 veggies.  Spinach, and zucchini.  The zucchini, because I love to add pureed fruits and veggies to my pancakes to give them extra nutrition and replace some of the oil to lighten them up.  Don't worry, you can not taste either in the finished product.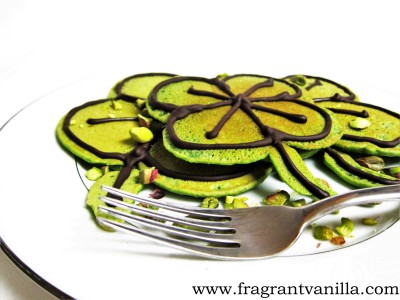 I laced them with a little vanilla and almond extract, and they smelled amazing.  My shamrocks turned out pretty cute for someone who doesn't make pancake art.  I decided to enhance them with a little dark chocolate, because why not?  It is tasty, and I love chocolate chips in pancakes...so painting on the pancakes with chocolate is kind of similar.  I also added pistachios as a garnish, because we are going for all things green here and I like crunchy nuts in things. If you want to douse these with maple syrup by all means go right ahead!  I just thought they were plenty sweet.  If you are not into putzy pancakes, you are welcome to make these round. They will still be a pretty color and tasty, which is what matters. Anyone else looking forward to Spring as much as I am?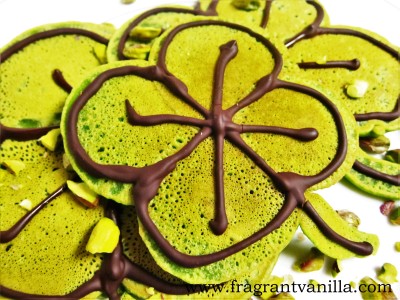 Vegan Shamrock Pancakes
Serves 2-3
Pancakes:
1 3/4 cups gluten free all purpose flour
2 tsp baking powder
1/2 cup pureed zucchini
1 1/4 cups thin coconut milk
2 tsp pure vanilla extract
1/2 tsp almond extract (optional)
1/4 tsp sea salt
3 Tbsp maple syrup (or to taste)
1 cup organic spinach leaves (packed)
1 Tbsp coconut oil
coconut oil for cooking pancakes
about 1/2 cup vegan dark chocolate chunks
chopped pistachios
In a food processor, combine all pancake ingredients and process until just blended, pour into a bowl and set aside (if it seems too thin (zucchini moisture varies), add a little more flour).
To cook pancakes, preheat oven to 110 degrees.  Heat a large non-stick pan over medium heat and add a little coconut oil to coat the bottom.  Once hot, drop 4 scant Tbsp in the shape of a 4 leaf clover into the pan, then a little tiny bit in a line for the stem (alternatively if you dont want to do clovers, but instead traditional pancakes, add the batter in 1/4 cup amounts) and let cook for about 2-3 minutes on the first side until set and starting to brown, then flip with a spatula, and cook another 2-3 minutes.  When cooked, place on a plate and keep warm in the oven while you repeat the process with the remaining pancakes (or you may serve them as you cook them, keep in mind, the chocolate may get runny the longer you keep them in there).
Melt the chocolate in the top of a double boiler, and drizzle over the tops of the pancakes or place it in a pastry bag (or I like to put mine in a ziplock bag with the corner cut off and squeeze it out) and pipe a design.  Scatter a few pistachios over the top of the pancakes, and serve!
(Visited 514 times, 1 visits today)