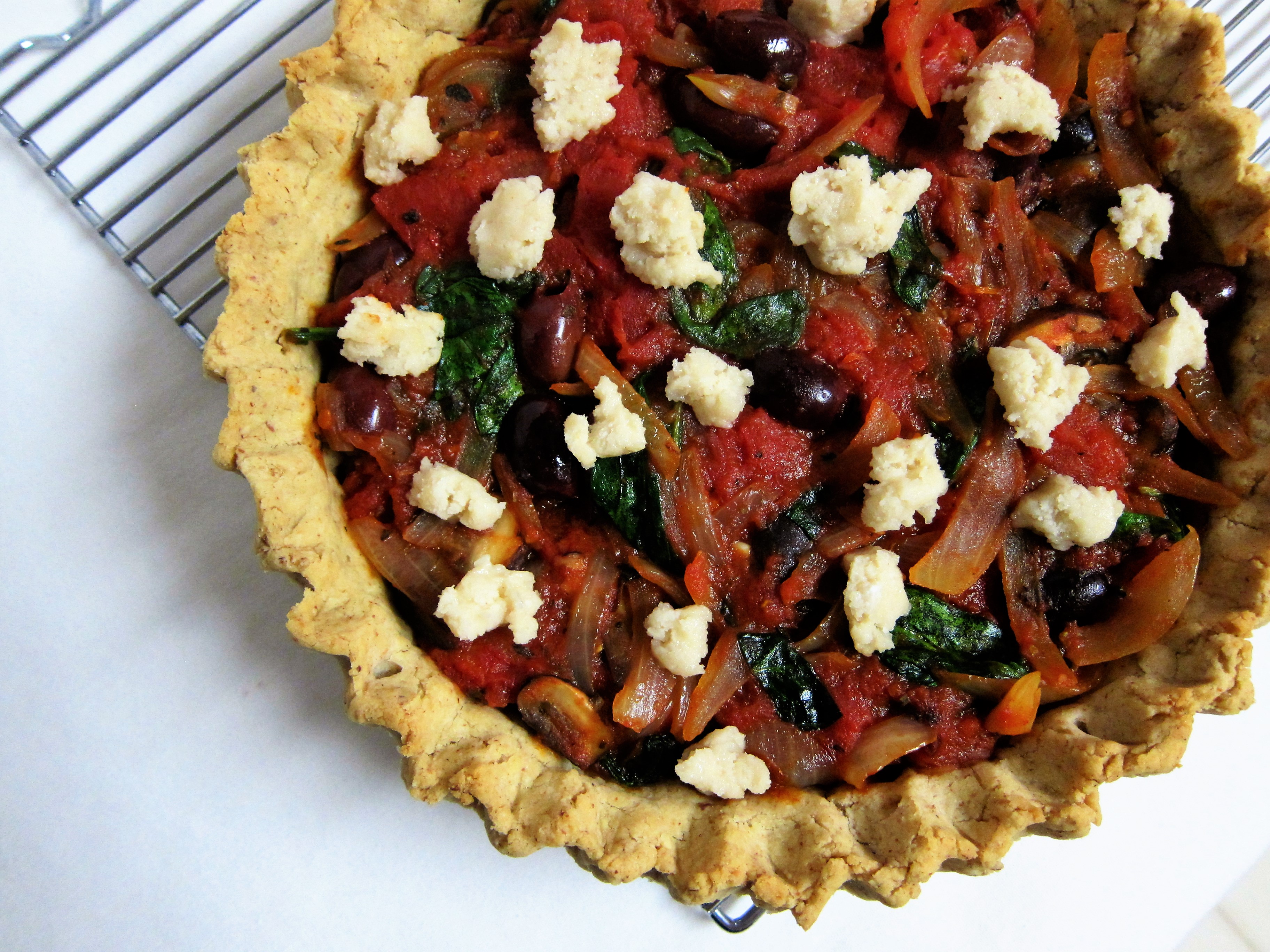 Vegan Savory Italian Vegetable Tart
I was given a book of pies and tarts for Christmas, and it was beautiful.  I have been making lots of these types of things lately, but I am always looking for new ideas.  Usually I make sweet pies and tarts, but this book had savory items in it as well, and it inspired me to create my own savory tart.  I usually just make pot pies or shepards pie when it comes to making savory pies, but I have never really made a savory tart.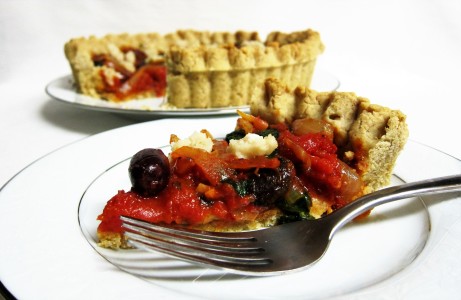 But now seemed like a good time to make one!  I decided to go with a sort of Italian flavor for this one.  Sort of like a really good pizza in tart form.  I made a flaky almond crust, to serve as a blank but delicious palette for the flavorful filling.  I made a zesty chunky tomato sauce with mushrooms, caramelized onions, spinach, and olives and it was delicious!  It was the sort of thing I would serve with pasta, but it was going to make a delicious filling.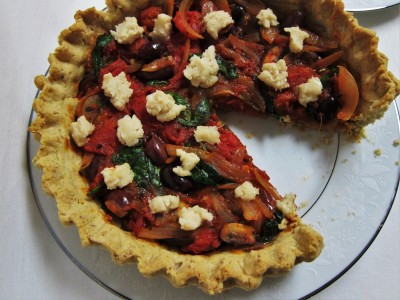 I poured that into the crust, and topped it off with vegan macadamia chevre.  Because I wanted to include cheese, but not a melty cheese, just a soft cheese to accent the tart so that you could still see the beautifully colored filling. It was delicious.  Like I said, sort of like pizza, but not so cheesy, and with a better crust.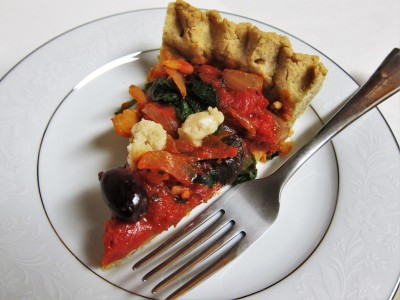 Vegan Savory Italian Vegetable Tart
Makes 16
Chevre:
2 cups raw macadamia nuts (or cashews), soaked in water for 4 hours and drained
1/4 cup lemon juice
1 tsp cider vinegar
1 tsp sea salt (or to taste)
2-3 Tbsp filtered water
Crust:
2 cups all purpose gluten free flour
1/2 cup ground almonds
1/2 tsp sea salt
3/4 cup coconut oil in its solid state
about 6-7 Tbsp cold water
Filling:
2 tsp olive oil
1 yellow onion, sliced
1/2 cup crimini mushrooms, sliced
2 garlic cloves, minced
1 tsp each dried basil and oregano
1 15 oz can diced tomatoes
sea salt to taste
1 large handful spinach
1/2 cup pitted Kalamata olives
To make the chevre, combine all ingredients in a high speed blender or food processor, and blend until smooth adding a Tbsp or two of water as needed to create a chevre like consistency (do not add too much or it will be too thin).  Place in 2 layers of cheesecloth, wrap up, and place in the refrigerator overnight to firm up.
To make the crust, in a large bowl, mix together flour, and sea salt. Cut in coconut oil with a pastry blender or 2 knives until it is in pea sized pieces. Mix in  just enough water to create a smooth dough that holds together but isn't too sticky. Add more water if needed, and knead slightly until a smooth dough is created. Roll out into a rectangle using floured parchment underneath and floured rolling pin. Roll into a 10 inch circle.  Oil a 9 inch tart pan well with coconut oil and fit the circle into it. Shape to fit the pan, don't worry if it tears, just press the dough back together. Set aside in the refrigerator.
Preheat oven to 375F degrees, then place the tart crust in the oven and bake for about 30 minutes until lightly brown.  Remove from the oven and let cool.
To make the filling, heat the olive oil in a skillet, and add the onions.  Cook over medium heat, until starting to caramelize about 8 minutes.  Add the garlic, mushrooms, and herbs and cook another few minutes, then add the tomatoes and sea salt and cook until the tomatoes have softened more and the flavors have blended.  Add the spinach and olives, and turn off the heat.  Once the spinach is wilted, it is ready.  Pour into the crust, spread out to the sides, and sprinkle with bits of the chevre (break off in chunks).  Serve warm or room temperature.
(Visited 58 times, 1 visits today)