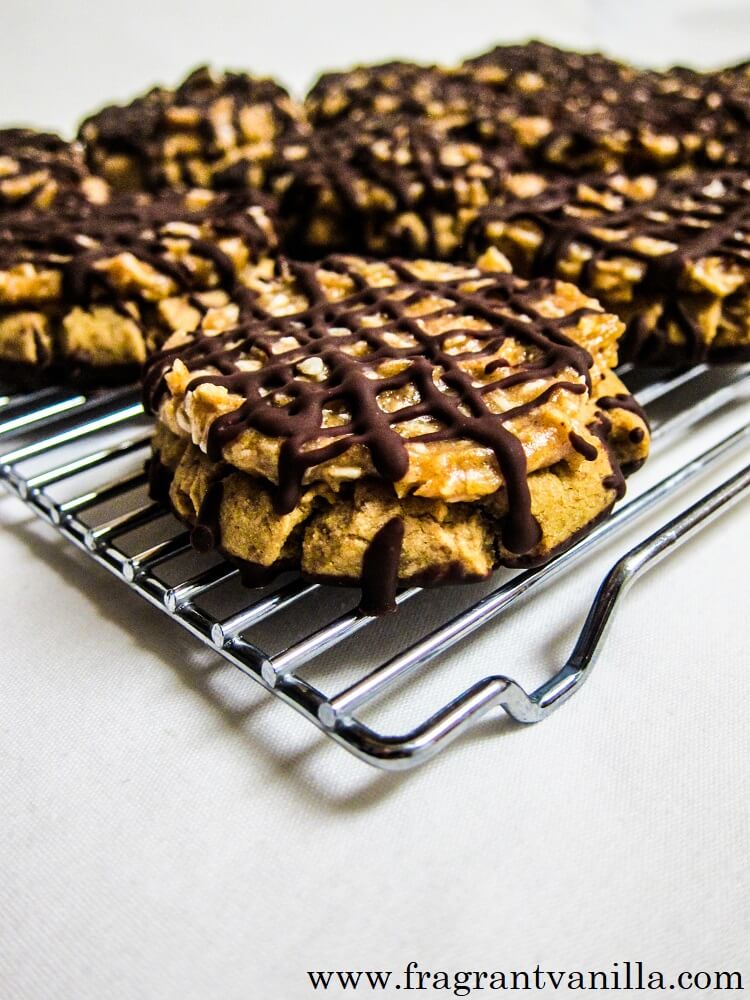 Vegan Samoa Cookies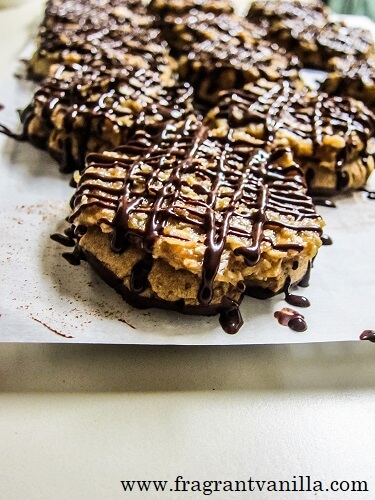 I was never a Girl Scout.  I was in other things when I was younger like dance, choir and a group at church called Pioneer Girls instead.  But my family still always bought Girl Scout cookies, because I had friends that were Girl Scouts. I anxiously awaited those cookies every year.  I loved the Tag Alongs, and the Strawberries and Cream (sandwich cookies that were made when I was little in the 90s that aren't made anymore) but Samoas were always my favorite.  I mean, what's not to love about a crunchy shortbread cookie topped off with gooey caramel and coconut and drizzled with chocolate!  So heavenly.  I haven't eaten real girl scout cookies in years though, because they are made with refined ingredients, and artificial ingredients and the Samoas are not vegan.  But I have made many girl scout inspired desserts.  Mostly Samoa inspired though, because nothing compared to it in my mind when I was little.  So it is kind of surprising I never attempted to make healthier vegan Samoa cookies.  I thought it was about time.  I was inspired last weekend when Eric and I were at our favorite local brewery and there was a little girl selling Girl Scout cookies.  He wanted to buy some and felt bad because he didn't have any cash on him.  So I decided that I would make some.  That way I could enjoy them too.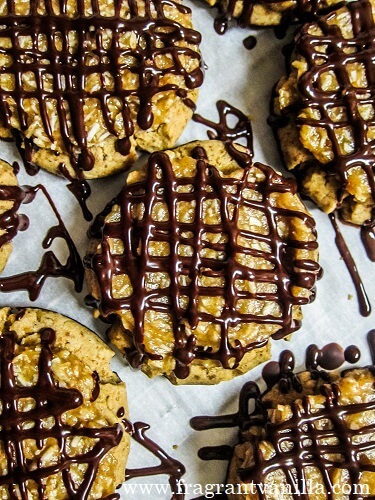 They really weren't all that difficult to make, it just required a few steps.  First off, I made a simple cookie.  It wasn't exactly a short bread cookie, but it accomplished the same result.  It was still a buttery vanilla cookie, the perfect base for a Samoa.  I scented it with vanilla, and sweetened it with maple sugar.  I did not cut out the middles like signature Samoas do, because I don't have a small cookie cutter, and leaving it in is just more good cookie after all.  But if you have a little round cookie cutter and are making these, feel free to.  Just reduce the baking time by about 3 minutes.  The cookies were good just as is, but they were about to get even better with the toppings.  I made a gooey date caramel, and mixed in just the right amount of shredded coconut for a Samoa like topping.  I dipped the bottoms of the cookies in chocolate just like the real Samoas, and drizzled them with the dark chocolate, then all I had to do was wait a little bit for them to set.  I could not wait to try them!  I haven't had Samoas in probably 15 years since I gave up refined sugar and processed foods.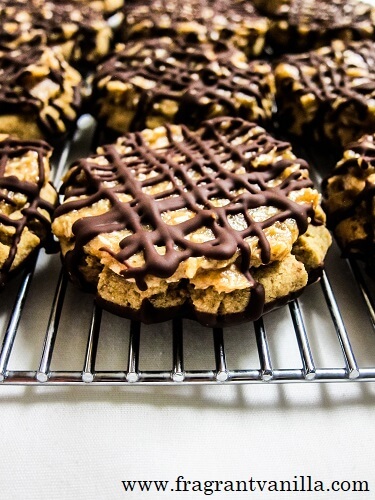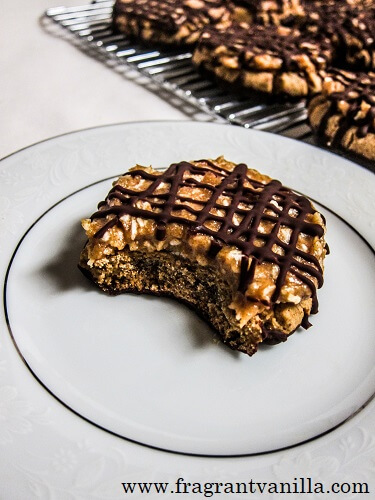 They turned out lovely!  The most important thing though was how they tasted.  They were absolutely delicious!  I thought that they were even better than the original Samoas I had as  kid, and these were vegan and gluten free, no refined sugar included!  I can't wait to share these with my family and have them see what they think!  If you were ever a fan of Samoas and miss them, give these a try!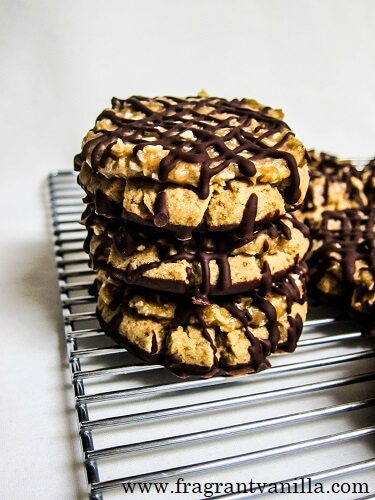 Vegan Samoa Cookies
Makes 16 cookies
Ingredients:
Cookies:
1 Tbsp ground flax seed
3 Tbsp filtered water
1/2 cup virgin coconut oil, warmed to liquid
3/4 cups maple sugar or coconut sugar
1 teaspoon vanilla extract
1/2 teaspoon baking soda
1/4 teaspoon sea salt
Caramel:
1 cup soft, pitted medjool dates (if they are not soft, soak them in filtered water 30 minutes and drain before using)
2 Tbsp almond butter
2 Tbsp virgin coconut oil
1 tsp pure vanilla extract
1/4 tsp sea salt
1/4 cup filtered water or as needed
1/2 cup finely shredded dried unsweetened coconut
Chocolate:
1 cup chopped vegan dark chocolate chips or chunks
 Directions:
In a small bowl, whisk together the flax seed and filtered water.  Set aside in the refrigerator for 15 minutes.
In a large bowl, mix coconut oil with maple sugar and mix until well combined.
Mix in the vanilla extract and flax mixture until well combined.
Add the baking soda, salt, then the flour, until well combined.
To bake, Preheat your oven to 350 degrees. Line a large baking sheet with parchment paper.
Roll the dough into 1 1/2 inch balls (there should be about 16), and place on prepared cookie sheet a couple inches apart, pressing down so that they are about 1/2 inch thick.
Bake for about 15-18 minutes, until puffed and just starting to brown slightly.  Remove from the oven and let cool on the pan a few minutes, then remove to a wire rack to cool completely.  Save the parchment lined tray.
To make caramel, combine all ingredients except the finely shredded coconut in a high speed blender or food processor and process until smooth.  Stir in the coconut.
Melt the chocolate in the top of a double boiler until smooth.
Dip the bottom of each cookie into the chocolate and set on the parchment lined tray that you baked them on.  When they are all done, then spread the caramel coconut mixture over the top of each one. Drizzle the chocolate over the top of each one (I put mine in a ziplock back with the corner cut off to make it easier).
Place the tray in the freezer for about 15-20 minutes to allow the chocolate to harden, and the caramel to set.
Enjoy!  Store any extra cookies in the refrigerator in an airtight container for up to 2 weeks.
(Visited 319 times, 1 visits today)