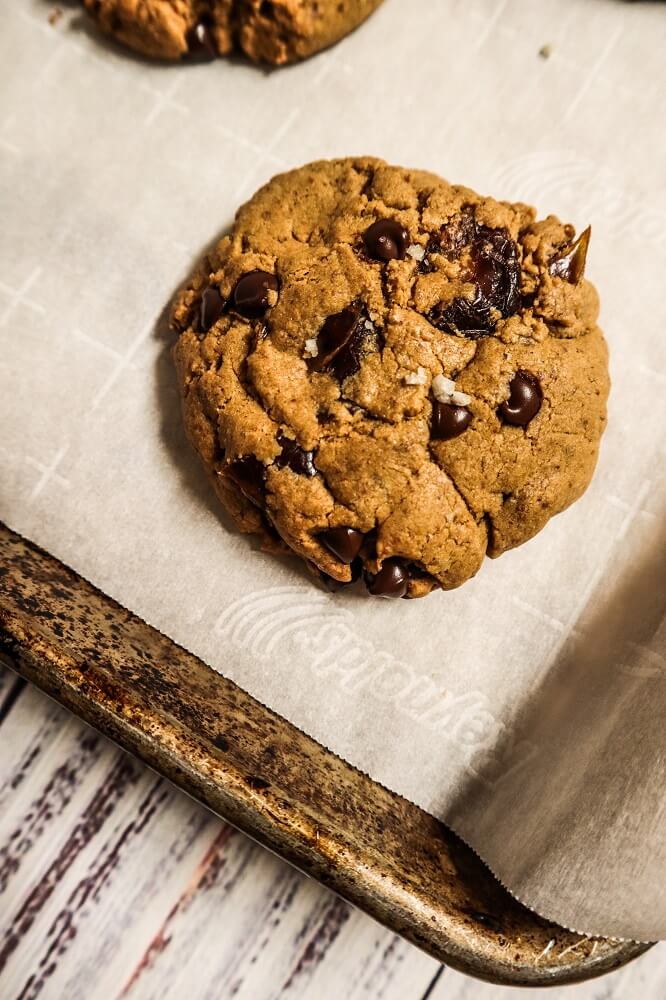 Vegan Salted Caramel Chocolate Chip Cookies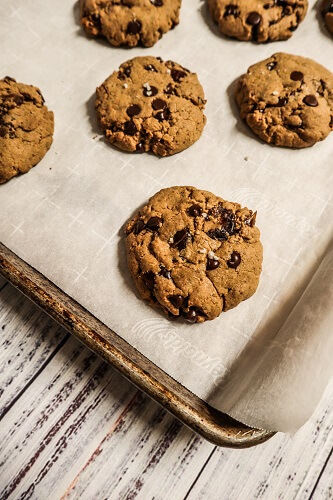 Salted caramel anything is amazing as far as I am concerned.  There is just something about that balance between the saltiness and the caramel that I love.  Maybe also because those are two things that are often craved. Salted caramel chocolate sounds more wonderful than just chocolate, and salted caramel crème brulee more fantastic than just crème brulee.  Doesn't it?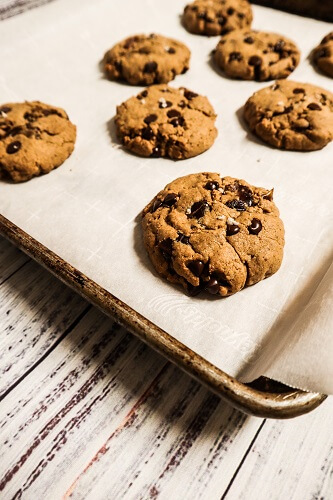 My Mom, who often begs me to make some cookies for her, was telling me about some salted caramel cookies she had tried at work from Great Harvest. She said they were good, but my cookies were better. Which got me to thinking, why not make my own salted caramel cookies?  After all, most of the things I veganize end up being really good, and sometimes even better than the original.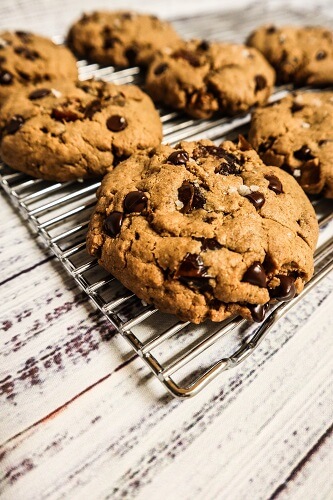 So, for the cookie dough, I used maple sugar which is very caramelly tasting to me and an extra pinch of sea salt over the usual I use which resulted in a caramel tasting dough.  Of course you could just use coconut sugar if you didn't have the maple, because it has the same brown sugar affect.  The cookies would have tasted kind of caramelly on their own, but I wanted chunks of "caramel" as well so I added dates too.  Which are basically nature's gooey caramel!  The combination was pretty darn delicious!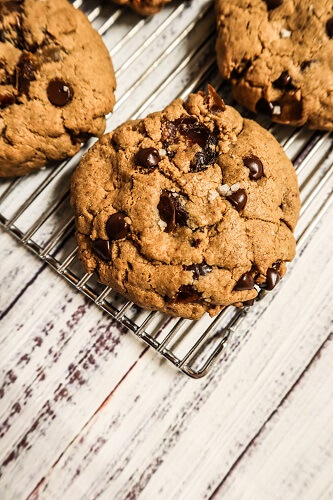 Since they were chocolate chip cookies, I added some good quality vegan dark chocolate chips as well.  The dough was amazing, so I knew these were going to be good.  I sprinkled some fleur de sel on them before baking, since they were salted caramel.  I could not wait to try them, since they smelled amazing while baking!  I tried one while they were still warm and omg sooo good!  A caramel flavored spft cookie with gooey dates, and melty chocolate chips! My Mom enjoyed them as well and said that you would never be able to guess that they were vegan.  If you are a caramel fan, definitely give these a try!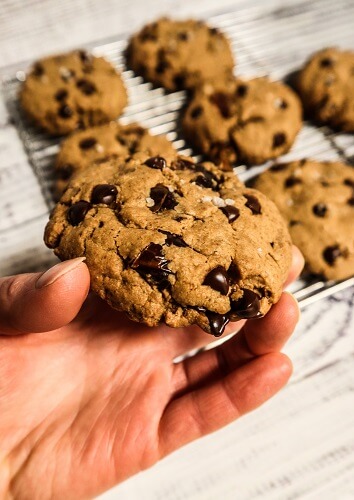 Vegan Salted Caramel Chocolate Chip Cookies
Makes 16 large cookies
Ingredients:
 2 Tbsp ground flax seed
1/4 cup plus 2 Tbsp filtered water
1 cup virgin coconut oil, warmed to liquid
1 1/2 cups maple sugar or coconut sugar
1 teaspoon vanilla extract
1 teaspoon baking soda
3/4 teaspoon sea salt
3 cups organic whole wheat pastry flour
1 cup dates, chopped into smaller pieces
3/4 cup vegan dark chocolate chips
Directions:
Preheat your oven to 350F degrees.
In a small bowl, whisk together the flax seed and filtered water.  Set aside in the refrigerator for 15 minutes.
Meanwhile, in a large bowl, mix coconut oil with sugar and stir until well combined.  Mix in the vanilla extract and flax mixture until well combined.  Add the baking soda and salt then the flour, a cup at a time, mixing between each addition, until well combined.  Mix in the dates and chocolate chips
Line 2 large baking sheets with parchment paper.
To Form the cookies take about a 1 1/2 inch chunk of dough, form into a ball and on prepared cookie sheets a couple inches apart, and press down just slightly. Bake for about 12-15 minutes, until puffed and just starting to brown slightly.
Remove from the oven, and let cool on the pan a few minutes, then remove to a wire rack to cool.
(Visited 1,835 times, 1 visits today)