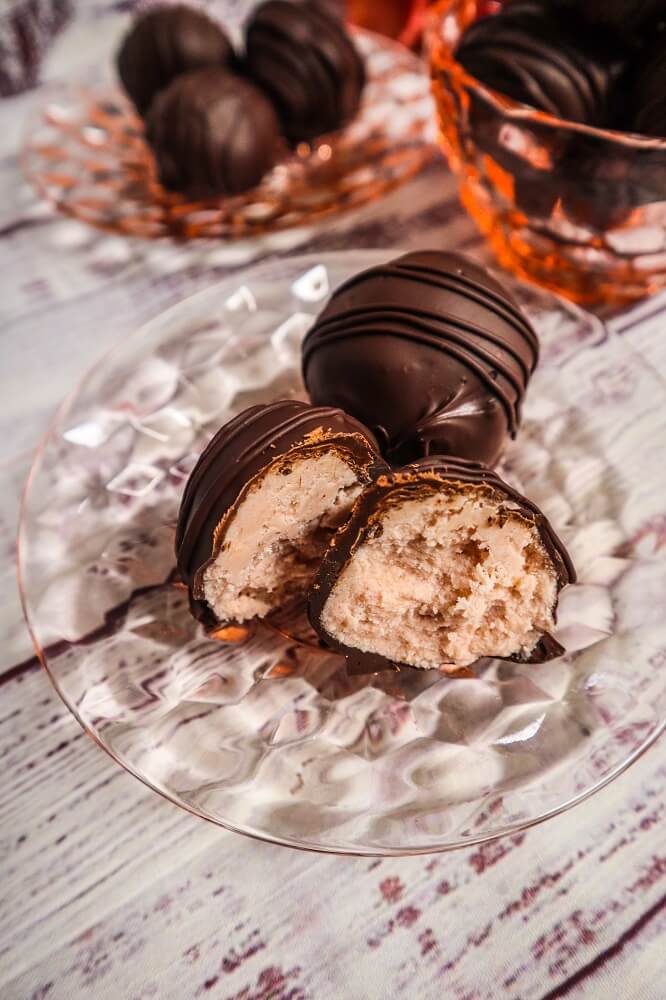 Vegan Rosewater White Chocolate Truffles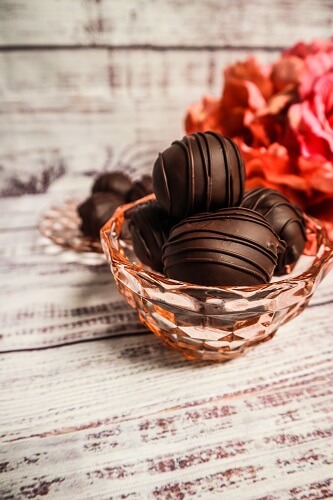 Rosewater is such a heavenly flavor that I don't use nearly enough!  I recently found mine (it had gotten pushed to the back of the refrigerator), and decided that I needed to make something with it this week.  I had recently purchased a big bag of cacao butter, so combining it with white chocolate sounded amazing. I have already made some chocolates for Valentine's Day, but I figured I could always share some!  I love making truffles of any kind and Valentine's Day is the perfect excuse to try making new recipes.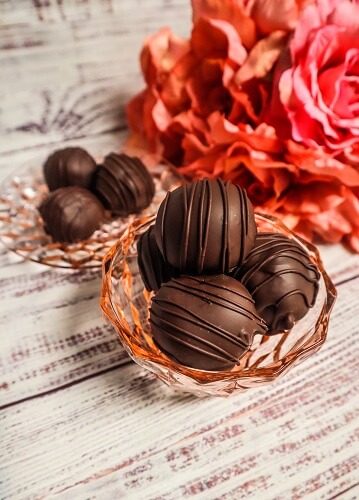 Back in the day, my Grandma would always give us kids a box of chocolates, and it was always exciting trying all of the different ones, trying to guess what they were before biting it.  I may know what is in all of the truffles I eat now, but I like to have a variety to choose from when the chocolate craving strikes.  Plus it doesn't seem right to not have chocolate candy for Valentine's day, and making it for those I like to gift is more special that simply buying it in my opinion.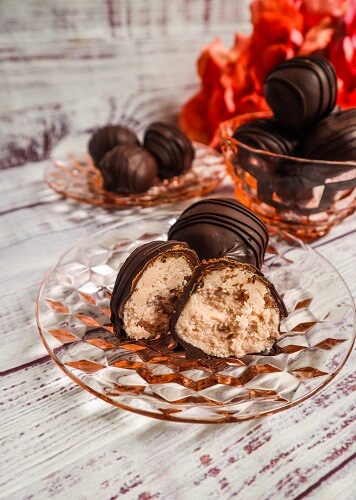 For the base of these, I wanted them to be rich and creamy so I started off with a cacao butter base, combined it with some coconut butter and cashew butter and it was the perfect texture!  Once I added some maple syrup to sweeten and the vanilla and rosewater it was heavenly!  I could not stop sampling it!  I have this problem a lot lol.  I think this is why I enjoy making desserts like this to much.  I have to taste it and make sure it is good after all (wink wink).  Once the centers were all ready to go, they needed a coating.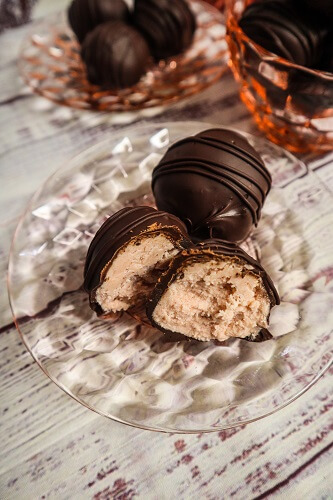 I could have done white chocolate, but I wanted to cut the really sweet filling with some intense rich dark chocolate.  They were fabulous!  The sweet rosewater and vanilla combo was so heavenly in the rich melt in your mouth filling!  The dark chocolate worked so well with all of it!  If you are a rosewater fan, give these a try!  You may not even want to share them, which is ok too!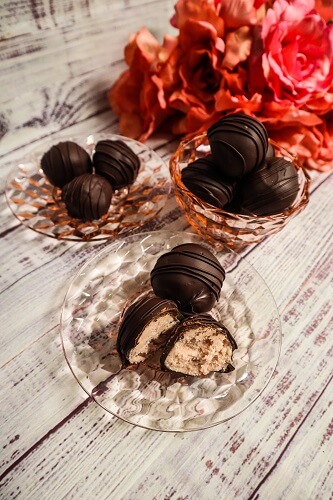 Vegan Rosewater White Chocolate Truffles 
Makes 14 truffles
Ingredients:
Filling:
1/2 cup cacao butter, warmed to liquid
1/4 cup raw cashew butter at room temperature
3/4 cup coconut butter, warmed to liquid
1 tsp red beet powder
1 tsp pure vanilla extract
1/4 cup maple syrup
2 Tbsp rosewater
2 Tbsp filtered water
Dark Chocolate:
2 cups chopped vegan dark chocolate or vegan dark chocolate chips
Directions:
Combine all of the filling ingredients in a bowl, and whisk until smooth.
Place in the freezer for about 15-20 minutes until it is firm enough to scoop. Scoop into 14 balls, rolling them with your hands.   Place on a parchment lined tray, and place back into the freezer until firm, about 30 minutes.
Meanwhile,  melt the dark chocolate in a double boiler until smooth.
Once the filling has firmed up, dip each chocolate into the dark chocolate, being sure to let the excess drain off, and place back onto the tray (I like to set mine on a fork to allow it to drain better). Once they are all dipped, set them in the freezer until hardened.
  Store any leftover truffles in the refrigerator for up to 1 month (or freeze for up to 3 months in an airtight container).
(Visited 471 times, 1 visits today)