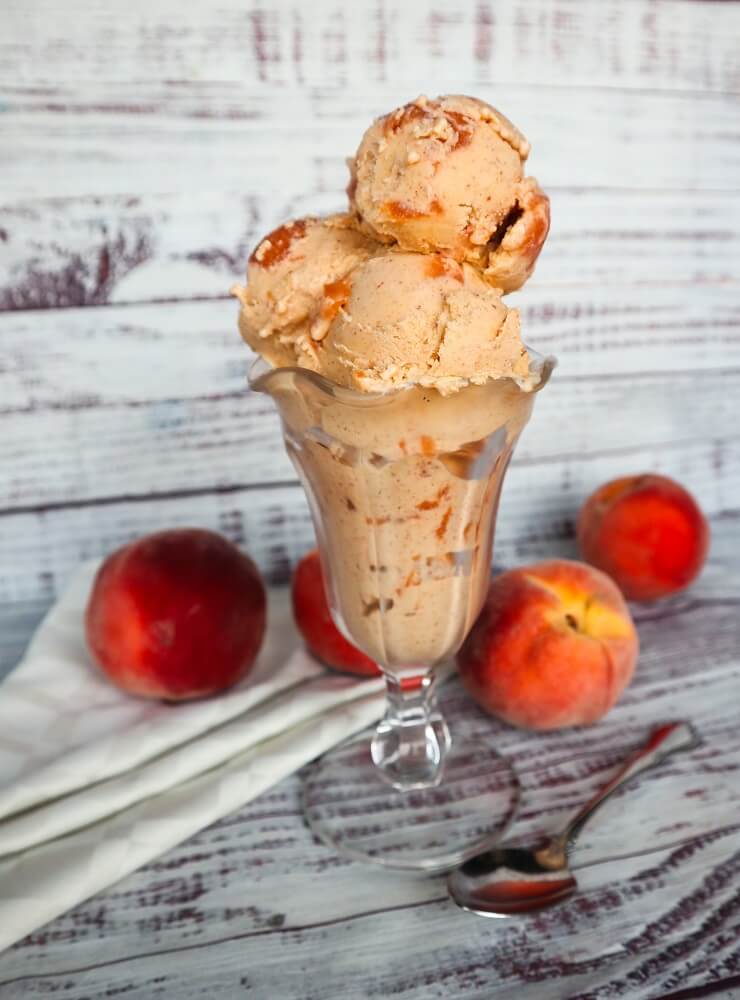 Vegan Rosewater Peach Ice Cream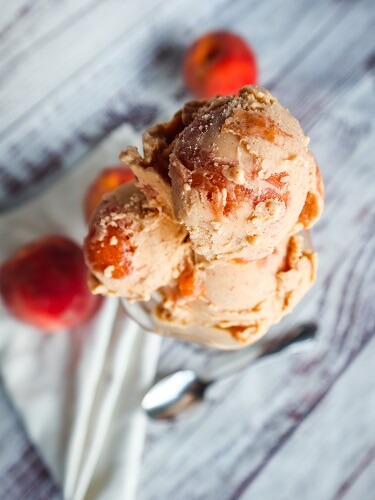 There is nothing like a perfectly ripe flavorful summer peach!  I have been enjoying a lot of them lately, because my Dad gifted Eric and I a case.  Although they are amazing on their own, I thought they would be amazing in some desserts as well.  So I made a peach galette and some Rosewater Peach Ice Cream last week. Summer may be coming to an end, but I am enjoying its flavors while I can!  They both turned out so good I am sharing the recipes (galette recipe coming soon).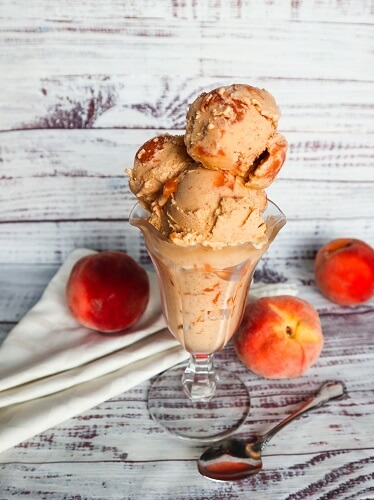 For the ice cream, I started out with a coconut cashew base to make it nice and rich and creamy.  No, this is not a low fat ice cream.  When I want that I make some banana soft serve.  This is the rich and creamy type ice cream texture I remember eating at ice cream shops growing up.  I don't think I ever ate peach ice cream but I did like peach frozen yogurt and this ice cream base tasted even better than that!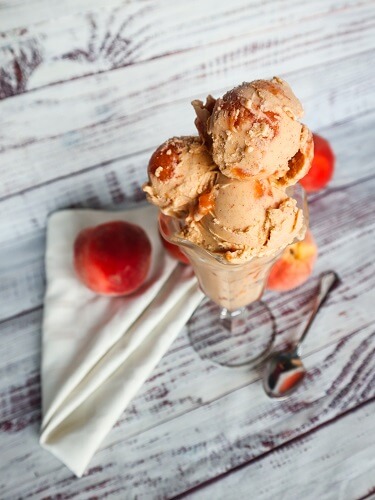 I actually used dates to sweeten this, because I love that they are about as natural as you can get when it comes to sweeteners, and they yield a less hard ice cream that is more scoop-able because you aren't adding a liquid sweetener.  I also added in plenty of fresh peaches, some vanilla and rose water to flavor the ice cream and it was heavenly!  I love rosewater with summer fruits like peaches, cherries and berries!  I forget sometimes that I have it on hand, but I happened to think of it this time and the aroma is so lovely!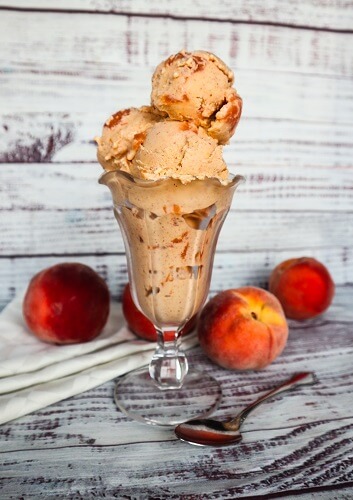 The ice cream churned up nicely, and before pouring it into the freezer container I have I swirled in some of Eric's Dad's peach jam to make it even better (I love things swirled into ice cream)!  If you don't have any peach jam I have included instructions at the bottom to make something similar.  This ice cream turned out so heavenly!  The light fresh flavor of peaches paired so well with the vanilla and rosewater and it was so rich and creamy!  If you have peaches on hand, definitely give this a try before summer is over!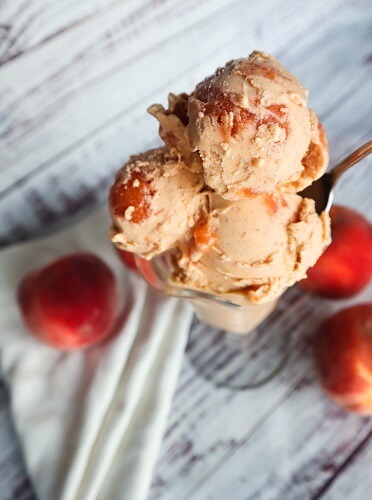 Vegan Rosewater Peach Ice Cream 
Makes 3 1/2 cups
Ingredients:
1 15 oz can full fat organic coconut milk or coconut cream (unsweetened)
1/2 cup raw cashew butter
1 1/2 cups fresh organic peaches
2 Tbsp rosewater
1/2 cup soft, pitted medjool dates (if they are not soft, soak them in filtered water for 30 minutes before using)
2 tsp pure vanilla extract
1/4 tsp sea salt
1/2 cup peach jam or preserves*
Instructions:
Combine the coconut milk with all other ingredients but the jam in a blender and blend until smooth.
Pour into an ice cream maker and process according to directions.  Alternatively, if you do not have an ice cream maker, pour it into a bowl, and whisk every half hour until it is to the consistency of a thick malt.
Swirl in the jam.
Pour into a freezer safe container with a lid, and continue to freeze until firm enough to scoop (at least 4 hours or overnight). If it becomes too firm, simply let it sit out for 15 minutes before serving.
*If you don't have peach jam, you can make a quick peach jam by combining 1 cup fresh or frozen peaches, 1 Tbsp maple syrup, 1 tsp lemon juice and a pinch of salt in a sauce pan.  Cook over medium heat until the peaches are completely soft and falling apart, stirring often.  This will take about 15 minutes.  Add 1/2 tsp vanilla extract and stir in well, mash the peaches up with a fork, or process in a food processor if you want them more smooth. Let chill in the refrigerator until cold.
(Visited 862 times, 1 visits today)