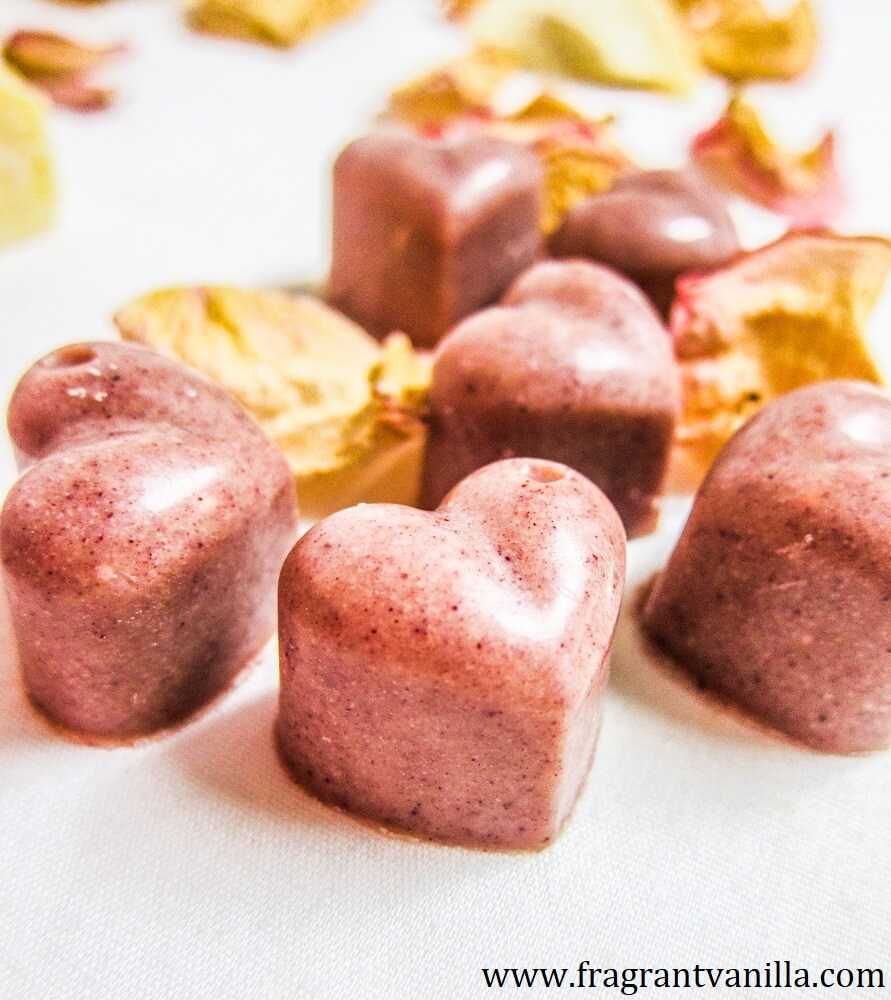 Vegan Rose White Chocolate Hearts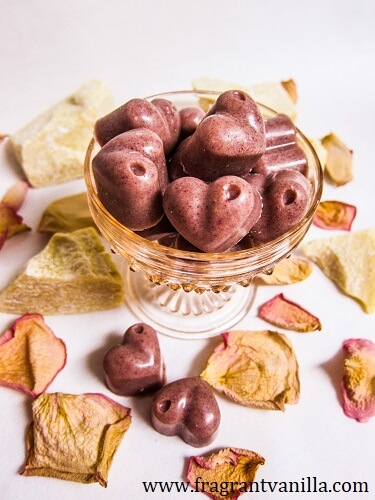 It feels downright balmy here in Minnesota with a 32F degree temperature!  That is because it has been in the below zero temps lately or just single digits.  Funny how in the Fall we think 32 is cold after having Summer temperatures, and now it is warm.  Well, I am embracing it and getting out for walks and runs while I can before it chills down more again.  Not that the cold ever stops me from being active.  When I was in high school, I spent nearly every day of the Winter outside for nordic skiing practice.  At one of my ski races I remember it was -15 and we had to bundle up, but not so much that we could not move.  My coach always said there is no such thing as bad weather if you dress right.  Well, I do occasionally go out running when it is that cold, I prefer it to be above 15 at least to go out for activities now.  And, when I do go out, it is not usually for more than a few hours.  Then it is time to warm up.  Since it is not Summer, and I am spending more time inside, I spend a little more time in the kitchen creating delicious things.  Like the Vegan Rose White Chocolate Hearts I made last weekend.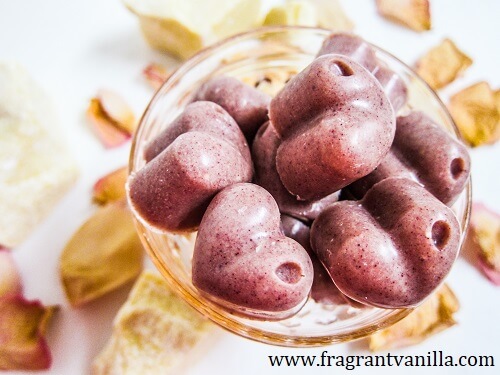 I had made some white chocolate for topping an ice cream cake off with a few months back and it was delicious!  I told myself then, that I had to remake it into molds so I could enjoy it just as it was.  I had tinted the original stuff half pink and swirled it, so I thought this time I could do all of it pink, scent it with rosewater because it is so lovely, and make little hearts for Valentine's Day.  It is almost a month away now, and Valentine's candy makes me happy.  I have to make at least 5 different kinds every year.  Candy was always my favorite part of Valentine's Day when I was little, and my Grandma used to give me those chocolate heart boxes filled with different types of chocolate.  It was super exciting to my 8 year old self. Now I mainly just make it for me and Eric.  I remember our first Valentine's day I made him some chocolate dipped strawberries, and some spicy chipotle dark chocolate caramels.  He loved them!  But I usually make different things every year and these rose white chocolates are new.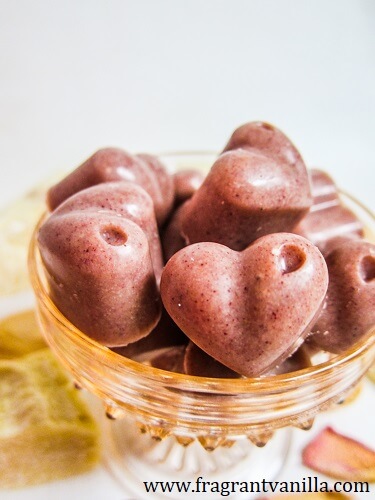 These are super simple to make if you have all of the ingredients, just combine everything in the top of a double boiler, let it melt and whisk it together, then pour it into molds.  I promise you, your kitchen will smell incredibly heavenly!  There is nothing like the smell of melted cacao butter.  It doesn't take long to harden up, about an hour then you can enjoy some delicious white chocolate with rose!  This is way better than any of that store bought stuff with fake ingredients or dairy in it.  So, if your sweetheart likes white chocolate, make these for them!  Or maybe just for you, because you don't have to share if you don't want too, that is fine too.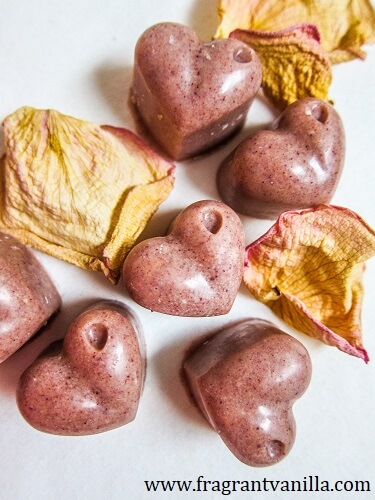 Vegan Rose White Chocolate Hearts 
Makes about 16
Ingredients:
1/4 cup cacao butter (2 oz)
3 Tbsp raw cashew butter
1/3 cup coconut butter
1 tsp pure vanilla extract
1 tsp rosewater
3 Tbsp maple syrup (or to taste)
1/8 tsp sea salt
 2 Tbsp beet powder, or a few drops natural vegan red food coloring
Instructions:
Combine cacao butter, cashew butter, vanilla, rosewater, maple syrup,  and sea salt over a double boiler, and whisk until smooth.
Whisk the beet powder or food coloring into one bowl until even in color.
Pour into a chocolate heart mold, and place in the freezer until heard, which can take 30 minutes to 1 hour depending on how warm it is.
Pop chocolate out of molds and enjoy!
Store in an airtight container in the freezer for up to a few months.
*I get my cacao butter from Amazon HERE.
(Visited 623 times, 1 visits today)