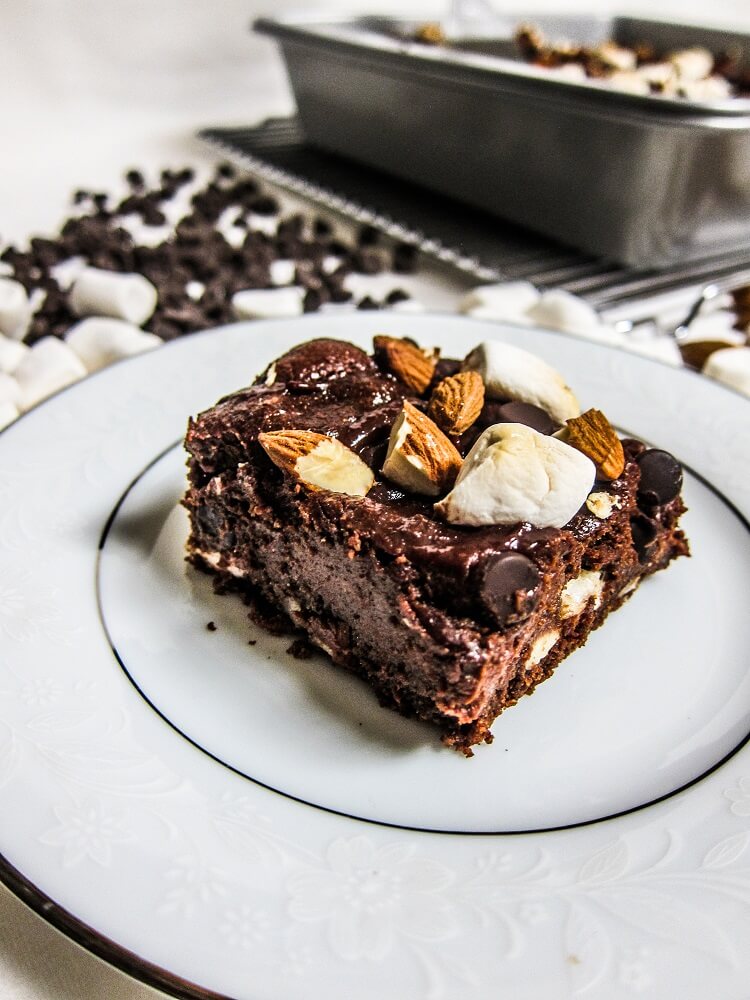 Vegan Rocky Road Brownies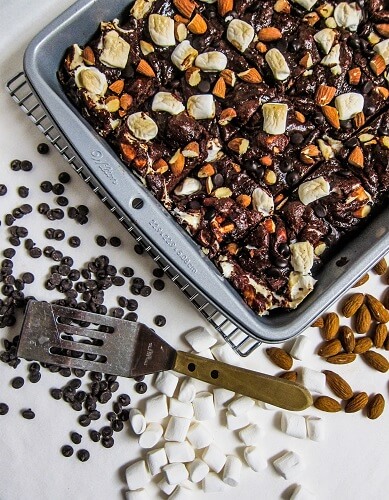 It's kind of like rocky road here in Minnesota when you try to go running or walking outside right now on the trails.  Because it was warm and it froze, there is a lot of ice and snow which can make footing tricky, but I still love to get out and get some fresh air.  But all that rocky icy road business got me to thinking, some rocky road brownies or cookies sounded good!  I say brownies or cookies because I couldn't decide.  I had some mini vegan marshmallows on hand so either way it was perfect!  Eric broke the tie for me and said brownies sounded better so that is what I made.  I know baking might seem like a weekend or day off activity, and it is, but I love baking things like brownies after work.  It is a great stress reliever.  I mean, you get to have the aroma of chocolate wafting through your home, you get to lick the brownie batter form the bowl and of course enjoy the finished product.  Bonus points if you can listen to good music while you are making them too.  It is just an all around happy experience!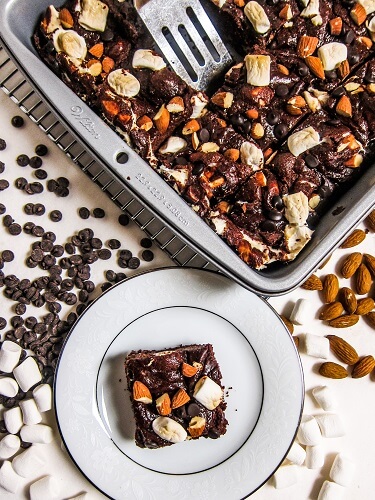 So I had some me time and baked brownies.  I like all of my brownies to have a nice fudgy base.  None of that cakey fluffy stuff going on.  These were super fudgy.  I made a rich brownie base that included some almond butter instead of just straight oil for richness and it was the perfect combo for fudgy.  Not only that, as if a fudgy base wasn't enough I added a swirl of fudge too.  Because rocky road is supposed to be over the top, right?!  The fudge had dates as the base so it was nice and gooey.  If you are new to vegan baking and don't know the hype about dates, they are like nature's candy!  The funny thing is I thought that they were gross when I was little simply because they looked weird and like giant beetles, but when I finally tried one I fell in love with them!  They make a really good caramel, and also an amazing fudge if you add cacao powder.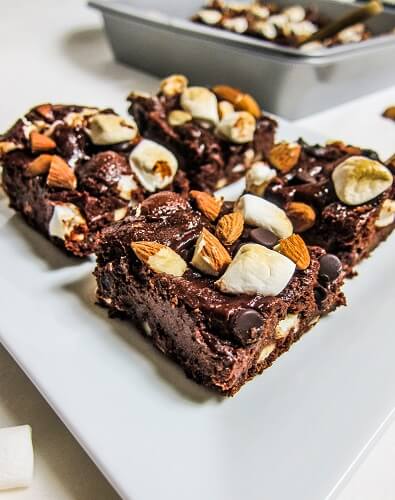 Back to the brownies though.  OMG was the batter ever amazing once I stirred in the almonds, marshmallows and chocolate chips!  I could not wait to try the finished product!  But of course they had to bake and cool first.  They made my house smell amazing and I was getting really hungry.  These would be really amazing warm, but being a food blogger I usually have to wait for things to cool and set before cutting.  These were well worth the wait though, sooo good!  The fudgy base was perfect, the gooey fudge making it irresistible!  The sweet vanilla marshmallows, crunchy nutty almonds and dark chocolate chips were the perfect add ins!  I can understand why people love rocky road so much!  If you are in the mood for some amazing brownies, give these a try!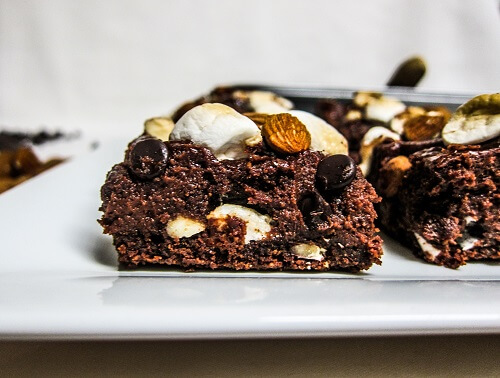 Vegan Rocky Road Brownies
Makes 16
Fudge:
1 cup soft medjool dates, pitted (if they are not soft, soak them in water and drain well first)
2 Tbsp maple syrup
3 Tbsp cacao powder or cocoa powder
1/4 tsp sea salt
1/2 cup filtered water (or as needed)
Brownies:
1/2 cup avocado oil
1/4 cup almond butter
1 cup coconut sugar
2 flax eggs (2 Tbsp ground flax seed mixed with 1/4 cup plus 2 Tbsp filtered water)
1/2 cup cacao powder or unsweetened cocoa powder
1/4 teaspoon sea salt
3/4 cup vegan dark chocolate chips plus more for sprinkling top
3/4 cup vegan marshmallows, plus more for sprinkling on top
3/4 cup chopped almonds, plus more for sprinkling on top
Directions:
Preheat the oven to 350F degrees.
To make the fudge, combine all ingredients in a blender and blend until smooth (adding a little water if necessary, it should be the consistency of pour-able but still thick fudge). Pour into a bowl and set aside.
Whisk together the sugar, oil and almond butter until well combined and the sugar is starting to break down. Add the flax eggs and beat until smooth. Add the flour, cacao powder and sea salt and beat until smooth.  Stir in chocolate chips, marshmallows and almonds.
Scrape the batter into a greased 8x8 inch pan, then drop the fudge over it in 2 Tbsp amounts, and swirl it with a knife.  Sprinkle with more marshmallows, chocolate chips and almonds.
Place in the oven, and Bake for about 30-35 minutes or until set (but do not over bake).
Let cool before cutting into bars.
(Visited 724 times, 1 visits today)