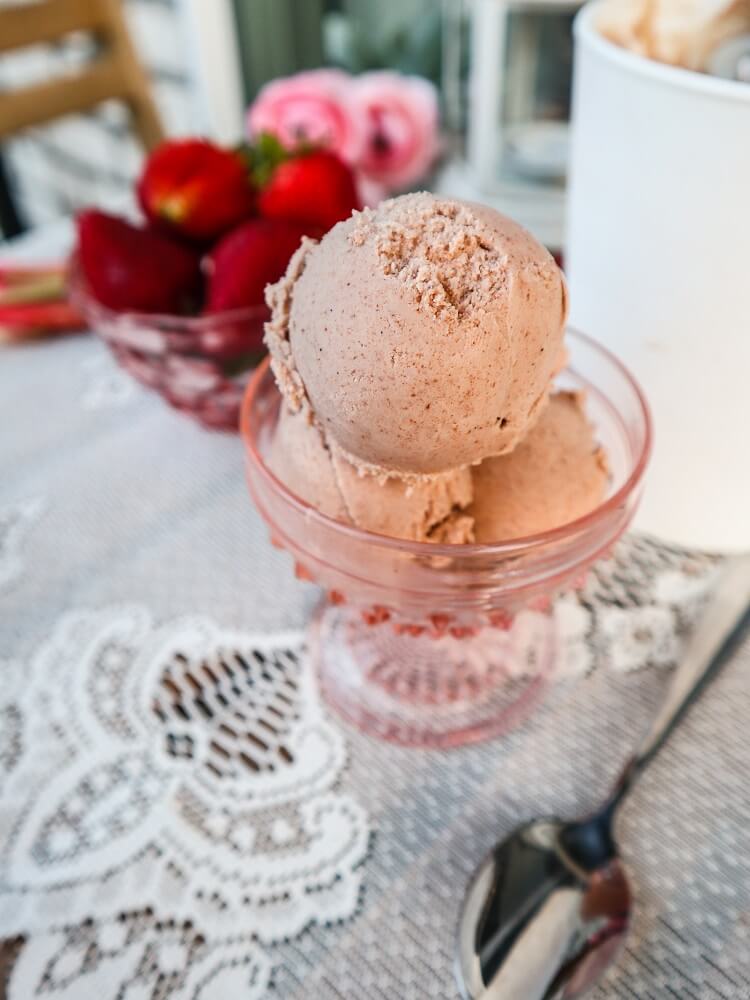 Vegan Roasted Strawberry Rhubarb Ice Cream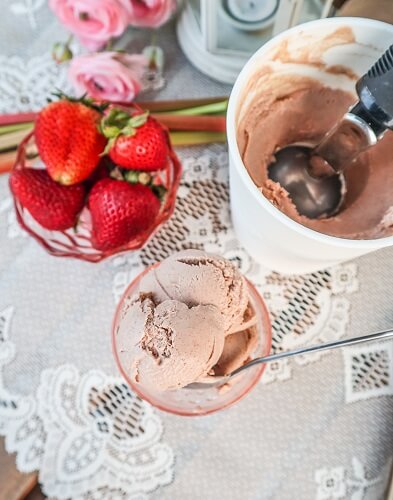 Strawberries and rhubarb together is one of my all time favorite combos!  Ever since I first tried my Grandma's strawberry rhubarb sauce when I was little that she made with the rhubarb growing in her back yard I was a fan.  That stuff was so simple, just strawberries, rhubarb and sugar.  It was so good!  I ate it by the bowlful!  I still love strawberries and rhubarb in desserts.  I had just gotten some rhubarb from my Dad's back yard and I decided that I needed to make something good with it.  Since it has been warm here lately I thought Vegan Roasted Strawberry Rhubarb Ice Cream sounded amazing!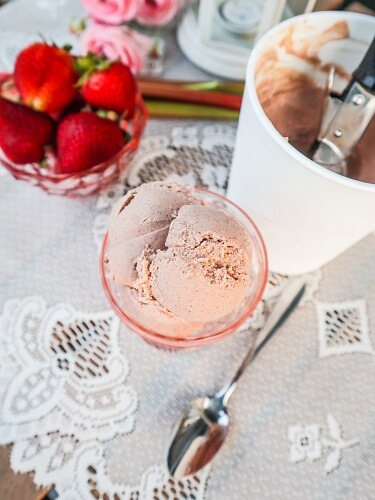 Now roasted ice cream may sound like an oxymoron, but the roasting part takes place before the fruit is added to the ice cream.  I just spread out the strawberries and rhubarb on a sheet pan and roasted them to extreme flavorful deliciousness!  Roasting brings flavors out and intensifies them after all, and this was the idea.  That and it gets rid of excess moisture in the fruit.  Which contributes to more icy ice cream which is actually not a good thing unless you are going for a granita or popsicle or something.  The less ice the more creamy the ice cream.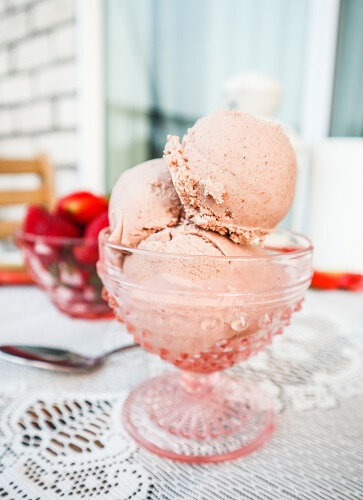 For the ice cream base, I used a combination of coconut milk and almond butter this time.  If you wanted you could use cashew butter I just prefer almond (as much as I love cashews they upset my stomach a bit), and it was what I had on hand. I really couldn't taste it in the finished product, it just contributed to the ice cream's gelato like texture. I also added a touch of vanilla and I sweetened this one with dates because I wanted to go the natural sugars route this time. Plus again, they don't add excess moisture like say, maple syrup would add.  But if you do not want to use dates and maple syrup is easier for you, it is about 1/3 of a cup you would need for this.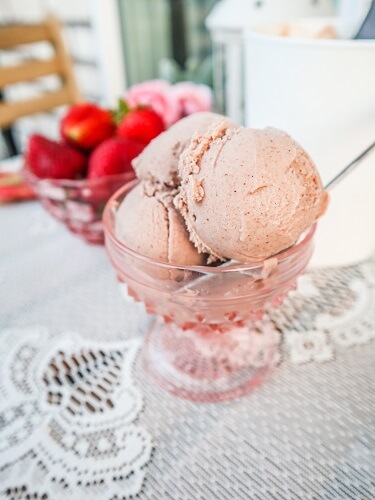 This ice cream turned out super delicious!  It was so creamy and dreamy, the perfect balance of tart and sweet from the strawberries and rhubarb and packed with flavor!  If you have strawberries and rhubarb on hand and are craving some delicious ice cream, definitely give this Vegan Roasted Strawberry Rhubarb Ice Cream a try this spring or summer!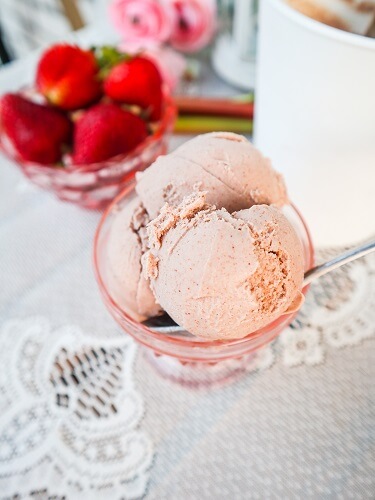 Vegan Roasted Strawberry Rhubarb Ice Cream
Makes 3 cups
Ingredients:
coconut oil spray for pan
1 1/2 cups strawberries
1 1/2 cups sliced rhubarb
1 15 oz can full fat coconut milk
1/2 cup almond butter or raw cashew butter
3/4 cup soft, pitted medjool dates (if they are not soft, soak them in filtered water for 30 minutes before using)
1 tsp pure vanilla extract
Instructions:
Preheat the oven to 375F degrees, and line a sheet pan with parchment, lightly oiled with coconut oil.
Spread out the strawberries and rhubarb on the parchment and place in the oven. Roast until the fruit is tender, about 30 minutes. Remove from the oven and let cool completely.
Combine the fruit with all other ingredients in a blender and blend until smooth.
Pour into an ice cream maker and process according to directions.  Alternatively, if you do not have an ice cream maker, pour it into a bowl, and whisk every half hour until it is to the consistency of a thick malt.
Pour into a freezer safe container with a lid, and continue to freeze until firm enough to scoop (at least 4 hours or overnight). If it becomes too firm, simply let it sit out for 15 minutes before serving.
(Visited 166 times, 1 visits today)