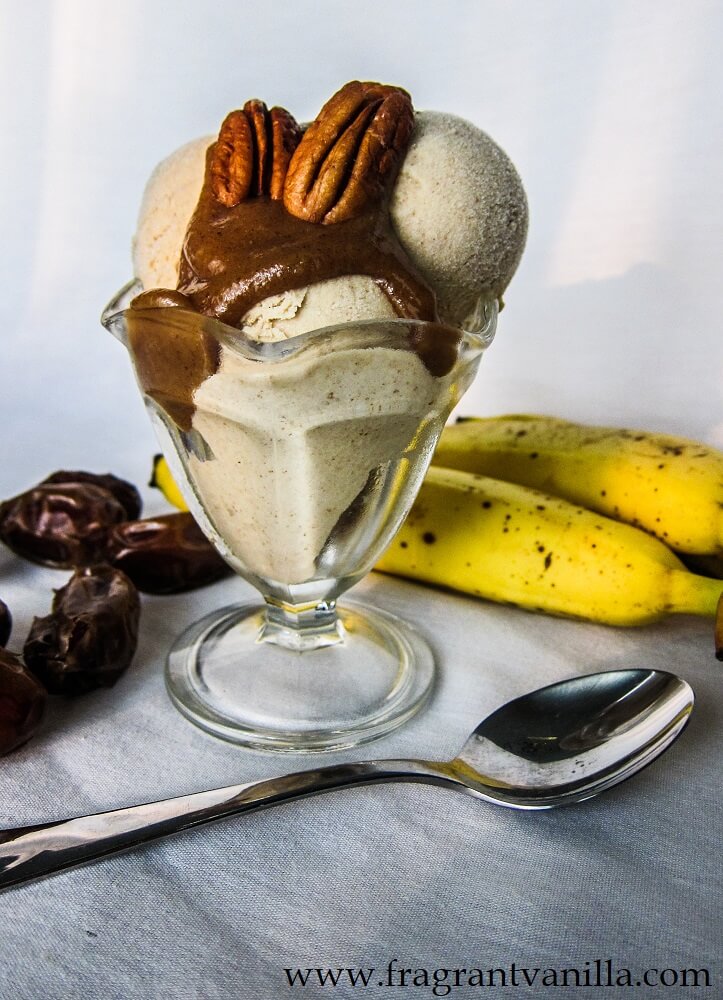 Vegan Roasted Banana Caramel Ice Cream
We all get over-ripe bananas on our counters from time to time, and although you can make banana bread or smoothies, I decided to make some ice cream last week with mine.  I know you can make banana nice cream and use just bananas, I think the texture is a little light for me when I want actual rich ice cream, so I gave mine a coconut base along with the bananas. I like more of a gelato type smooth texture going on that doesn't get all icy once put in the freezer.  I decided to roast my bananas to get the ultimate banana flavor.  If you have never roasted or cooked your bananas before using them in dessert, you need to try it, they are amazing.  Think banana's foster. Not only that, it gets rid of some of that extra moisture that might contribute to adding extra water liquid that makes for hard frozen ice cream.  I didn't just make a plain banana ice cream though, I decided to make a banana caramel to make it even more amazing.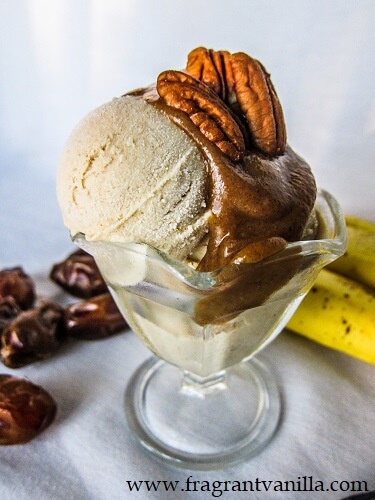 So, I added dates and pecan butter along with some vanilla extract, and some sea salt to give it a sort of salted caramel vibe going on.  I also added in a Tbsp of bourbon.  Not only for the delicious flavor, but when you add a little alcohol to your ice cream base, it stays more soft once frozen.  Just don't add too much or it will not freeze.  This base was luscious, and it tasted kind of like an amazing bananas foster malt.  Once it was chilled, took its time in the ice cream freezer and was ready to go, I decided that it needed even more caramel.  Not because it actually needed it, because it was amazing just like that.  But I love to add gooey toppings to my ice cream.  I think it goes back to the days when I used to build ice cream sundaes at my Dad's house, and I would always use fudge, caramel and butterscotch.  Man was that good. So I still do that, only with my healthy date caramel usually.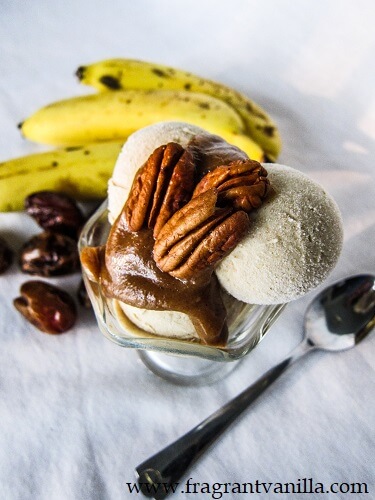 I think caramel was my all time favorite topper. Yes, even over hot fudge. This ice cream was super delicious with the date caramel too!  If you have over ripe bananas on hand and are are in the mood for some decadent ice cream, but don't want to have to buy it at the store, you need to give this a try!  Even if you don't have an ice cream maker, I have included instructions for how to make it.  I hope you are all having a wonderful week!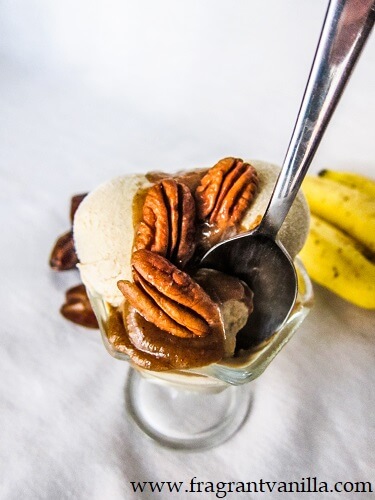 Vegan Roasted Banana Caramel Ice Cream
Makes about 3 ½ cups
Ingredients:
Ice Cream Base:
3 medium organic bananas
1-2 Tbsp maple syrup
1 15 oz can organic full fat coconut milk
1/2 cup pecan butter or almond butter
1/2 cup pitted medjool dates (if they are not soft, soak them in filtered water 30 minutes and drain well before using)
¼ tsp sea salt
1 Tbsp bourbon (make sure it is vegan on Barnivore)
2 tsp pure vanilla extract
Caramel Topping (optional):
3/4 cup pitted medjool dates (soaked as above if not soft)
2 Tbsp pecan butter or almond butter
1 tsp pure vanilla extract
1/8 tsp sea salt
¼ cup filtered water (or as needed)
Directions:
To make the roasted bananas, preheat the oven to 400F degrees, and line a sheet pan with parchment.  Peel the bananas, and cut them in half lengthwise.  Place cut side down on the pan, and drizzle with a few Tbsp maple syrup. Place in the oven and bake for about 30 minutes until they are soft, and gooey.  Remove from the oven and let cool.
To make the ice cream base, blend all ingredients (including the bananas) in a high speed blender until smooth.  Pour into an ice cream machine, and process according to package directions.  Or, if you do not have an ice cream maker, pour into a bowl, place in the freezer and stir every 30 minutes until the consistency of soft serve.
Meanwhile, to make the caramel topping, combine all ingredients in a blender and blend until smooth adding a little more water if needed if the caramel is too thick.
Once the ice cream has finished churning, pour it into a freezer safe container with a lid.  Place the ice cream in the freezer and allow it to freeze until firm enough to scoop.
Serve with the caramel on top!
(Visited 229 times, 1 visits today)