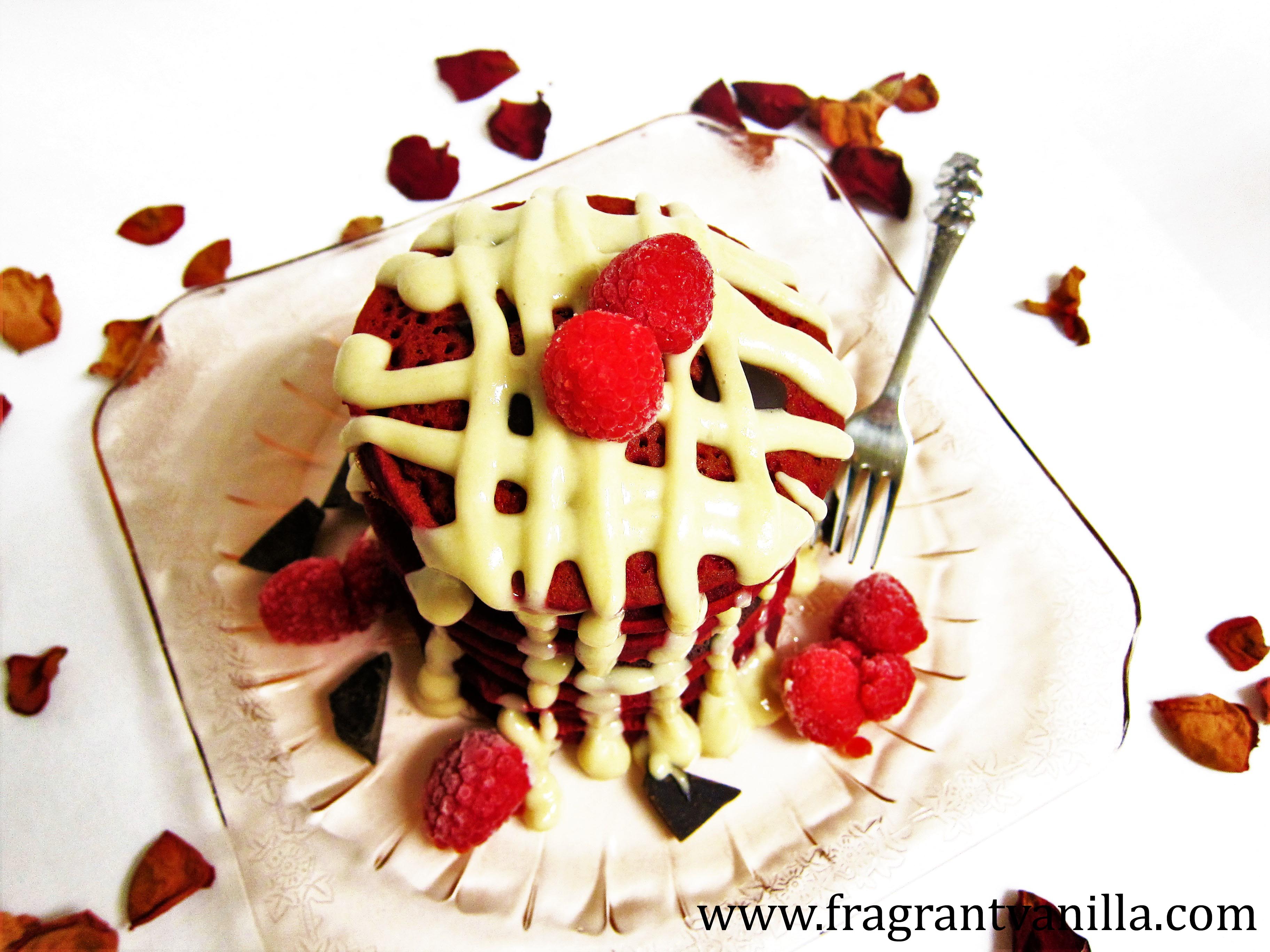 Vegan Red Velvet Chocolate Chunk Pancakes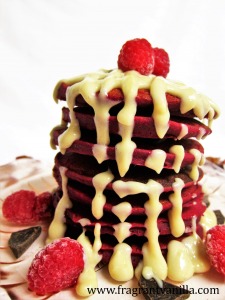 Red velvet cake is sexy.  That lovely color, that sweet flavor, and that luscious cream cheese frosting. Crave worthy.  And definitely Valentine's day worthy.  But I know you all are not going to go bake a red velvet cake for you and your special someone. That is a lot more work than most of us are willing to commit to, plus some people are nervous about frosting.  Well, what if you could still enjoy red velvet on Valentine's day in pancake form?  And, include chocolate?  Hell yes right?! Well that is what Eric would say.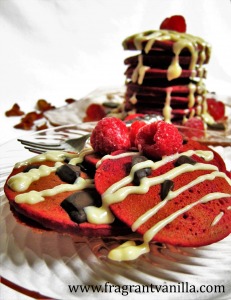 He loves anything sweet or with chocolate or cake themed.  So, I made some Chocolate Chunk Red Velvet Pancakes the other night, because I was given some beets, and I thought this was the perfect use for them!  They are a lot less work than a cake, but still just as delicious.  I made a "cream cheese" drizzle for them as well, because they had to have the frosting in some form.  Frosting is an important part of the cake!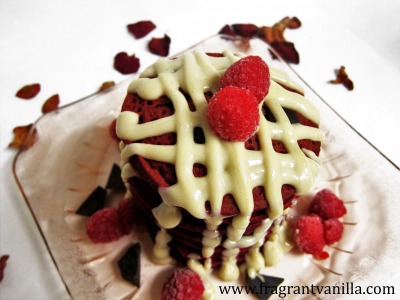 They cooked up pretty quickly, and I have to mention, I did not mix the chocolate chunks in, but instead pressed them into the tops of the pancakes.  Since my chocolate melts quickly, and I did not want it making my griddle messy with burning chocolate).  The chocolate was still plenty gooey, and it was rich against the sweet pancakes and gooey cream cheese drizzle.  They were simply heavenly.  I love making pancakes to share with a loved one, and these would be perfect to make on Valentine's day morning.  Or whenever...because no one is going to turn down these made with love pancakes!
Vegan Red Velvet Chocolate Chunk Pancakes
Serves 2-3
Pancakes:
1 1/2 cups gluten free all purpose flour
2 tsp baking powder
1/2 cup pureed red beets*
1 1/4 cups thin coconut milk
2 tsp pure vanilla extract
1/4 tsp sea salt
2 Tbsp maple syrup (or to taste)
about 1/2 cup vegan dark chocolate chunks
coconut oil for cooking pancakes
Cream Cheese Drizzle:
1/2 cup full fat coconut milk chilled until very cold (only the thick part from the top of the can)
1/3 cup raw cashew butter
1 Tbsp maple syrup
1/2 tsp cider vineger
2 tsp pure vanilla extract
filtered water as needed
In a food processor, combine all pancake ingredients but the chocolate chunks and process until just blended, pour into a bowl and set aside.
To cook pancakes, preheat oven to 110 degrees.  Heat a large non-stick pan over medium heat and add a little coconut oil to coat the bottom.  Once hot, add the batter in 1/4 cup amounts (I did 3 at a time, but it depends on your pan), and let cook for about 2-3 minutes on the first side until set and starting to brown, then flip with a spatula, press some of the chocolate chunks into the top and cook another 2-3 minutes.  When cooked, place on a plate and keep warm in the oven while you repeat the process with the remaining pancakes (or you may serve them as you cook them, keep in mind, the chocolate may get runny the longer you keep them in there).
To make cream cheese drizzle, mix together ingredients in a bowl, and whisk together until combined (if it is too thick add a little filtered water, you want to be able to drizzle it). Top the pancakes with the cream cheese drizzle to serve (I like to put mine in a ziplock bag with the corner cut off and squeeze it out).
*I chopped it up, threw it in the high speed blender, and then used it in the recipe.
(Visited 704 times, 1 visits today)