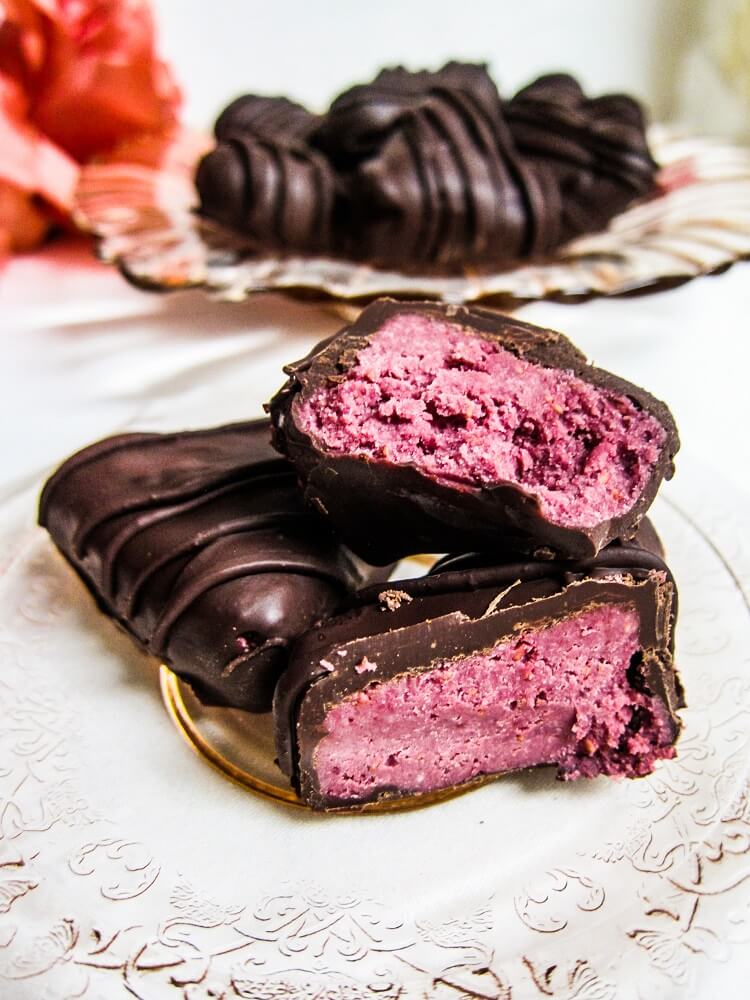 Vegan Raspberry White Chocolate Truffle Hearts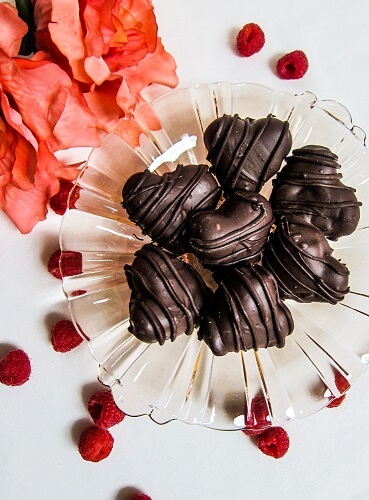 Valentine's Day is a month away now, so I figure I can start making Valentine's Day treats.  Because one can never have too many of those, right?  When I was little, I loved the candy part of Valentine's Day the most.  I know, it should be about celebrating love and all, and that is what I most appreciate about it now, being able to spend time with the ones I love and not about receiving candy and flowers and what not.  But when you are 8 you just want to eat candy and don't know much about love.  Valentines candy was awesome because in my school you would get a bunch from your classmates along with the Valentines in your box that you would all give to each other. Not only that, my Grandma also always gave me a nice big box of chocolates.  It was awesome to go through the box and try to guess what they were while eating them. I still like to make Valentine's Day treats though.  Any excuse for me to make things that are heart shaped, or pink, or chocolate I am in. And I even sometimes share them, haha.
So on my day off I decided to make some Vegan Raspberry White Chocolate Hearts.  I haven't made any chocolates since Christmas and I am kind of missing them.  These are fun to make too. You get to shape the filling sort of like play dough.  Or at least that is what I do, because I don't have the right size of fancy heart molds and I like plenty of filling.  For the filling on these I used some Raw Guru cacao butter for the base, as it is the foundation and the essential ingredient for white chocolate.  At least real white chocolate.  None of that fake other oil stuff going on here that you might find if you were buying store bought candy.  Trust me it makes all the difference if you use real cacao butter in your chocolate and white chocolate.  The Raw Guru cacao butter smells amazing too.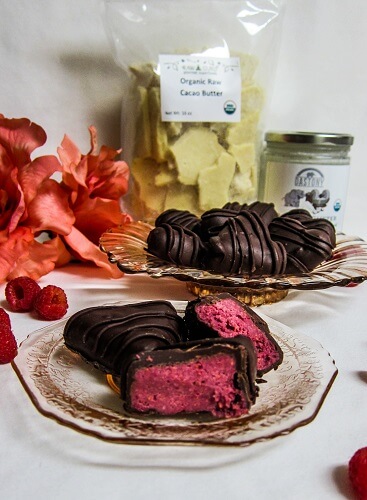 Next, I added in a little cashew butter and Dastony coconut butter to make the filling creamy.  Lastly some freeze dried raspberries, vanilla and maple syrup.  You might be wondering why I use freeze dried berries and not fresh.  I do so because they don't add extra moisture to the chocolates, they are really intensely flavored and it keeps these a little more shelf stable. I also use the freeze dried berries for things like a raspberry frosting where I want color and flavor but I don't want any extra moisture.  They work perfect!  I get mine at Trader Joes, they have several different types of berries.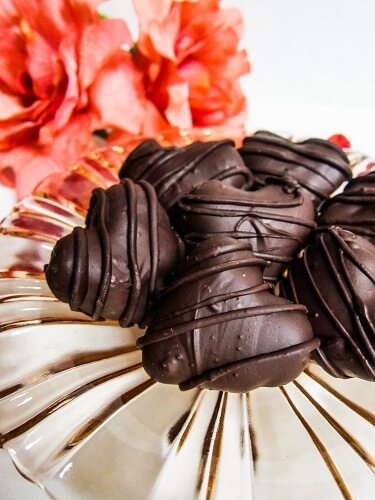 The filling for these truffles was super delicious.  I could have eaten it with a spoon.  But of course then I wouldn't have truffles. Once they were all shaped and set, I dipped them in a home made dark chocolate.  Now of course if you didn't want to make your own, you could use your favorite store bought dark chocolate, but I had all of the ingredients to make it so I thought, why not?  These turned out super delicious.  They would be the perfect little treat to make for Valentine's day for your loved ones.  If you can share them after you taste one that is.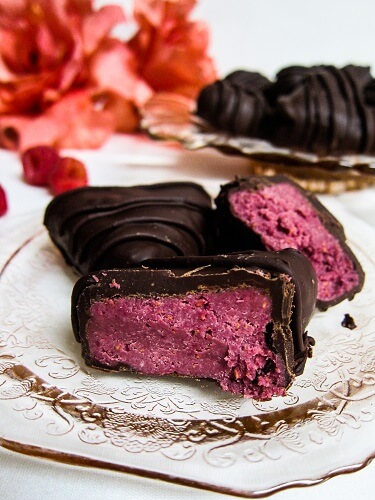 Vegan Raspberry White Chocolate Truffle Hearts
Makes 10 chocolates
Ingredients:
White Chocolate:
1/4 cup Raw Guru cacao butter (2 oz) or coconut oil if unavailable
2 Tbsp raw cashew butter
1/4 cup Dastony coconut butter
1 tsp pure vanilla extract
2 Tbsp maple syrup
1 cup freeze dried raspberries
1/4 cup filtered water
Dark Chocolate:
Directions:
Combine all of the white chocolate ingredients but the berries and water over a double boiler, and whisk until smooth.
Pulverize the berries in a blender until fine, then whisk into the white chocolate along with the water. Place in the freezer for about 15-20 minutes until it is firm enough to scoop. Scoop into 8 balls, rolling them with your hands and shaping them into little hearts.   Place on a parchment lined tray, and place back into the freezer until firm, about 30 minutes.
Meanwhile, to make the dark chocolate, combine all ingredients in a double boiler, and whisk until combined and melted.
Once the filling has firmed up, dip each chocolate into the dark chocolate, being sure to let the excess drain off, and place back onto the tray (I like to set mine on a fork to allow it to drain better). Once they are all dipped, set them in the freezer until hardened.
Store any leftover truffles in the refrigerator.
(Visited 1,921 times, 1 visits today)