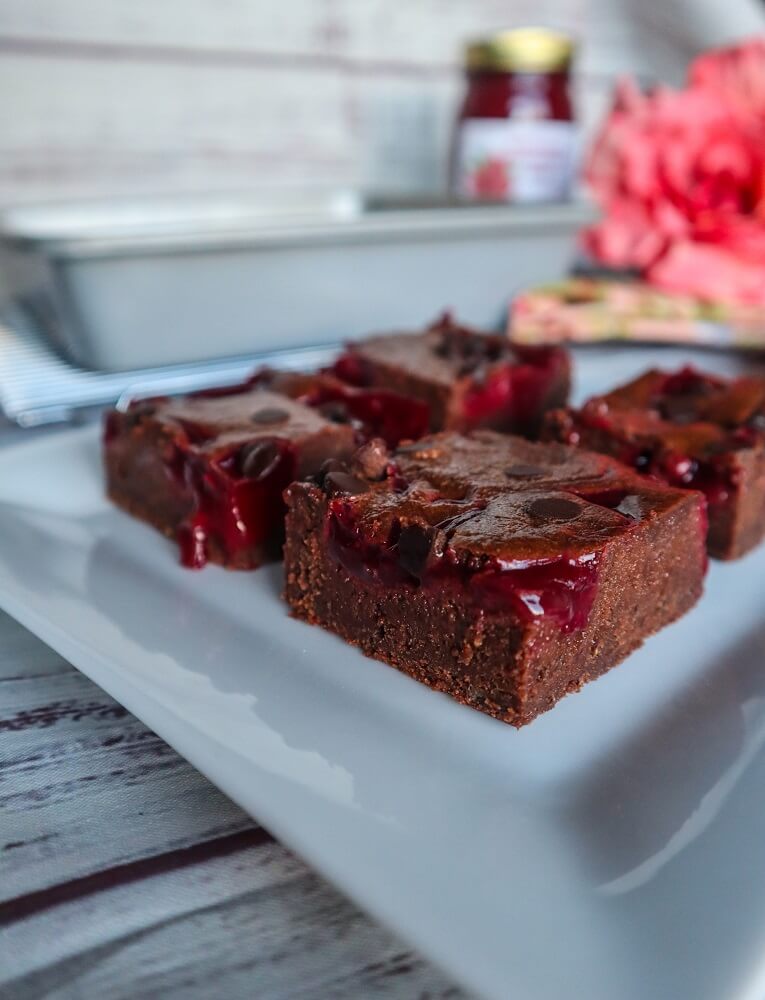 Vegan Raspberry Truffle Swirl Brownies
I apologize for my lack of new posts lately, but I was busy getting married!  I tied the knot last weekend, and now I am officially Amy Lyons O'Neil!  We had a lot of fun at our wedding, it was small, about 20 of our family members and closest friends.  We had planned on having it all outside but the weather had other plans with a downpour happening right before the ceremony so we held it inside the chapel at our church.  It was still lovely, and although we didn't have the outdoor wedding we still took a lot of outdoor photos before it rained so I was thankful for that.
No, I did not make my own wedding cake, we bought two from Vegan East (a local bakery in Minnesota) and they were amazing! I highly recommend them if you live in the area, this is where Eric and I go to pick up cupcakes when I don't feel like making them.  We had our wedding dinner at Nico's Taco Bar on Como in St. Paul (Minnesota), and it was sooo good!  Tacos are our favorite and we love their food so it was the perfect place to have the reception.  I think everyone had a good time (including ourselves and that is what matters most.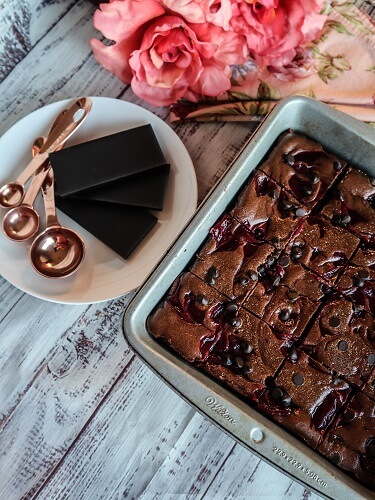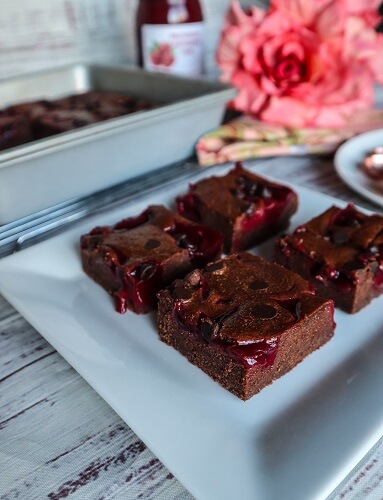 So now that the wedding is over I finally have some time to make recipes again.  When Eric's dad was in town for the wedding he gave us some of his amazing home made jam, so I decided to make something with that first.  He actually grows his own raspberries for it and makes it from start to finish then sells it at the farmer's market in Michigan where he lives.  It is seriously the best jam ever! I decided it would be awesome in some raspberry truffle brownies!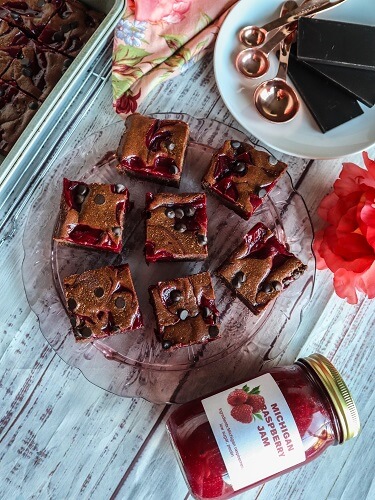 I started out with my fudgy brownie base for these.  I am a fudgy brownie person all the way, to me a cakey brownie is just cake but don't call it a brownie.  I like them fudgy and I like the inside pieces!  So I made my brownie base, then a layer of chocolate truffle/cheesecake.  I can't really call it one or the other because I used my cheesecake swirl recipe for brownies but it tastes like truffle and has the right consistency.  I then swirled it with the raspberry jam and topped it off with chocolate chips for good measure.
These smelled amazing while baking!  I could not wait to try one, but I had to wait over night because I wanted them to set so I could cut them nicely.  When I finally got to try one they were heavenly!  Rich and fudgy with a creamy truffle topping, so perfect with the gooey raspberry jam!  If you are a chocolate fan definitely give these a try!  Just be sure to use good quality raspberry jam it makes all the difference!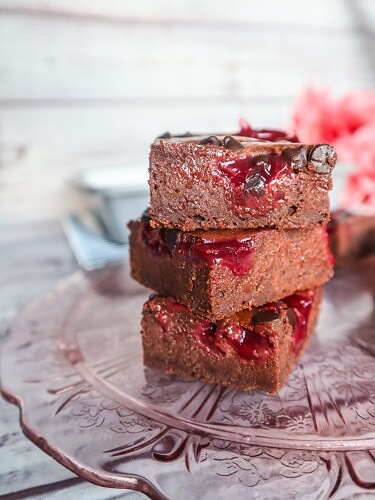 Vegan Raspberry Truffle Swirl Brownies 
Makes 16
Truffle swirl:
3/4 cup unsweetened coconut cream (from the top of a chilled can)
1/2 cup almond butter
2 Tbsp maple syrup
2 Tbsp cornstarch
1/8 tsp sea salt
3 Tbsp cacao powder
Brownies:
1/4 cup avocado oil

1/2 cup apple sauce

1 cup coconut sugar 

2 Tbsp ground flax seed mixed with 1/4 cup plus 2 Tbsp filtered water

2 teaspoon vanilla extract

1 cup organic whole wheat pastry flour

1/2 cup cacao powder or unsweetened cocoa powder

1/4 teaspoon sea salt

1/2 cup raspberry jam
1/4 cup vegan dark chocolate chips or chunks
Ingredients:
To make the truffle topping, combine all ingredients in a blender and blend until smooth.  Pour into a bowl and set aside.
To make the brownies, pre-heat the oven to 375F degrees. Whisk together the sugar, avocado oil and applesauce until well combined and the sugar is starting to break down.
Add the flax water mixture, and vanilla and beat until smooth.
Add the flour, cacao powder and sea salt and beat until smooth.
Scrape the batter into a greased 8x8 inch pan, then pour the swirl over it, then drop the jam by the tsp over that. Sprinkle with the chocolate chips or chunks.
Place in the oven, and Bake for about 30 minutes or until set (but do not over bake).
Let cool completely before cutting into bars.
(Visited 536 times, 1 visits today)