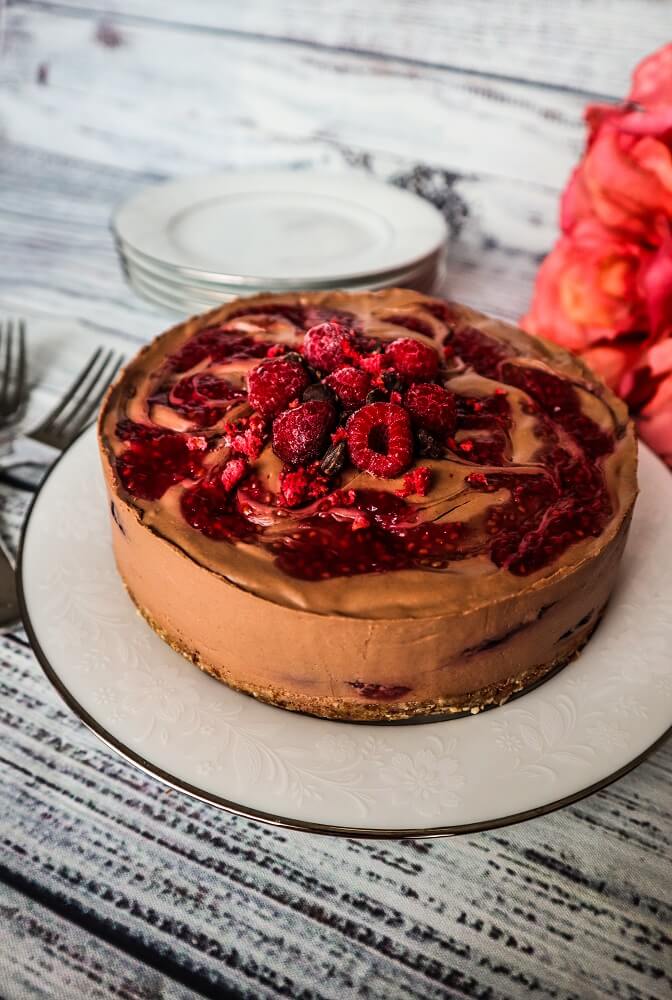 Vegan Raspberry Swirled Chocolate Cheesecake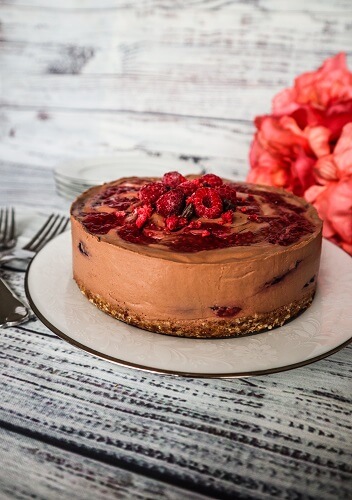 Cheesecake has to be my all time favorite dessert!  Even before I was vegan I would make it or buy it a lot. There is just something so crave worthy about the creamy rich texture, and I love that I can make whatever flavor I am craving at the time. I have over 50 recipes for cheesecake on this blog alone. But I am still coming up with new ones though!  I make most of my cheesecakes coconut cream based, cashew based or even a combination of coconut cream and chickpeas (which sounds odd but it works really well and tastes great).  But never a tofu cheesecake surprisingly, which seems to be a vegan staple. Well, I finally made one last weekend.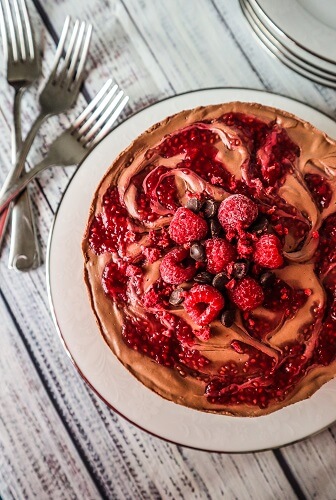 Tofu has a cheese like texture when treated right, so why not?  Also it is a little bit less heavy than the coconut cream on my stomach, so I figured why not give it a try!  Also, it is high in protein, which is a nice perk as well for someone like me who works out a lot and I like to get a little extra when I can.  For the crust, I used a simple almond, oat and date combo and it worked out well and was easy to make. If you wanted it nut free, you could use sunflower seeds, and sunflower seed butter instead of the almond.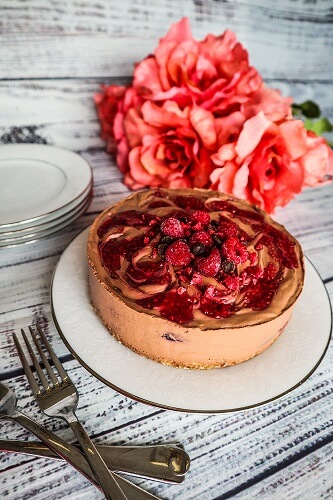 The filling was really simple to make, tofu, maple syrup, cacao butter and sea salt buzzed up in a blender.  It tastes like rich chocolate mousse thanks to the cacao butter giving it a little richness and it was dreamy!  I made a quick raspberry jam to swirl into it, because raspberry and chocolate are so heavenly together!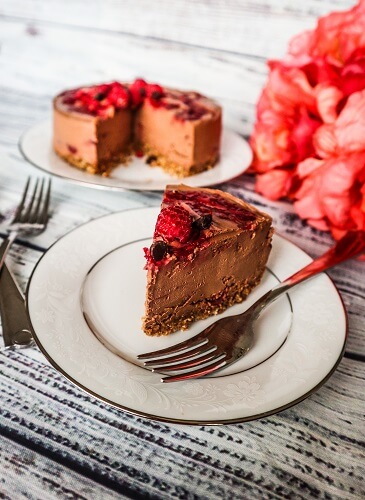 The cheesecake turned out rich and creamy, slightly less heavy than the coconut cream ones, and a little more mousse like.  It had a rich chocolate flavor, and that tart sweet raspberry swirled into it was perfect!  If you are a fan of chocolate, definitely give this a try!  It is easy to make and so good! I love that it doesn't require baking also!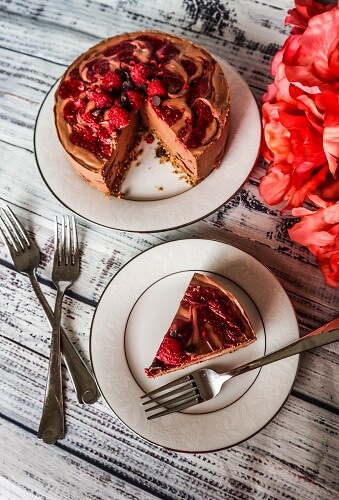 Vegan Raspberry Swirled Chocolate Cheesecake
Makes one 6 inch cake
Crust:
1/4 cup roasted almonds (for a nut free version, use sunflower seeds)
1/2 cup organic gluten free rolled oats, or quinoa flakes
1/4 cup pitted medjool dates (if not soft, soak them in filtered water first and drain well)
1 Tbsp almond butter
1/8 tsp sea salt
Swirl:
3/4 cup raspberries, mashed 
1 Tbsp maple syrup
1 tsp cornstarch
Filling:
2 cups organic firm silken tofu
1/2 cup maple syrup
1/4 cup cacao powder
1/8 tsp sea salt (or to taste)
1/2 cup plus 2 Tbp cacao butter, warmed to liquid
Instructions:
Oil a 6 inch spring form pan, and line the bottom with parchment paper.
To make the crust, place all ingredients in a food processor, and process until crumbs and starting to hold together (if they are not holding together when squeezed, add a few tsp filtered water and blend). Press into the bottom of the prepared pan.
To make the filling, place the raspberries, maple syrup and cornstarch in a saucepan, and cook over medium heat until thickened.  Remove from heat and let cool. 
To make the filling, combine all ingredients in a high speed blender or food processor and blend until smooth.
To assemble, pour half the filling over the crust, then drop half the raspberry swirl by the tsp over it. Swirl with a knife. Pour the remaining filling over that, and then drop more of the jam over it, and swirl with a knife. Tap on the counter to level. 
Place cheesecake in the freezer until it is set for about 4 hours (or overnight in the refrigerator if you are not in a hurry, but cover the top so it doesn't dry out).
Remove from the freezer, un-mold and enjoy!  Store any leftover cake in the refrigerator.
(Visited 1,243 times, 1 visits today)