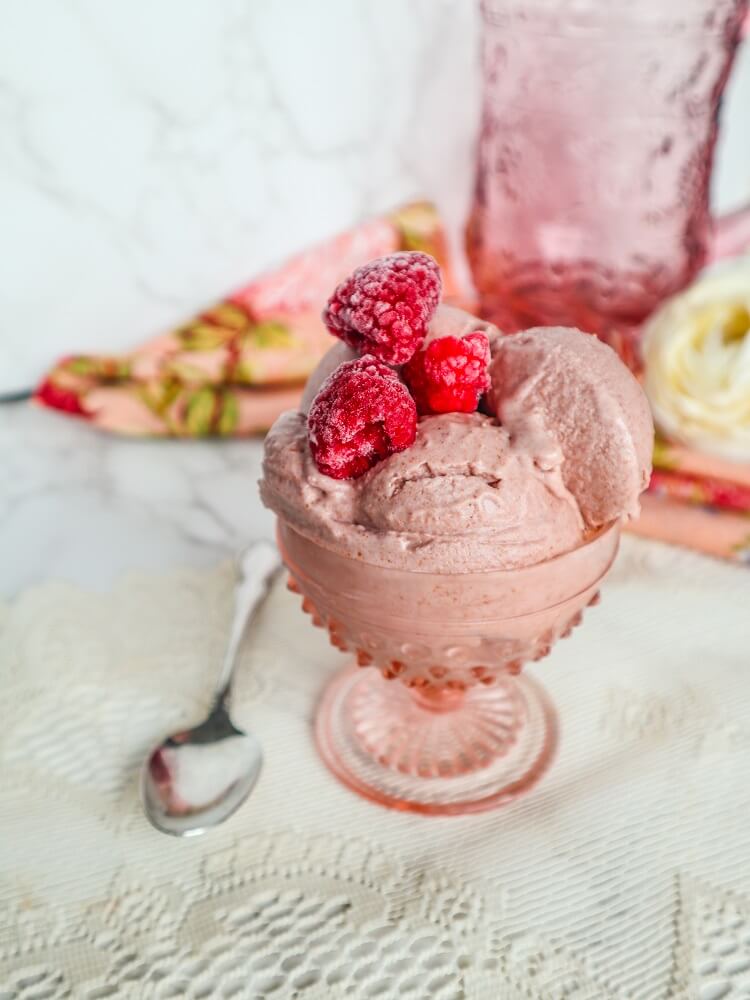 Vegan Raspberry Rose Gelato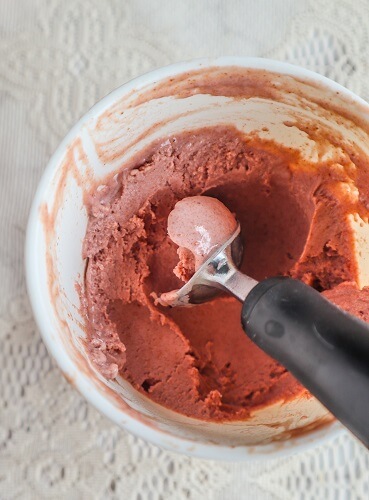 It has been really hot and humid here in Minnesota lately and I couldn't think of anything more lovely than some home made cooling ice cream, so I decided to make some yesterday!  Although popsicles and granitas are delicious and light, I really wanted some rich and creamy more along the lines of gelato.  Like something you would get in an ice cream shop!  I also wanted to use ingredients that I had on hand, so I decided to make a Vegan Rasberry Rose Gelato!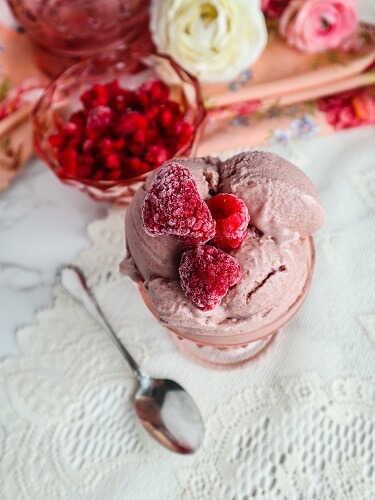 The combination of sweet berries and rosewater is a match made in heaven!  Honestly it is a combo that I should use more often, especially in the summer!  I got my rosewater from a local business called House of Halva and it is a good sized bottle that has lasted me a while.  For this ice cream base, I used a combination of coconut milk and raw almond butter because it makes it so rich and creamy!  But if you preferred to make it with cashew butter that would also be delicious, I just didn't happen to have any.  I had the almond because I make my own at home for other recipes.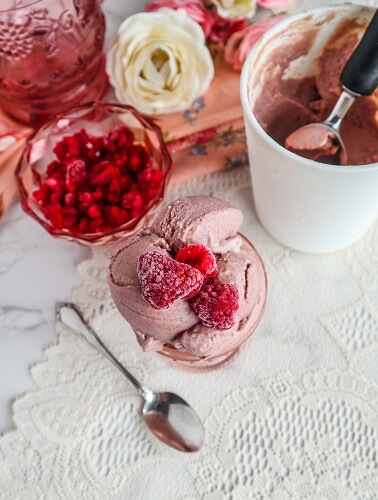 To sweeten the gelato, I used dates, because they are just the right amount of sweet and don't add a bunch of moisture to the ice cream. They might tint the color a little more brown than vibrant but I don't mind.  If you didn't want to use dates, you could use about 1/3-1/2 cup maple syrup or agave nectar, it just might turn out a little more icy.  I used frozen berries this time, but you can use fresh or frozen, whichever you have on hand.  I scented this with the rosewater I mentioned earlier and a little vanilla and it was perfect! The ice cream base tasted delicious, and I could not wait to try it frozen!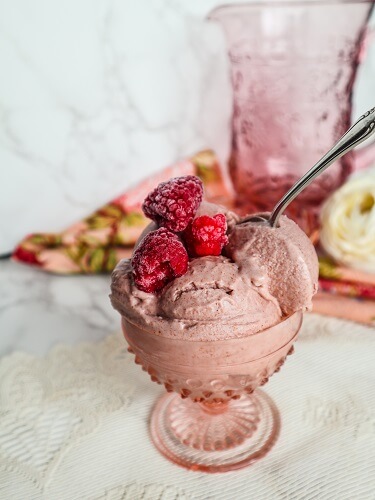 The ice cream turned out sooo heavenly!  Rich and creamy, just the right amount of sweetness and tartness from the raspberries with the heavenly aroma of vanilla and rosewater!  The texture was perfect too, it reminded me of a gelato, which is why I am calling it that (even though I know someone might come at me and claim that it is technically not because it doesn't have eggs yada yada yada, but guess what?  This is a vegan page).  If you are looking for something to cool off with and indulge in this summer, definitely give this Vegan Raspberry Rose Gelato a try!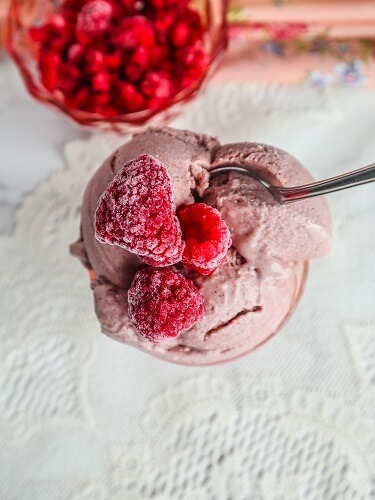 Vegan Raspberry Rose Gelato
Makes 3 cups
Ingredients:
1 15 oz can full fat coconut milk
1/2 cup raw almond butter
1 1/2 cups frozen or fresh organic raspberries
3/4 cup soft, pitted medjool dates (if they are not soft, soak them in filtered water for 30 minutes before using)
1 tsp pure vanilla extract
1 Tbsp rosewater
Instructions:
Combine all ingredients in a blender and blend until smooth.
Pour into an ice cream maker and process according to directions.  Alternatively, if you do not have an ice cream maker, pour it into a bowl, and whisk every half hour until it is to the consistency of a thick malt.
Pour into a freezer safe container with a lid, and continue to freeze until firm enough to scoop (at least 4 hours or overnight). If it becomes too firm, simply let it sit out for 15 minutes before serving.
(Visited 345 times, 1 visits today)