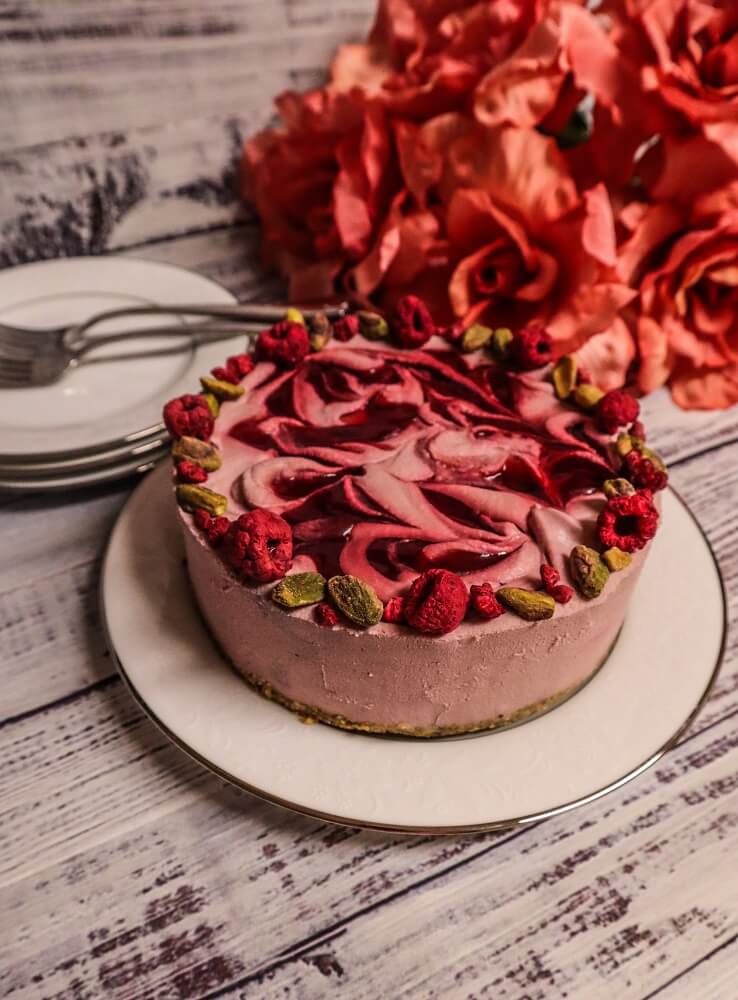 Vegan Raspberry Rose Cheesecake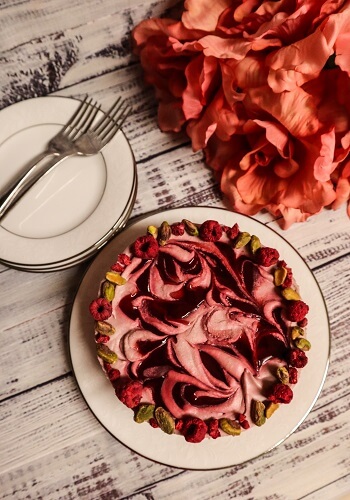 I know we are far from summer, but I am missing summer berries, so I thought I would make a raspberry cheesecake to remind me of it.  When I was little my favorite kind of cheesecake was the kind with the raspberry swirls.  Whenever someone had one of those cheesecake variety packs with all different flavors that was always the one I chose, even above chocolate and caramel. I am a big fan of fruit in desserts, and the contrast of the sweet tart raspberries to the sweet vanilla cheesecake is heavenly.  Well, I thought I would make one similar to that and take it up a notch by adding more raspberries to the cheesecake part and a little rosewater to make it smell absolutely heavenly!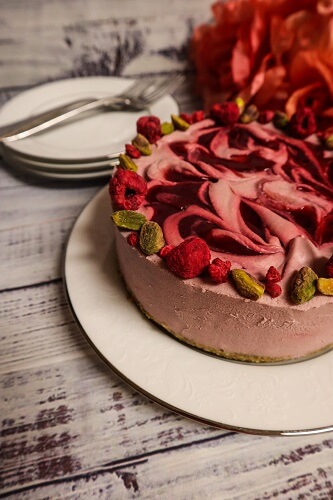 I used to always make all my vegan cheesecake with cashews as the base, but later that changed to coconut because cashews are spendy, and my body doesn't always like them.  Also many of my readers were asking for nut free versions.  Now I have revamped that cheesecake base to include chickpeas along with the coconut to create a cheesecake that is creamy and rich tasting but not so heavy on the stomach.  Trust me, you can not taste them in there, you would swear it was cashews and chickpeas are the perfect sub for them!  Plus they are cheap and I always have them on hand since I usually just make a large amount then freeze them later for using in my meals.  
I added raspberries, vanilla and rosewater to flavor the cheesecake base and it was heavenly!  I could not wait to try it in its chilled form!  But first I made a crust for it with oats and pistachios, because I think pistachios are so lovely with rose.  If you wanted this cake to be nut free though, you could just use shredded coconut instead.  I swirled the cheesecake with really good raspberry jam to give it loads of raspberry flavor.  Eric's Dad gave us this jam that he made from his home grown raspberries and it is seriously the best I have ever tasted!  It worked perfect in the cheesecake!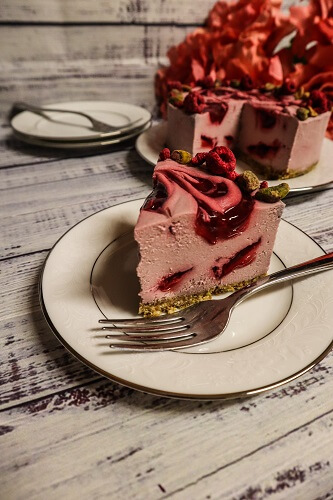 I had to wait overnight for it to chill, but it was worth the wait.  Sooo dreamy and crave worthy!  The base was rich, creamy, smooth and sweet scented with rose, vanilla and berries, and the gooey jam and salty sweet crust were perfect with it!  If you are missing summer too, make this cheesecake! It would also be perfect for upcoming Valentine's Day next month!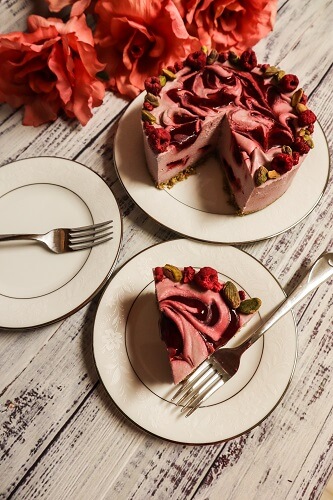 Vegan Raspberry Rose Cheesecake
Makes one 6 inch cake
Crust:
1/4 cup pistachios (for nut free version use finely shredded unsweetened dried coconut instead)
3/4 cup organic gluten free rolled oats, or quinoa flakes
1/4 cup pitted medjool dates (if not soft, soak them in filtered water first and drain well)
1/8 tsp sea salt
Filling:
1 cup full fat coconut cream (I used the thick part of a can of Thai Kitchen organic full fat coconut milk*)
3/4 cup cooked chickpeas
1/4 cup maple syrup
1 tsp pure vanilla extract
1 Tbsp rose water 
1/8 tsp sea salt (or to taste
1/2 cup plus 2 Tbp coconut butter (NOT OIL), warmed to liquid
1/2 cup fresh organic raspberries 
Swirl:
2/3 cup organic raspberry jam
Instructions:
Oil a 6 inch spring form pan, and line the bottom with parchment paper.
To make the crust, place all ingredients in a food processor, and process until crumbs and starting to hold together (if they are not holding together when squeezed, add a few tsp filtered water and blend). Press into the bottom of the prepared pan.
Meanwhile, to make the filling, combine all ingredients in a high speed blender or food processor and blend until smooth.
Pour half the filling over the prepared crust  then drop some of the jam over than randomly (but spaced out) by the tsp as well. Swirl with a knife a few times. Repeat with the remaining filling and jam.
Place cheesecake in the freezer until it is set for about 4 hours (or overnight in the refrigerator if you are not in a hurry).
Remove from the freezer, un-mold and enjoy!  Store any leftover cake in the refrigerator.
*I use Thai Kitchen full fat coconut milk.  If you are using a different brand, just make sure it is the thick type, 2/3 of the can at least should be very thick cream or it will not work in this recipe. 
(Visited 4,093 times, 1 visits today)