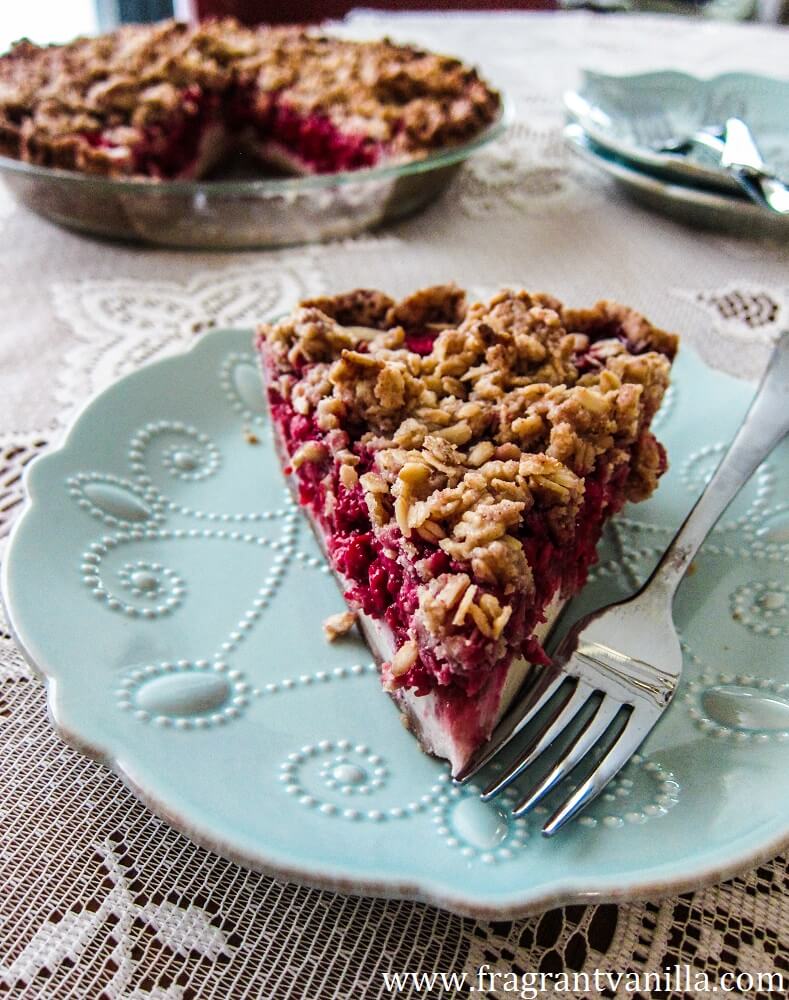 Vegan Raspberry Rhubarb Cream Cheese Pie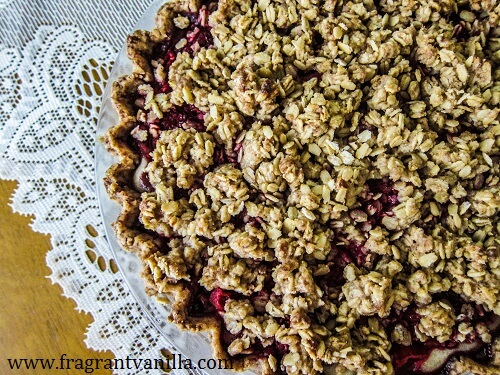 I got a bunch of rhubarb from my Dad's garden recently and made some strawberry rhubarb wine, but I decided that a dessert featuring rhubarb sounded really good as well.  I usually just go with the classic strawberry rhubarb combination, probably because one of my favorite things growing up was when my Grandma made strawberry rhubarb sauce. It was good on ice cream, vanilla cake, or just straight up!  But this time I went with raspberry rhubarb to be a little different and since I had the raspberries on hand. I usually like a creamy element whenever I make a fruit pie, either in the form of ice cream, or coconut cream, but this time I decided to add the creamy element to the pie itself with a cream cheese layer. My Dad used to buy a raspberry cream cheese pie from a local restaurant when I was little and it was amazing!  I knew I could make an even better vegan version.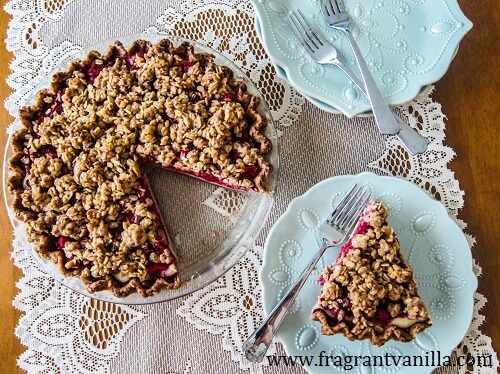 I made a simple pie crust with Bob's Red Mill gluten free flour to allow the fillings to shine and it was perfect!  For the cream cheese, I used a mixture of coconut milk (the thick cream part) and cashew butter.  Once sweetened with a little maple syrup and vanilla it was simply heavenly!  A little arrowroot to thicken it while baking and voila!  Delicious cheesecake type filling.  I kept the raspberry rhubarb simple, using only the fruit, a little maple syrup and some arrowroot to thicken. Lastly, I was torn about the topping and couldn't decide between whipped cream once the pie was cooled or an oat crumble topping, and my Mom helped me decide.  Crumb topping it was.  I have always been a sucker for that too.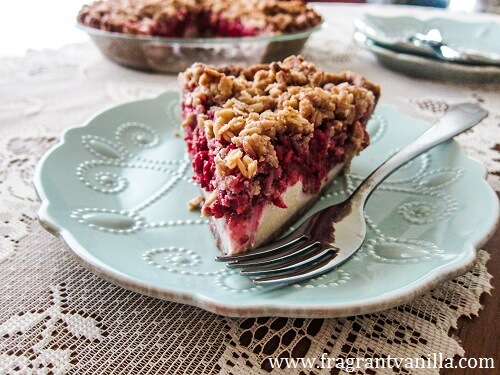 I have to admit I was unsure how exactly this was going to bake up.  if the fruit would become jammy or too watery, or if the cheesecake would set properly.  But it all worked out and it baked up perfect and beautiful!  The crust was buttery and rich, the creamy cheesecake a perfect compliment to the tart sweet jammy rhubarb filling and the salty sweet crumb topping the perfect partner for it all!  This pie was super delicious!  I will have to make it again before the Summer is over.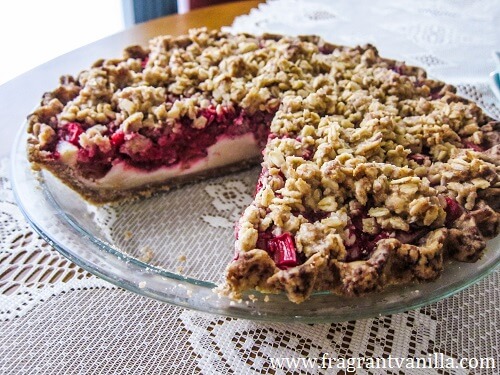 Vegan Raspberry Rhubarb Cream Cheese Pie
Makes one 9 inch pie
Crust:
2 Tbsp coconut sugar or maple sugar
1/4 tsp sea salt
1/4 cup plus 2 Tbsp coconut oil in its solid state
about 3-6 Tbsp cold water
Cream Cheese:
3/4 cup thick organic coconut milk (from the top of a chilled can)
3/4 cup cashew butter
2 Tbsp maple syrup
1/8 tsp sea salt
1 tsp pure vanilla extract
1/2 tsp cider vinegar
2 Tbsp arrowroot starch or cornstarch
Filling:
3 cup organic raspberries
2 cups organic rhubarb
2 Tbsp maple syrup
3 Tbsp arrowroot starch or cornstarch
Topping:
1/2 cup Bob's Red Mill all purpose gluten free baking flour
2 Tbsp coconut sugar
3 Tbsp melted coconut oil
3/4 cup gluten free rolled oats
pinch sea salt
To make the crust, in a large bowl, mix together flour, sugar, sea salt, and spices. Cut in coconut oil with a pastry blender or 2 knives until it is in pea sized pieces. Mix in  just enough water to create a smooth dough that holds together but isn't too sticky. Add more water if needed, and knead slightly until a smooth dough is created. Roll out into a 10 inch circle on a sheet of parchment paper, then use the paper to help you transfer it to an 9 inch pie dish.  Flute the edges, and set aside in the refrigerator.
Pre-heat the oven to 375F degrees.
To make the cream cheese, whisk together all ingredients until smooth and set aside.
To assemble the pie, pour the cream cheese layer over the crust, then mix together the fruit filling ingredients and scatter them over the cream cheese filling.
Place in the pre-heated oven and bake for about  25 min.
Meanwhile, mix together the topping ingredients in a bowl and squeeze with your hands to form clumps.
Scatter the topping over the pie and bake 25 min more until the edges of the crust are lightly brown, and pie is set.  Remove from the oven to a wire rack.
Allow to cool completely before serving.
(Visited 1,586 times, 1 visits today)