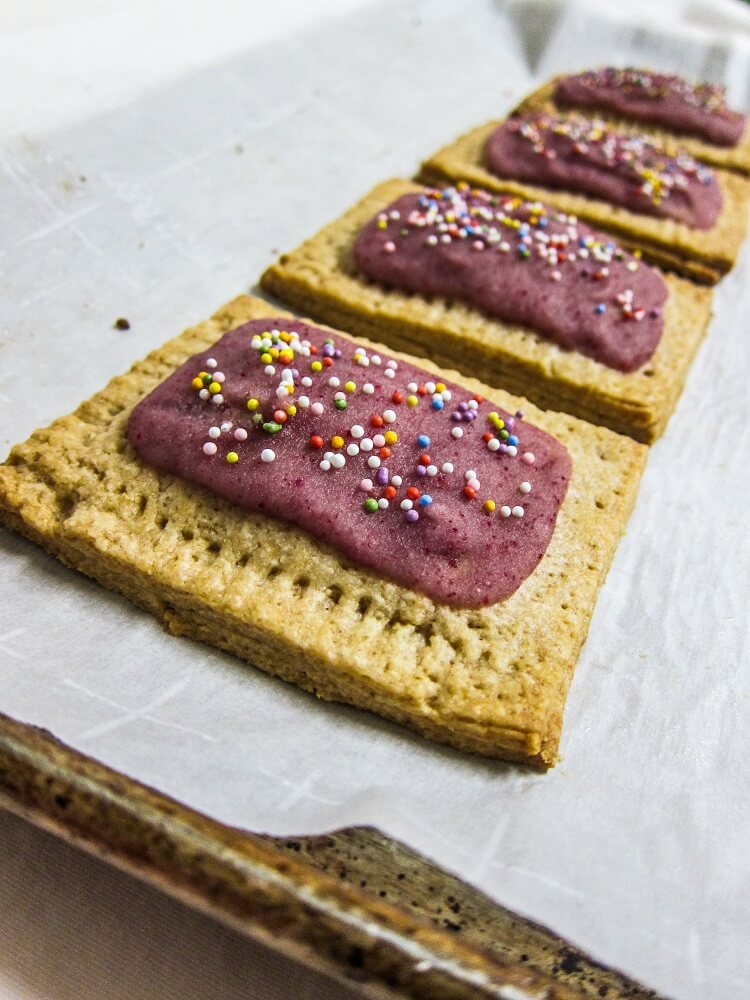 Vegan Raspberry Pop-Tarts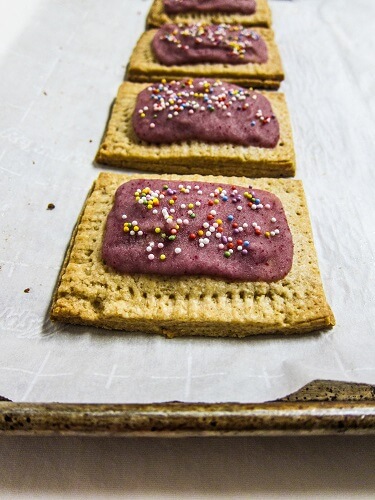 It was hard for my Mom to get me to eat breakfast when I was little. I just wanted to go to school or daycare and hated cereal so I would either eat Nutrigrain bars or Pop-Tarts so I didn't have to sit down and take a lot of time to eat. The Raspberry Pop-Tarts were my favorite. But looking back on it, now that I have had plenty of pastries and real fruit they really didn't taste like real pastries or raspberry at all even if they were amazing at the time. They had sort of a weird raspberry paste inside. I did however like the fact that they were iced and had sprinkles.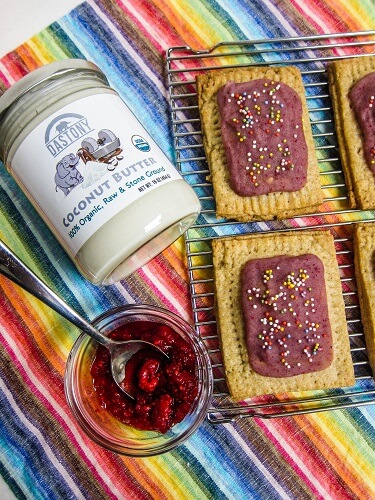 I probably haven't eaten an actual Pop-Tart since high school, but I have made my own at home with some success. No raspberry ones though until last weekend surprisingly. I had some raspberries on hand and was thinking that it would be awesome to make home made raspberry pop-tarts that were way better than those store bought ones I grew up eating. I am all for veganizing things and making them better.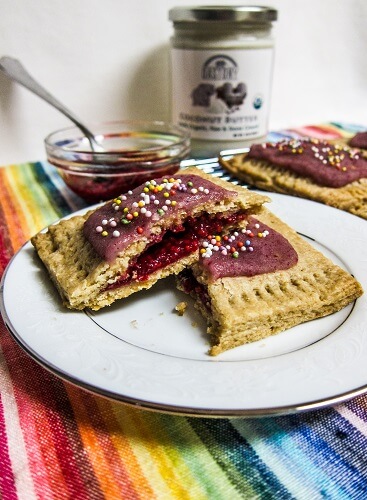 I was excited about these! I made a gluten free classic pie crust and used some home made raspberry jam as the filling. But of course you could use store bought if you have a favorite brand. These are actually pretty simple to make, although they do involve some mixing dough correctly and rolling it out and cutting it. But that is the fun part! Besides eating the finished ones of course. I wanted to put a glaze on them too, like the ones I ate as a kid.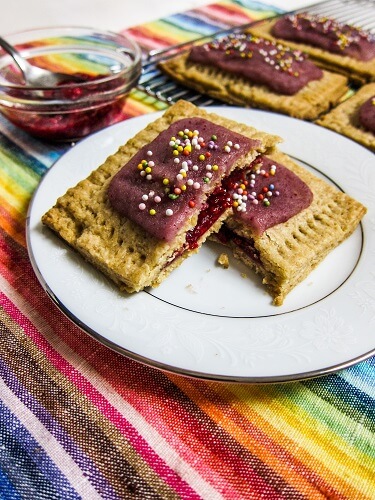 So, I used some Dastony coconut butter from Raw Guru to make a simple but delicious glaze. The finished product was super delicious! Jammy, gooey raspberry filling and a flakey buttery crust with a sweet glaze! They were waaayyyy better than any of the Pop-Tarts I grew up eating! I definitely recommend you try these next time you are craving the Pop-Tarts of your childhood.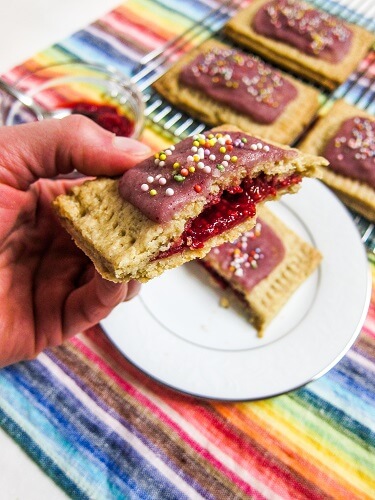 Vegan Raspberry Pop-Tarts
Makes 8
Crust:
1/4 cup coconut sugar or maple sugar
1/2 tsp sea salt
3/4 cup coconut oil in its solid state
about 6-7 Tbsp cold water (or as needed)
Filling:
about 1/2 cup raspberry jam
Glaze:
3 Tbsp coconut butter, warmed to liquid
1 Tbsp raspberry powder (I ground up freeze dried raspberries with a mortar and pestle)
1 Tbsp maple syrup
pinch sea salt
3-4 Tbsp filtered water or as needed
Instructions:
To make the crust, in a large bowl, mix together flour, sugar, sea salt, and spices. Cut in coconut oil with a pastry blender or 2 knives until it is in pea sized pieces. Mix in just enough water to create a smooth dough that holds together but isn't too sticky. Add more water if needed, and knead slightly until a smooth dough is created.
Roll out into a large rectangle and cut into 16 identical rectangles. Chill if too soft before assembling. You want the dough a little pliable, but not so warm that it will break. Preheat oven to 375F degrees.
To assemble, spread about 2 Tbsp jam over half of the dough rectangles (leaving a boarder so you can attach the dough at the sides). Cover with the remaining pieces of dough (I used a small spatula to carefully move them), pressing the edges and crimping with a fork or the edge of something with a flat edge, like a spatula. Bake for about 30 minutes until the crusts are starting to brown lightly. Remove from oven and let cool on a wire rack until warm.
Whisk glaze ingredients together until smooth (adding more water if too thick, you want it to be pour-able). Spoon some of the glaze over each pop tart, and smooth it out to cover the top. Let set before serving.
*If you would rather not make these gluten free, just use the same amount of organic whole wheat pastry flour.
(Visited 248 times, 1 visits today)