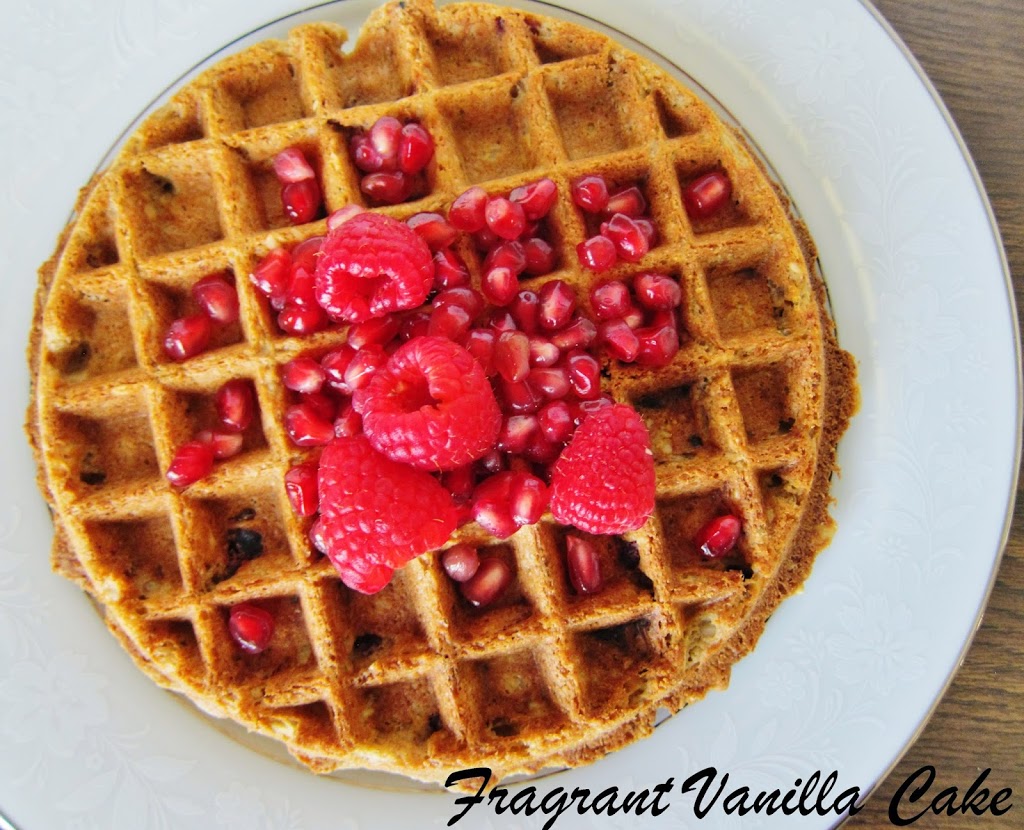 Vegan Raspberry Pomegranate Oat Waffles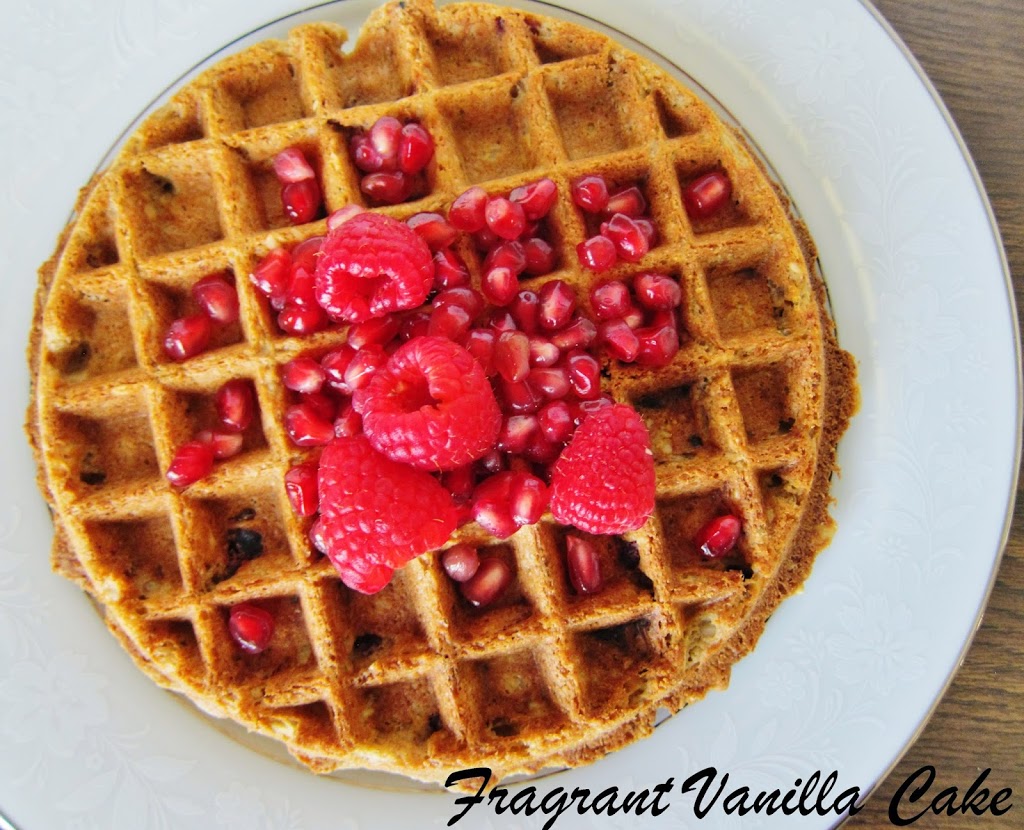 You know what I think is sexy?  Staying home and enjoying a meal together for Valentine's Day. Because going out that day is often over priced and over rated.  At least as far as my experience goes.  Plus being able to spend alone time together for dinner and be able to hear yourself talk with maybe a little bit of (your choice of) music in the background and not a loud restaurant is pretty romantic.  Or maybe you are more of a breakfast person.  Well, still applies, but in that case, I have just the recipe for you.  Vegan Raspberry Pomegranate Oat Waffles. I made these last week for two people who I love a lot and are very important to me, my Mom and boyfriend. And...I couldn't help but think I should share this with you all on Valentine's Day. Because they turned out beautiful, and topped off with all of that red fruit they were pretty sexy.  If get on making them right now you can still have them for breakfast, or maybe tomorrow for Sunday brunch with your family or significant other. Heck, surprise them with breakfast in bed with these!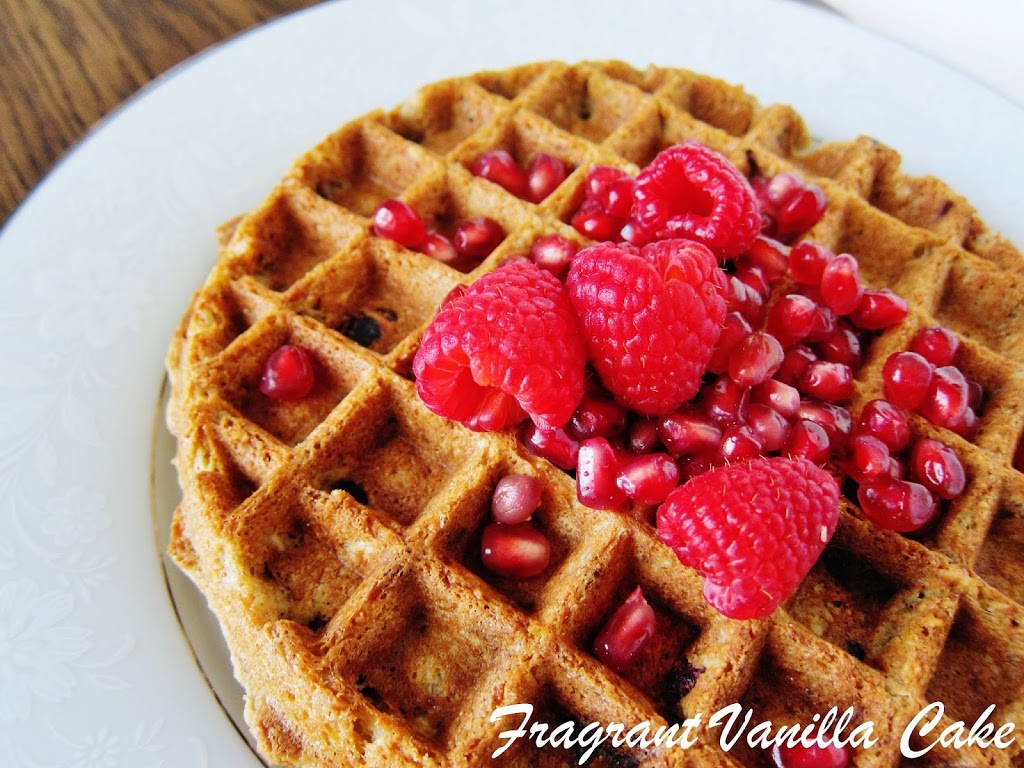 As good as these turned out, I admit I was a little scared when I started them as to whether or not they would turn out.  I was veganizing an old belgian oat waffle recipe that I used to make all the time in college, and subbing a lot of healthier ingredients that I didn't use back then...so, I had my fingers crossed.  They smelled wonderful while cooking, so I knew I had that going for me, but how would they taste. That was the question. Of course you already know the answer because I am sharing them with you but oh boy...they turned out more yummalicious than I expected!  The berries and pomegranate seeds I added in were wonderful little bursts of flavor, and the sweet oats made these pretty substantial, but still light like a waffle should be.  I was so happy they turned out, and my Mom and boyfriend were happy I decided to make them.  My Mom has been asking me to make waffles for about a month now and Eric had just gotten home after working since 5 AM and was hungry, so they were both happy campers.  Show some love and make these waffles for someone (or yourself).  They will think you are awesome!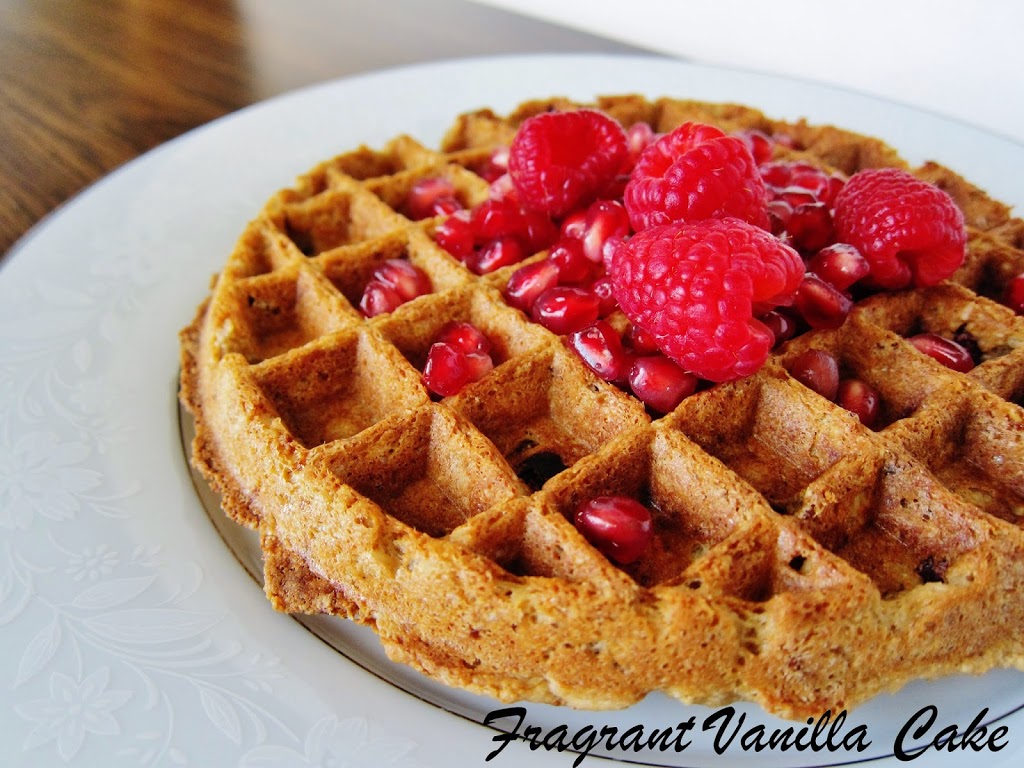 Vegan Raspberry Pomegranate Oat Waffles
Makes 3 Belgian Waffles
2 Tbsp ground flax seed
1/4 cup plus 2 Tbsp filtered water
1 cup gluten free rolled oats
1 1/2 cups gluten free oat flour
3/4 tsp sea salt
1 tsp baking powder
1/4 tsp baking soda
1/4 cup coconut sugar
1 1/2 cups thin coconut milk or almond milk at room temperature
3 Tbsp melted virgin coconut oil warmed to liquid
1/2 cup dried raspberries
1/2 cup pomegranate seeds
Fresh raspberries, pomegranate seeds and maple syrup for serving
In a small bowl, whisk together the flax seed and water, and set in the fridge for 15 minutes until the mixture is gel like.
Meanwhile, whisk together the oats, oat flour, salt, baking powder, baking soda, and coconut sugar in a large bowl.  Whisk in the coconut milk and oil until combined, then the flax eggs (flax water mixture) until combined. Stir in the 1/2 cup raspberries, and 1/2 cup pomegranate seeds.
Cook according to belgian waffle iron directions (like to keep my waffles warm in a low heat oven (200F) while I cook the others).
Serve hot with raspberries, pomegranate seeds and maple syrup.
(Visited 88 times, 1 visits today)