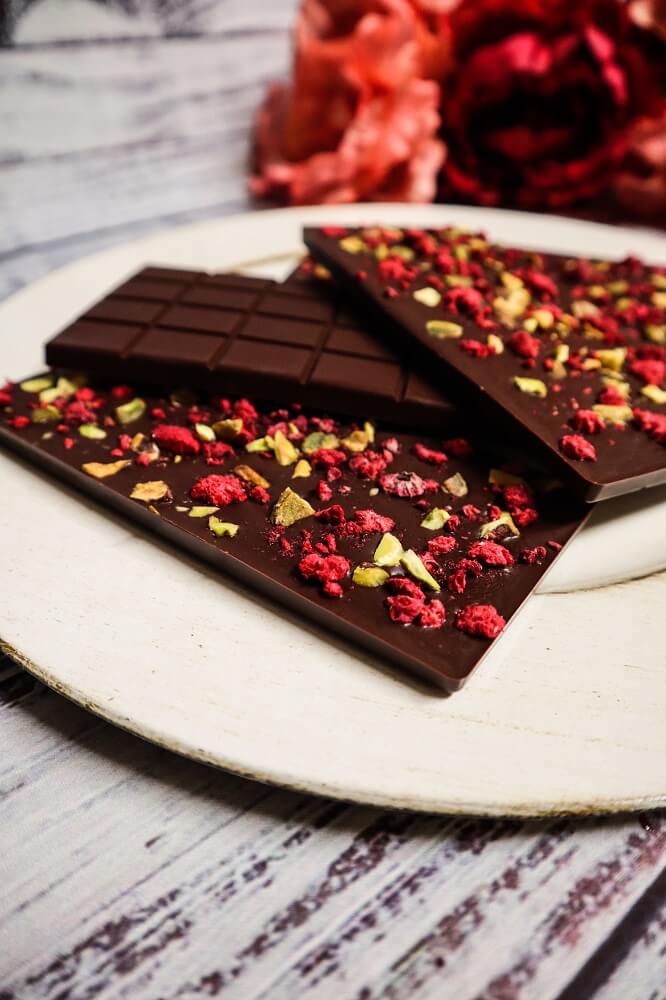 Vegan Raspberry Pistachio "Milk" Chocolate Bars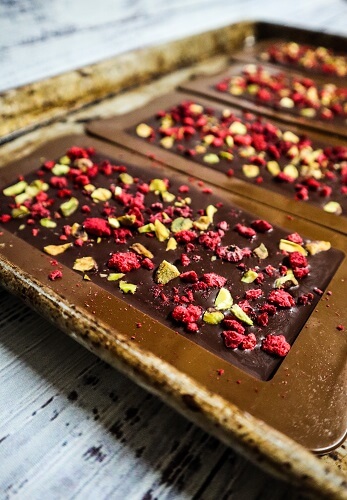 I have been seeing lots of ads for vegan chocolate bars online that look amazing.  But unfortunately I can't afford to buy them right now, because they are a bit over my budget this month, and the shipping price is pretty high.  So, I decided to make my own instead!  I actually have some cool chocolate bar molds, and thought they would make nice gifts as well.  Also, then I can add in whatever I like and personalize them.  I usually make dark chocolate bars when I make them, but this time I wanted to try milk chocolate because that was the type I was seeing online that sounded so good.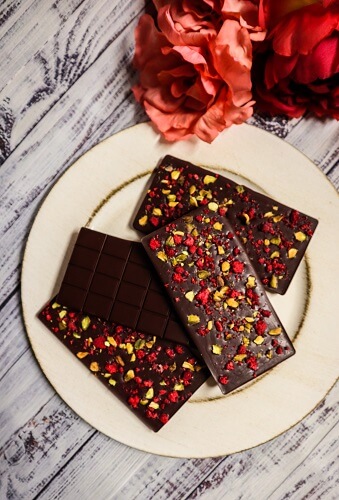 I am not sure what they use in their bars, some of the ones I wanted to try were oatmilk and coconut and I assume they don't just put liquid milk into them.  I don't have coconut milk powder (and I am not sure if oat milk powder exists), but I did have coconut butter on hand and thought that might work well so I went for it!  You could use whatever vegan dark chocolate or chocolate chips is your favorite for these, but I used Lily's vegan dark chocolate chips.  I melted them in the top of a double boiler, and then whisked in the melted coconut butter and it was so good when I tried it even before I put it in the molds.  It tasted just like milk chocolate.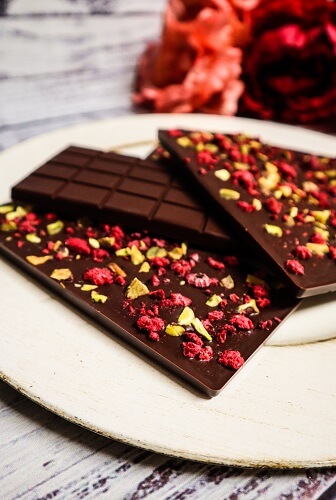 I poured it into the molds, then added some crunchy freeze dried raspberries and pistachios. I recently made some raspberry truffles and loved them so I wanted to use that flavor profile again, and the crunchy green pistachios were so lovely with the raspberries!  I popped them into the freezer and waited for them to set (which luckily wasn't long).  The ones I was gifting I put into little baggies and tied them with ribbons.  I really loved how they turned out!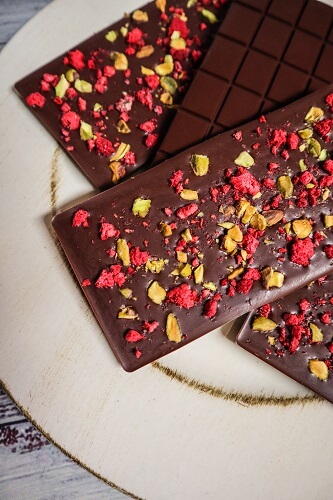 The chocolate was smooth and melt in your mouth like milk chocolate should be, a little more mellow than dark, and the tart sweet raspberries and crunchy salty pistachios were the perfect add ins!  By the way if you are looking for shelled pistachios for a reasonable price Aldi has them!  If pistachios and raspberries aren't your jam, you could try other fruit and nut combos, like blueberry pecan or strawberry almond or even things like cacao nibs and lavender flowers.  Feel free to be creative with these!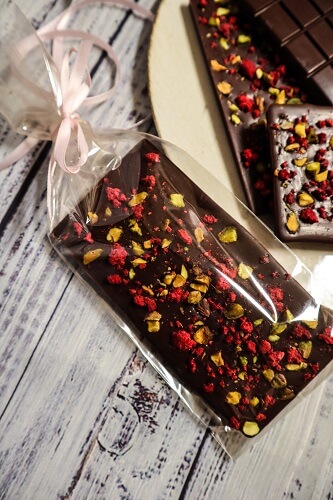 Vegan Raspberry "Milk" Chocolate Bars
Makes 4
Ingredients:
2 cups good quality vegan dark chocolate, chopped
1/2 cup coconut butter
1/4 cup freeze dried raspberries, crushed
1/4 cup chopped pistachios
Instructions:
In the top of a double boiler, melt the dark chocolate, then add the coconut butter, and whisk together until completely blended.
Place the chocolate molds on a tray.  Pour the chocolate into the chocolate bar molds, and sprinkle them evenly with both the raspberries and pistachios.
Place the tray in the refrigerator until the chocolate has set, which will take a 1-2 hours.
Pop the chocolate out of the molds and enjoy!
Store chocolate in the refrigerator for up to 1 month.
(Visited 877 times, 1 visits today)