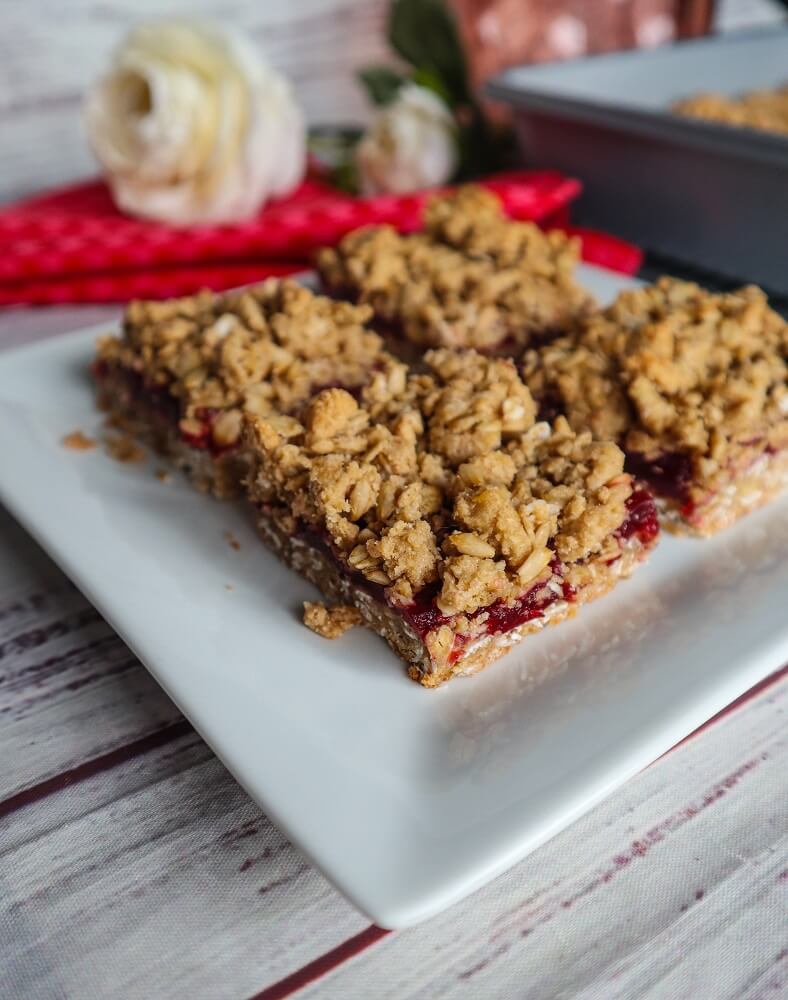 Vegan Raspberry Jam Bars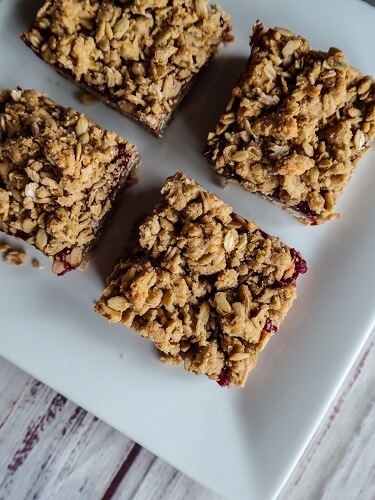 I love any dessert with a crumbly streusel type topping, like fruit crisp or pie and these Vegan Raspberry Jam Bars! I have been wanting to make these for a while, since I have a good amount of Jam from Eric's Dad.  He makes the best jam and he sent us a whole bunch! The raspberry is my favorite, he makes it with the berries he grows in his back yard.  We learned how to make some when we visited him last year (he lives a few states away), but he is the jam master. I used to love jam bars growing up so I thought I would make a veganized version. I have made other jam bars, but they were more complicated ones with nuts and whatnot in them, and I just wanted simple ones like the ones I remembered this time.
I love these because they are easy to make. Bars are awesome in that way, there is no rolling required or anything.  Which is why my Mom turned a lot of her cookies into bars.  Th dough for these jam bars is almost like oatmeal cookie dough. I used a combination of whole wheat pastry flour and rolled oats for the base.  These are ingredients that I always have on hand, especially the oats because I have eaten oatmeal every day since I was in high school.  Plus I love oatmeal cookies.  If you don't happen to have whole wheat pastry flour you can use regular all purpose flour and that will work just fine. I am all about trying to use what you have on hand and not make extra trips to the store.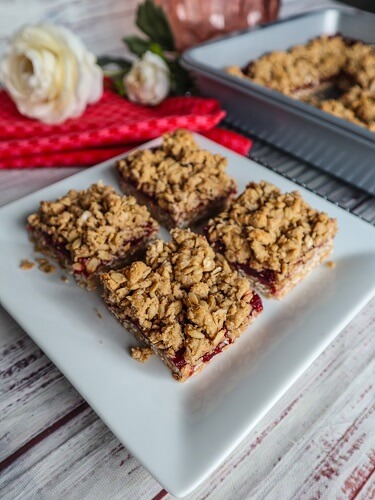 Instead of the butter that was in the original bars, I used coconut oil in these and it worked perfect!  It gives it a nice sweetness and the same amount of richness.  Instead of eggs I used flax eggs (1 Tbsp ground flax seed mixed with 3 Tbsp water  = 1 egg), because I use these a lot at work in my vegan baked goods with good results.  You can use either maple sugar or brown sugar in these, either are delicious.  The dough was delicious before I even added the jam!  Yes, I like to sample dough, that is one of the best parts of baking!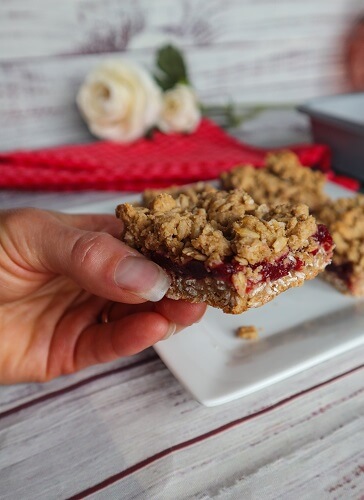 I wanted a good thick layer of jam so I added 1 1/2 cups, because I feel like a lot of jam bars don't have enough and it is important!  They are called jam bars after all. Once I added the jam, popped them in the oven and they were baking they smelled amazing!  I could not wait to try one.  But I waited until the next day since I made them at night and I wanted them to cut nicely.  They turned out super delicious!  Sweet, tart gooey raspberry jam, just the right amount with a buttery crunchy oatmeal topping and crust!  These are so simple but so good!  If you are in the mood for something sweet, give these Vegan Raspberry Jam Bars a try!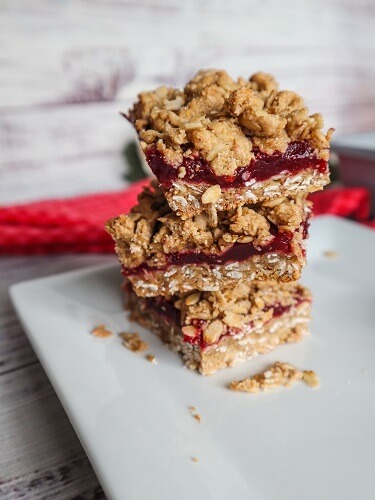 Vegan Raspberry Jam Bars
Makes 16
Ingredients:
1 1/2 cups rolled oats
1 1/4 cups vegan whole wheat pastry flour
1/2 tsp baking soda
1/2 tsp sea salt
1/2 cup melted coconut oil
1 cup maple sugar or brown sugar
1 Tbsp ground flax seed mixed with 3 Tbsp filtered water
1 tsp pure vanilla extract
1 1/2 cups raspberry jam
Instructions:
Preheat the oven to 350F, and line a 9x9 pan with parchment.
In a large bowl, combine the oats, flour, baking soda, sea salt, and set aside.
In another bowl, mix together the coconut oil, maple sugar, flax mixture and vanilla, then mix into the oat mixture until well combined. Set aside.
Press 2/3 of the oat mixture into the 9x9 inch pan evenly, then spread the jam over it. Sprinkle with the remaining oat mixture and place in the oven.
Bake for 30 minutes, then remove from the oven and let cool completely before cutting into 16 bars.
(Visited 588 times, 1 visits today)