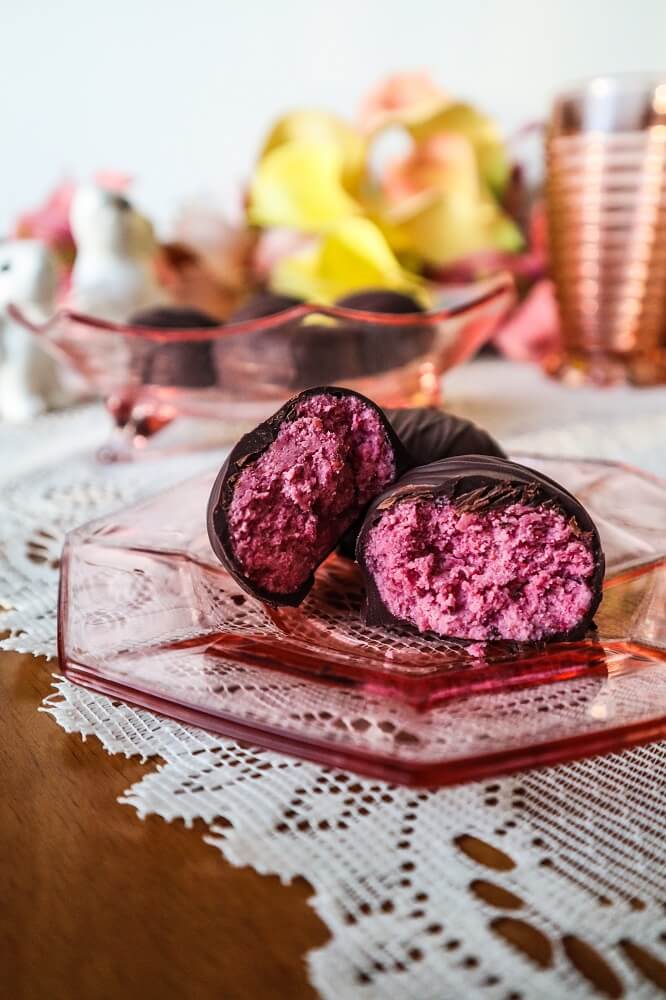 Vegan Raspberry Chocolate Eggs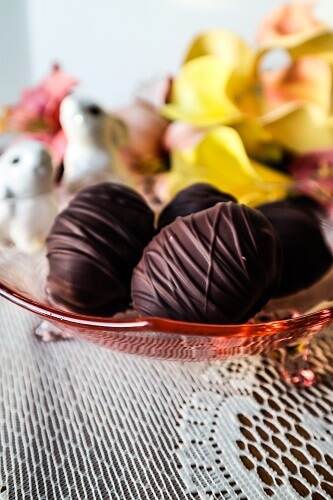 I loved Easter candy as a kid.  Those pastel wrappers and fun varieties of candy I couldn't get the rest of the year, I loved opening up my Easter eggs from the hunt and finding out what was in them.  One of the Easter candies I got most excited for were the raspberry cream eggs. They were larger than the fun sized candy, and that filling was so good.  Kind of like raspberry marshmallows but better. So now I like to make my own home made veganized version that is probably healthier than the ones I ate as a kid.  It is the perfect time, since we are all spending a bit more time at home due to the Coronavirus quarantine.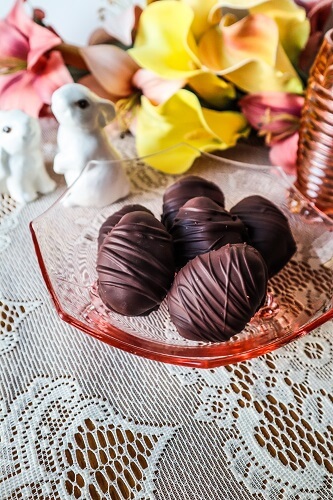 These are fun to make too!  For the filling I made it a white chocolate raspberry filling.  The white chocolate truffle filling being a combination of Raw Guru cacao butter and Dastony coconut butter and cashew butter.  This is what I use for my white chocolate usually in combination with a bit of vanilla and maple syrup to sweeten. For the raspberries I used freeze dried ones.  You may be asking why not fresh?  Well, they are spendy this time of the year, especially in Minnesota.  And, the freeze dried have plenty of flavor plus they don't add excess moisture.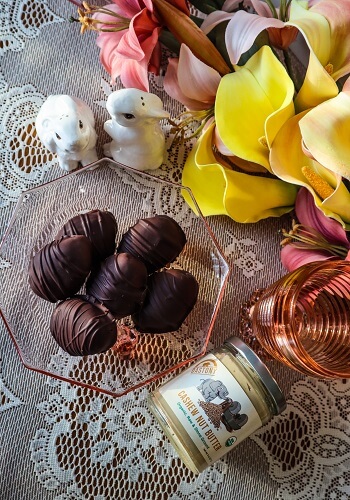 This is why they are perfect for something like this!  I use them in frosting to make it raspberry flavored for that reason too.  The texture comes out lovely!  I could not stop sampling the filling because it was so good!  It was kind of fun to shape the little eggs, kind of like play dough!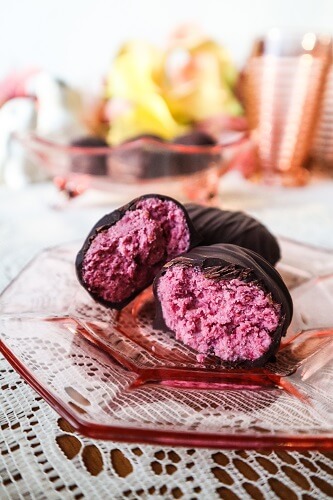 I dipped them in vegan dark chocolate and I could not wait to try one!  Once they had set, I dove in!  They were heavenly!  Rich, creamy sweet raspberry filling with a hint of vanilla and that decadent dark chocolate was perfect paired with it!  These are sooo much better than the ones I grew up eating! If you have a bit of extra time, why not try making your own Easter treats?!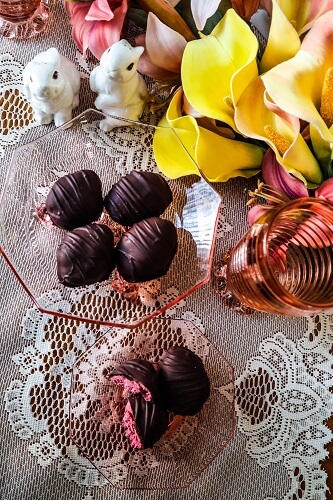 Vegan Raspberry Chocolate Eggs 
Makes 6-8 large eggs
Ingredients:
Filling:
Dark Chocolate:
1 1/2 cups vegan dark chocolate, chopped or vegan chocolate chips
Directions:
Combine all of the filling ingredients but the berries and water over a double boiler, and whisk until smooth.
Pulverize the berries in a blender until fine, then whisk into the white chocolate along with the water. Place in the freezer for about 15-20 minutes until it is firm enough to scoop. Scoop into 8 balls, rolling them with your hands and shaping them into eggs.   Place on a parchment lined tray, and place back into the freezer until firm, about 30 minutes.
Meanwhile, melt the dark chocolate in a double boiler, and whisk until smooth.
Once the filling has firmed up, dip each chocolate into the dark chocolate, being sure to let the excess drain off, and place back onto the tray (I like to set mine on a fork to allow it to drain better). Once they are all dipped, set them in the freezer until hardened.
Store any leftover truffles in an airtight container in the refrigerator for up to 1 month.
(Visited 837 times, 1 visits today)