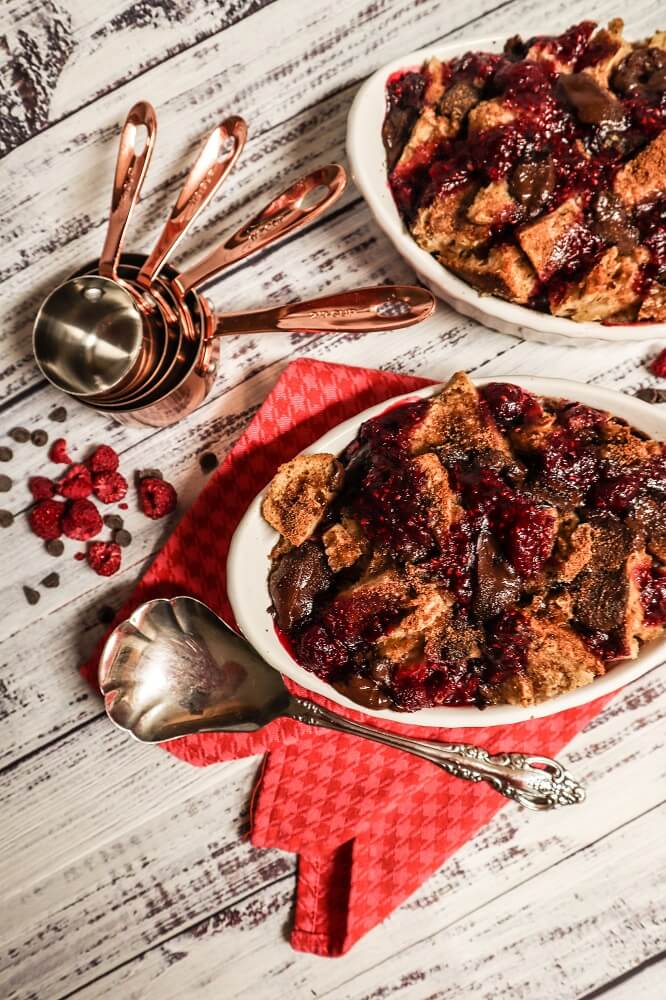 Vegan Raspberry Chocolate Chunk Bread Pudding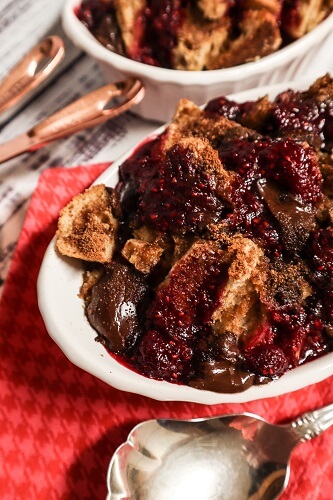 When I have a lovely loaf of crusty bread, there are two things I love doing most with it.  Enjoying it with soup so I can dunk it in and soak up the goodness, and making bread pudding.  I usually end up doing both if it is a large loaf and I have enough.  I had a lovely loaf of sourdough bread that was getting a little dry since I had it for a few days, so I decided it was perfect for bread pudding.  Eric loves it too, so win win for both of us if I make a batch and share.  His Dad recently sent us a bunch of his home made jam, so I thought I would make a raspberry swirled bread pudding.  Back in the day my Mom and I used to go to a local restaurant that had the best raspberry bread pudding.  It was totally heavenly served warm with cool whipped cream and a sweet sauce.  I have always wanted to recreate it and now was my chance!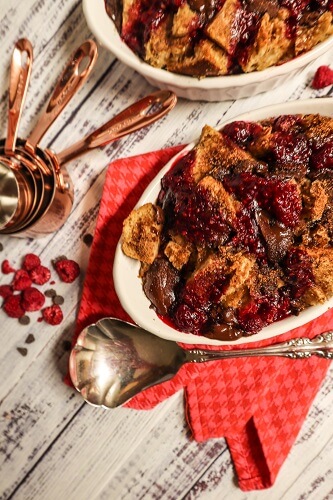 It is weird, I never actually tried making home made bread pudding until this year.  Even though I have made home made bread a lot.  I was missing out!  It is so easy and so good!  In fact, the whole process of making this is done in less than 45 minutes. You could use whatever bread you like of course but it helps if it is a bit dry to soak up the batter.  I like a crusty bread also so that it holds its share somewhat and the top gets a little bit crispy.  For this one I used an organic wheat sourdough.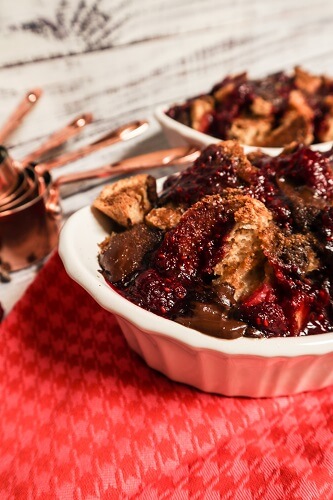 For the batter I used oat milk because it is what I have on hand for my drinks like coffee and matcha lattes, but it works perfect because it is pretty neutral in flavor.  I mixed it with flax eggs, and maple and vanilla to sweeten and it was just right.  The bread soaked it up beautifully!  I put plenty of raspberry jam in the bread pudding, but I also added chocolate chunks because why not?!  Chocolate and raspberries are a match made in heaven after all!
It smelled so good while baking!  I could not wait to try it.  It baked up beautifully into a french toast like consistency, crunchy on top and light and fluffy inside.  The gooey dark chocolate and sweet raspberries made it over the top amazing!  This would be perfect for Valentine's Day!  Eric loved it too, the leftovers were gone in no time!  If you have some crusty bread that has sat for a few days, this is the perfect thing to make with it!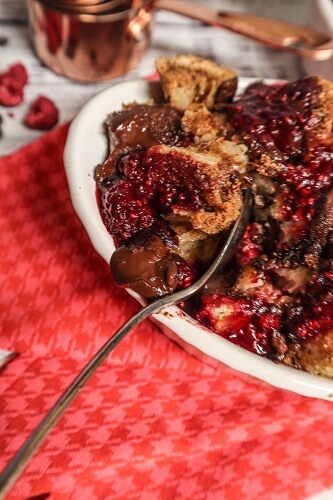 Vegan Raspberry Chocolate Chunk Bread Pudding 
Serves 4-6
Ingredients:
Bread Pudding:
2 Tbsp ground flax seed, mixed with 6 Tbsp filtered water
1 3/4 cups oat milk (or your favorite plant based milk)
1/4 cup maple syrup
1/4 tsp sea salt
1 tsp pure vanilla extract
6 cups lightly packed cubed sourdough bread
1/2 cup chopped chocolate or chocolate chips
1 cup raspberry jam
2 Tbsp maple sugar (or coconut sugar)
Instructions:
Preheat the oven to 350F degrees, and oil two 1 quart baking dishes (or see bottom of post for other baking dish options).
In a bowl, whisk together the flax seeds and water mixture, oat milk, maple syrup, spices, sea salt, and vanilla until well combined, then add the bread crumbs and toss to coat in the mixture.  Mix in chocolate.
Transfer half of the mixture to the prepared baking dishes, (including the liquid, pour it over them). Then spoon half the jam over them by the Tbsp.  Top with the remaining bread mixture, and more jam.  Sprinkle with the maple sugar.
Place in the oven on a tray, and bake for about 25-30 minutes (see bottom for other pan sizes baking times), or until the top is starting to brown and the liquid has absorbed and baked into pudding at the bottom.
Remove from oven.
Let cool about 10 minutes and enjoy warm!
For 6 small ramakins: bake 15 minutes
For 1 8x8 inch square pan or 2 quart baking dish: bake 30-40 minutes
(Visited 311 times, 1 visits today)