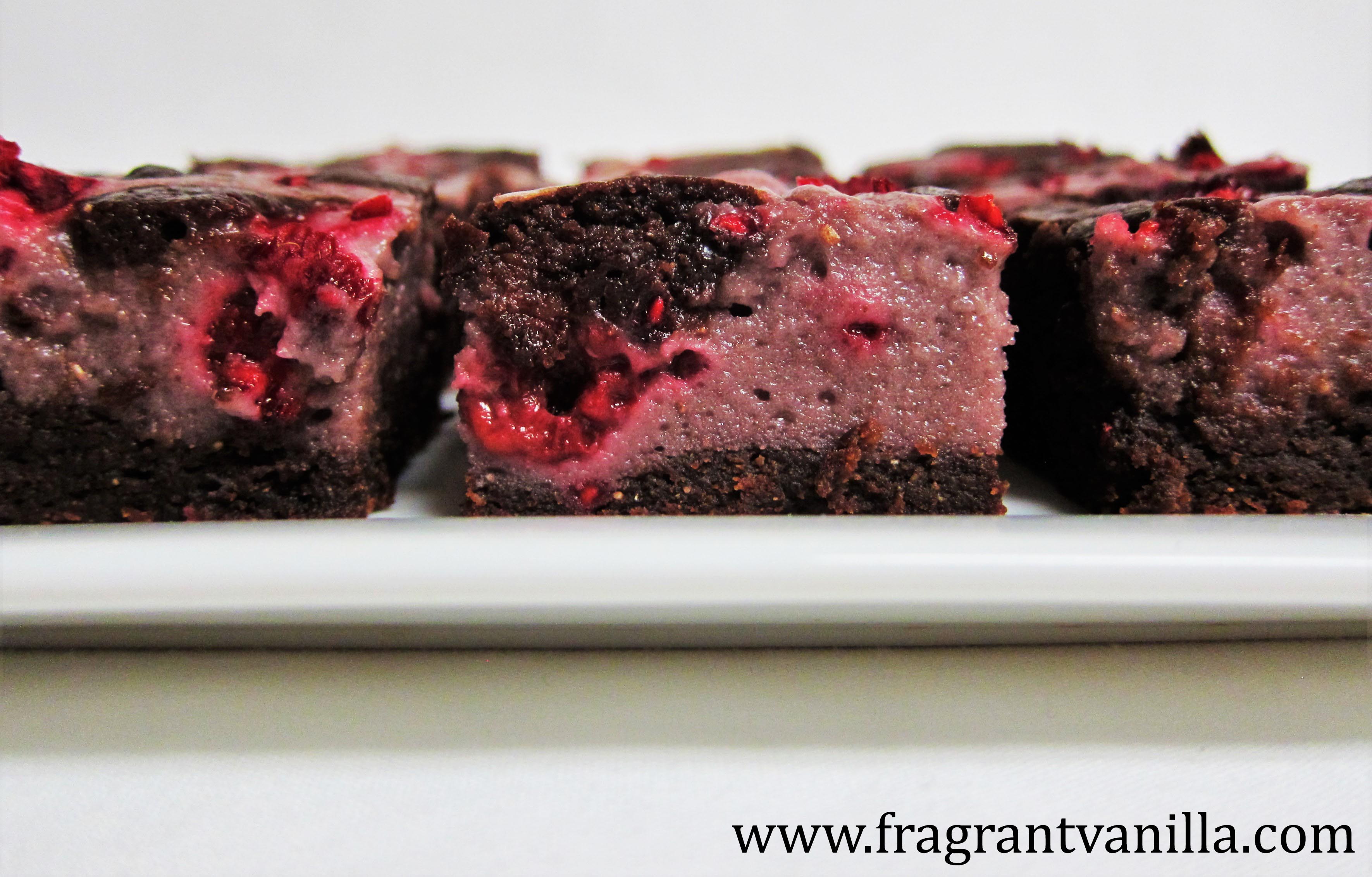 Vegan Raspberry Cheesecake Brownies
What do you do when you are stuck at home in a snowstorm? Bake brownies of course. Yesterday, we had a really snowy day where it dumped about 6 inches while I was at work and was still going the rest of the night, and it was a really scary drive home.  I drive like a granny in that type of weather.  Ever since I crashed my car a few years back because someone in a big truck drove me off the road in a snowstorm and it really freaked me out.  Better safe than sorry is my motto on slippery roads now.  Anyhow, after being somewhat stressed out from the driving, when I got home I decided that brownies sounded like a good stress reliever.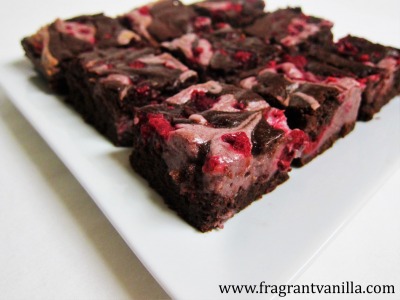 Since Valentine's day is coming up, I thought I would make some raspberry cheesecake brownies.  That just sounds sexy doesn't it?  Well it is a delicious combination, downright crave worthy. I like my brownies fudgy, and these were just that thanks to apple sauce and avocado oil.  Avocado oil has been showing up in quite a few of my baked goods lately because it has a neutral flavor and bakes up wonderfully in cakes and brownies.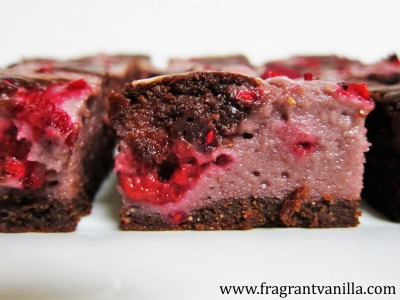 I made a raspberry cheesecake filling with thick coconut milk and cashew butter enhanced with raspberries.  It was sooo good.  I could have eaten it with a spoon.  But luckily most of it ended up in the brownies.  I had to stir in a few more berries too, because I wanted these brownies to have lots of raspberry flavor.  They smelled amazing while baking, and when they were cool enough to enjoy, they tasted even better! What snowstorm?  I am too busy eating my brownies to notice...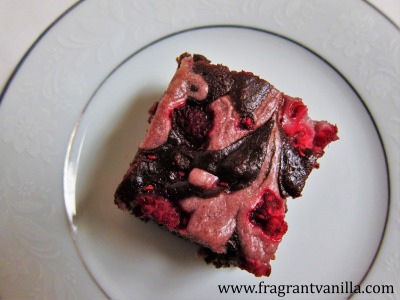 Vegan Raspberry Cheesecake Brownies
Makes 16
Cheesecake swirl:
1/2 cup organic raspberries (fresh or frozen, if frozen, thaw them slightly first and drain off water before using)
3/4 cup thick coconut milk (from the top of a chilled can)
1/2 cup raw cashew butter
2 Tbsp maple syrup
1/8 tsp sea salt
1 tsp pure vanilla extract
2 Tbsp arrowroot starch or cornstarch
Brownies:
1/4 cup avocado oil
1/2 cup applesauce
1 cup coconut sugar
1/4 cup plus 2 Tbsp reduced aquafaba or 2 flax eggs*
2 teaspoon vanilla extract
1 cup gluten free all-purpose flour
1/2 cup cacao powder or unsweetened cocoa powder
1/4 teaspoon sea salt
1/2 cup organic raspberries (fresh or frozen, if frozen, thaw them slightly first and drain off water before using)
To make the swirl, combine all ingredients in a blender and blend until smooth.  Pour into a bowl and set aside.
To make the brownies, pre-heat the oven to 375F degrees. Whisk together the sugar, olive oil and applesauce until well combined and the sugar is starting to break down.  Add the aquafaba, and vanilla and beat until smooth.  Add the flour, cacao powder and sea salt and beat until smooth.  Stir in remaining berries. Scrape the batter into a greased 8x8 inch pan, then pour the swirl over it.  Place in the oven, and Bake for about 30 minutes or until set (but do not over bake).  Let cool before cutting into bars.
*The aquafaba is the liquid from cooked or canned chickpeas.  You want it to be thick like egg whites.  If you are wanting to make flax eggs, simply mix together 2 Tbsp ground flax seeds, and 6 Tbsp filtered water and let sit in the refrigerator for 15 minutes before using in the recipe.
(Visited 226 times, 1 visits today)